Throughout Catalonia, April 23rd is known as "La Diada de Sant Jordi" (Saint George's Day) or "El Dia de los Amantes" (Lovers' Day). It is one of the most celebrated and important festivals in the region and is definitely one Barcelona event that should not be missed!
Each year on this day, the streets of Barcelona are filled with yellow and red stripes as Catalan flags decorate lampposts and hang from windows in honor of Sant Jordi, the patron saint of Catalonia. Rose and book stands are also a common sight on April 23rd, especially in the city centre, as people exchange these commemorative gifts in a Barcelona-style Valentine's Day tradition.
The Traditions of Sant Jordi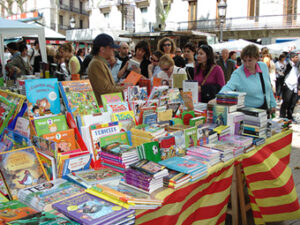 The history of this holiday dates all the way back to the 15th century. Legend says that the people of a town just south of Barcelona were made to sacrifice a woman and a lamb to keep a terrible dragon away. One fateful year, the King's daughter was chosen as the sacrifice, but the brave and valiant Saint George arrived to slay the dragon right before the princess was gobbled up. Upon the dragon's death, a drop of blood hit the floor and from this drop, a rosebush grew. St. Jordi plucked a rose from the bush and handed it to the beautiful princess.
This tale has stood the test of time and to this day, the gentlemen of Catalonia give roses to their favourite ladies, in the spirit of Sant Jordi.
The Colours of Sant Jordi
Over the years, various shades of roses have joined the more traditional red one, and are now considered an important part of this romantic tradition.
Don't worry if you find yourself without a special someone on your Barcelona trip, there is sure to be a rose suited to your needs:
Yellow roses = friendship
White roses = innocence
Orange roses = passion and desire
Pink roses = happiness
This "Day of Love" is also the anniversary of the deaths of both William Shakespeare and Miguel de Cervantes, one of the most well-renowned Spanish writers. In 1923, it became custom for the ladies to return their rosy favors and give gifts in the form of books. In 1995, UNESCO declared April 23rd "World Book Day", adding even more prestige to this already special occasion.
A Time for Celebration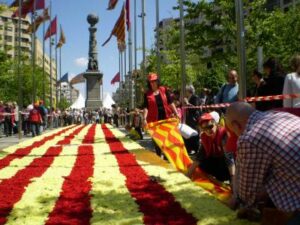 With an estimated 6 million roses sold on this day filled with love, alongside 400,000 books, you can expect the calles of Barcelona to come alive as flower stands and book stalls line the streets – most notably Las Ramblas!
Don't miss your chance to get your favorite books signed as various authors head to the Catalan capital during Sant Jordi in Barcelona. And for those true romantics out there (who don't consider a rose to be a big enough gesture), be sure to check out the 24-hour Don Quijote readings in various locations around the city!
Catalan Pr

ide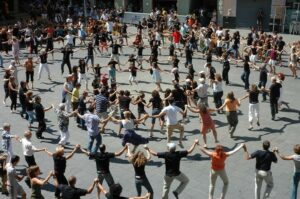 La Diada de Sant Jordi in Barcelona  is a time for the citizens of Catalonia to express their deepest pride and passion for the place they call home. As mentioned above, colourful red and yellow flags fly high around every corner in the city on this day, and in Plaça Sant Jaume, you can join in the dancing of the Sardana, the traditional dance of Catalonia, which represents unity and pride.
What's more, the L'Ajuntament, Barcelona's City Hall, opens its doors to the public for free on April 23rd each year! Here you can witness the incredible architecture of this historical structure and marvel at the amazing display of roses created to honour Sant Jordi inside this magnificent building!
If you find yourself  in Barcelona during this special time, you are surely in luck, as this is one cultural experience not to be missed! If you love romance, make sure to check out the most romantic spots in Barcelona.