If you're lucky enough to be spending Valentine's day in Barcelona then you've come to the right place. No matter your pocket size there is plenty available for you this February 14th. From romantic walks through the gothic quarter to its golden sand beaches and architectural wonders, there's various options to choose from.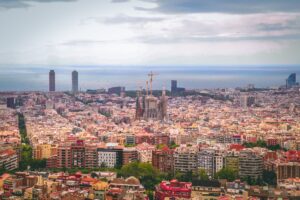 Something to bear in mind whilst you're visiting as well, is that they don't generally celebrate Valentine's day in Barcelona as they dedicate their day of romance to the Sant Jordi Festival. The Sant Jordi is one of the most celebrated festivals in the region and not a day to miss. However, taking this into account means you don't have to stress about not being able to get a reservation at your most desired restaurant/ activities on Valentine's day.
If you are wanting to check out what's available last minute to surprise your loved one, check out our apartments in Barcelona available for short term stays. 
Start your Valentine's day right in Barcelona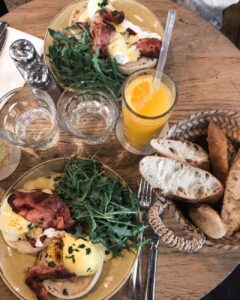 There are so many incredible restaurants in Barcelona that will get your February 14th off to a fantastic start, like the picnic restaurant which offers alcohol infused breakfasts. What a better way than to start a bit boozy? Our blog on the very best brunch restaurants in Barcelona will help you decide on where to begin. 
Or maybe you just fancy a bit of breakfast in bed? Ubereats offers an incredible range of breakfast and brunch available to order right to your doorstep, the perfect way to start your valentines day. 
Something a bit different (and expensive): A Champagne Breakfast and Hot Balloon Ride over Barcelona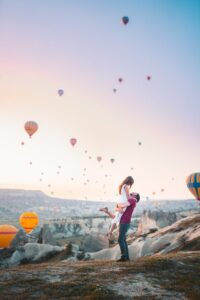 This one is more expensive, but if you're looking for that extra special addition to your trip to Barcelona, then look no further. Imagine this, a private hot-air balloon ride with a champagne breakfast and your loved one. How romantic! 
An air balloon that departs at sunrise, so you can see Barcelona and its surroundings from the air, as the sun rises over the city. You can capture incredible birds-eye photographs, with the undivided attention from your guide tour. There are also plenty of extra romantic options ideal for couples wanting to make this February 14th extra special. 
Go for a day of Wine Tasting in Barcelona or Montserrat 
Doesn't matter your budget, if you're into vino and fancy a wine tour, there's plenty to offer. Starting at around £20 per adult, you can heighten your knowledge of wine during a tasting session in Barcelona led by a professional.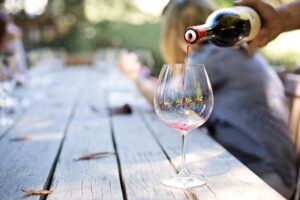 You will learn about tasting techniques, different varieties and enjoy regional products carefully selected to complement each of the wines you will enjoy, all whilst spending quality time with your romantic partner. The duration of the cheaper wine tour in Barcelona is 1h30m, and it takes place in the historic El Born District.
For a more gourmet wine tour in a Castell in Montserrat… 
The more expensive option for a wine tour, includes a half- day trip tour with tapas and gourmet wines through Montserrat. This wine tour starts at around £83 per adult and is 7hrs long.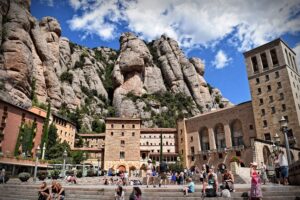 This tour combines the Montserrat Monastery, in Montserrat, a multi- peaked mountain range near Barcelona with a winery visit. This combination is one that would be difficult to arrange independently, with this day trip making everything easier for you. A round air-conditioned transport trip, guided tour of Montserrat allowing you to learn more about its highlights. As well as a winery tour which includes tastings, tapas and dessert, so there is no need to budget for your lunch. 
Relax at a Romantic Spa in Barcelona with your partner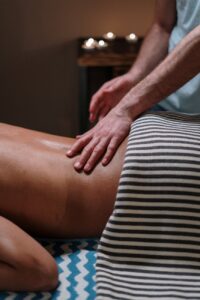 Aire Ancient Baths in El Born is one of the most sought after spas in Barcelona. This health club finds itself in a 17th century warehouse near the Mercado del born. The spaces available in Aire are sort of temples which are dedicated to the relaxation of both the body and mind.
These are inspired by the tradition of baths from ancient Roman, Greek and Ottoman civilizations. This is the unforgettable experience you might be looking for this valentines day in Barcelona. 
If this isn't for you, maybe the Mayan Spa Barcelona can get your attention. This beautiful and relaxing spa can be found in the 5 star hotel El Palace, right beside Gaudí's must- see Casa Batlló.
This Mayan Spa offers rituals and treatments to make you feel relaxed and reborn. They come thirteenth in Spain, Europe and Worldwide as the best Signature Spa in Luxury Hotels in Barcelona. Here you will find treatments such as chocolate extasis, wine therapy, and black sand skin treatments. What a way to create an incredible impression on your significant other. 
Check out the best views in Barcelona for Valentines 
Bunkers del Carmel: Panoramic views of Barcelona city 
The most romantic and perfect location you could go to for Valentine's day is the Bunkers of Carmel. This place gives the best panoramic views where you can see the entire city of Barcelona. It's located at the top of Turó de la Rovira, there's a little bit of a climb to reach it but it is so worth it for the view at the top. This place is perfect for a romantic picnic with your significant other and a cheeky bottle of wine.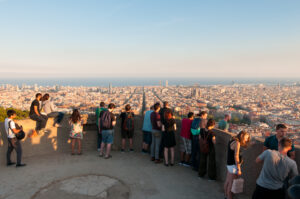 Other than bunkers, Barcelona has so many beautiful places for you to admire the city. Our blog on the best views over Barcelona gives you the variety you need to pick the perfect place to go. 
Barceloneta: A romantic picnic on the beach
Barceloneta is another perfect spot for you and your lover to have a relaxing picnic on the beach. The sun is always shining in Barcelona and the beach is the perfect place to soak up the sun and admire the sun setting over the mediterranean sea. What a picture perfect moment.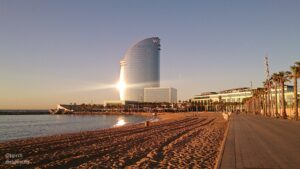 If you fancy something a bit quieter, there are a load of hidden beaches around Barcelona which are perfect for a more private picnic with your loved one. 
A Rooftop Meal: A memorable end to your perfect Valentines day 
If you still want to make your meal romantic with an incredible view of the city, but aren't so much of a picnic go-er, and prefer more of a gourmet meal, here's some more options.
Barcelona has some of the most amazing rooftop terraces where you can watch the sunset over the city, admire it's skyline and enjoy a meal cooked by professionals. 
If you're looking for a rooftop bar in the centre of Barcelona, The Mood Rooftop bar is the place to go. It offers an impressive terrace on the top of the One hotel Barcelona. This is the perfect location to enjoy a special lunch or dinner, or to relax with a cocktail with a feast for the eyes of the Mediterranean sea, Barcelona skyline and Sagrada Familia.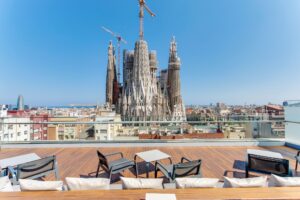 For an unforgettable bar experience on a rooftop, the Terrace Ayre offers unbeatable views of the Sagrada Familia. Above the Hotel Ayre Roussillon, their terrace bar, with an urban and cosmopolitan design, has views from just 200 metres of the Sagrada Familia. You can imagine how incredible this is. End your day admiring the unfinished temple of Antoni Gaudí from its panoramic terrace whilst enjoying your favourite cocktail with your loved one. 
If you are still searching for the perfect rooftop terrace to enjoy this valentines, let us help you, with our blog on Barcelona's 10 Best Rooftop Terraces.