With a total of 9 universities, it's no wonder Barcelona is a thriving student city. Whether you'll be studying or working here, we've put together an essential student guide to Barcelona in order to make your stay that little bit easier. If you're looking for more information about Barcelona than what can be found in the tourist guides, as well as top tips on student life in the city, from finding affordable accommodation to locating the best bars and clubs in town, we've got it all covered.
How to find accommodation
Finding a place to stay in Barcelona is easy. There are many affordable apartments for rent across the city that are ideal for students.
Apartment Barcelona has over 500 apartments in Barcelona, many of which are monthly and yearly rentals. Whether you're looking to live by the beach with a friend for a few months or alone in a cosy studio in the heart of the city for a year, you'll be sure to find something to suit your taste and budget. Renting your own apartment allows you to live like a local and experience the very best of Barcelona. After all, integrating yourself into the local culture is all part of the experience.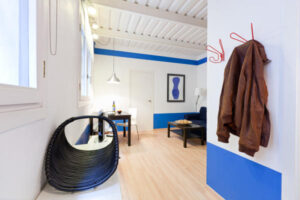 Staying in a hostel for a few weeks while you look for a flat could also be a good option. This way you'll meet lots of new people, some in the same boat as you, and you'll be able to figure out the city before you decide which area you'd like to live in.
Barcelona is divided in to 10 major districts, Gràcia is one of the most popular amongst students. All of the districts are well connected by public transport, so getting around should never really be an issue.
How to find part time work or internships
Maybe you want to gain work experience alongside your studies in Barcelona? Or maybe you still haven't managed to find your perfect internship here yet? Don't worry, we've got that covered in this student guide to Barcelona!
Your home university should be your first point of call. If you live within the EU your university might have an Erasmus coordinator who is employed to help you find opportunities abroad, ranging from a few months to a full year. Erasmus students even receive monthly funding from the EU during their time abroad, so money doesn't have to be an issue.
If you're out
side of the EU, or aren't part of the Erasmus scheme, your university is likely to have another member of staff dedicated to finding student internships abroad. Ask your university to put you in touch with them and they'll help you along the way.
If your school isn't advertising any student opportunities in Barcelona, you can still track one down by yourself. There are many websites to help you along the way such as IES Abroad and Go Abroad. If you're struggling with the application process, ask your university's careers department to help you out – that's what they're there for!
Don't forget to contact Apartment Barcelona, too, as we're always on the lookout for students in Barcelona to take part in internships.
Where to eat on the cheap
If you're a student in Barcelona you might want to save those pennies while still sampling some delicious Catalan and Spanish cuisine. Thankfully, this is possible in Barcelona. Many restaurants offer a Menú del Día which is a set daily menu at a reasonably cheap price. Often you can find a Menú del Día for less than 10€!
El Tenedor is a great place to start when searching for the best cheap eats in Barcelona. Customers can leave reviews, like on Tripadvisor, but can also grab some exclusive restaurant discounts. Here are 5 great restaurants where students in Barcelona can find a tasty bite to eat on the cheap: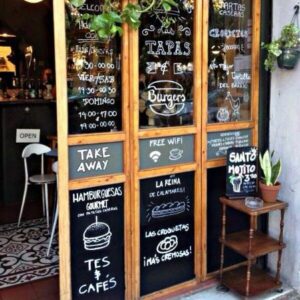 Palosanto Tapas Bar – Great food and friendly service at a low cost, this is the perfect place for students in Barcelona to sample some traditional tapas. – Rambla del Raval, 2.
Belladona – Laid back place to grab a couple of beers or cheap cocktails – popular with students. – C/ de la Diputació, 222.
Panam 75 – Their gourmet burgers are to die for and won't put you out of pocket. – C/ Consell de Cent, 281.
La Sonrisa – Ideal for a low-cost Mediterranean-style breakfast or lunch. – C/ Andrea Doria Esquina Carrer de la Vila Joiosa, 12.
The Benedict Bcn – This American-style bistro with a Spanish twist is located within the winding streets of the Gothic Quarter. – C/Gignàs, 23
Did you know in Barcelona you can even get free tapas when you order a drink in some bars?
Hidden sights for non-tourists
Parc del Laberint Horta
Escape the hustle and bustle of the city for a short while and lose yourself in this wonderful hedge maze. Located in the Horta-Guinardó neighbourhood of Barcelona, this is the perfect place for Barcelona students to bring a picnic on a sunny day.
El Carmel Bunker
If spectacular views over Barcelona is what you're looking for, skip the line at Park Güell and head to the next hill, Turó de la Rovira where you'll find the Bunker del Carmel. The bunker was created during the Spanish Civil War and today provides some of the best views over Barcelona. It's more popular with locals than tourists, and completely free to climb.
The Beach
Barceloneta is undoubtedly Barcelona's most popular beach, however situated on the opposite side of Port Olímpic you will find Bogatell beach and Mar Bella Beach. These two beaches are more popular with the Catalan locals and are often quieter than Barceloneta.
Santa Caterina Market
La Boqueria is the best known market in Barcelona, but if you're looking for similar produce without the hordes of tourists, head to Santa Caterina Market in El Born.
If you do decide to pay a visit to some of Barcelona's top attractions (they're top attractions for a reason!) then buy your tickets online as this could work out cheaper and you'll avoid any long queues.
Public transport

Public transport in Barcelona is a student's dream – it's cheap, well connected and reliable. Metro, buses, trams and trains run frequently until late at night, and the metro has extended hours during the weekend.
Metro and Bus
The metro is a fast and convenient way for students in Barcelona to get around. A single ticket costs €2.40 on both the metro and bus, so if you plan to use either often you'll want to invest in a travel card.
Travel cards can be used on the metro, bus, train and tram within the zone of your travel card. Zone 1 covers the whole of Barcelona city. There are two types of travel cards students might be interested in:
T-Jove: This young person's travel card can be used by anyone under the age of 25. At a cost of €80 it doesn't come cheap, but it does last for 90 days and works out cheaper than any other travel card if you plan to use the metro 2 or more times per day, costing around 0,58€ per trip.

T-Casual: This 10 journey travel card costs €11.35. This is ideal for those who plan to use public transport less than twice a day.
All tickets can be purchased from the ticket machines in every metro station. The ticket machines are in many different languages, too.
Bicing
Barcelona is a bike friendly city and has many cycle routes. If you'd rather ride a bike than catch public transport, why not sign up to the city's Bicing system? Bicing is a bicycle sharing system that costs €50 per year. You can sign up online and once you receive your Bicing card through the post, or have it on your mobile, then you can start using the bikes located at the many stations across Barcelona. Bicing is only open to residents of Barcelona so you'll need your NIE number (foreign identity number) first.
Essential bars and clubbing
The Catalan capital's nightlife is unlike any other in the world. From beach clubs to backstreet bars, there's something for everyone, especially students in Barcelona!
Clubs
Port Olímpic is home to some of Barcelona's best clubs, Opium Mar, Shôko, and Pacha being three of the biggest. Look out for the internationally renowned DJs who  often make an appearance at one of these huge clubs. You can also find Barcelona's Ice Bar, and many more quainter beach-front bars here too.
One of the most popular clubs in Barcelona, Razzmatazz is located in the Poblenou neighbourhood. Razzmatazz has five 'spaces', each space offering a different style, and is open every night of the week. Look out for the big-name musicians playing here, too.
Bars
Barcelona's bar scene is among the best in the world. Bars can be found on every corner of every street. To make your bar-hunting that little bit easier, here are our top bars for students in Barcelona:
Espit Chupitos – If shots (chupitos) are your thing then you won't want to miss this place. Espit Chupitos has over 200 unique shots on their menu at just 2€ each. Prepare for fun and flames as your shots are prepared. Tip: we recommend the marshmallow shot. – C/ d'Aribau, 77
Ambar – This cheap and cheerful bar in Raval is ideal for students in Barcelona. The perfect place to kick-start your evening, you can grab a beer or glass of wine for 2,50€. – C/ de Sant Pau, 77
Belushi's – This huge sports bar is a must visit for when there's any games on, it's the best place to support your team and for cheap drinks!  – C/ de Bergara, 3
L'Ovella Negra – This German-style tavern is located in Raval just a short walk from Plaça Catalunya. It's the perfect place to grab a beer and meet new people over a game of football. – C/ de les Sitges, 5
Betty Ford's – Ever popular with students in Barcelona, Betty Ford's atmosphere makes it one of the best places in the city to grab a drink and, if you're feeling hungry, one of their specialty burgers too. – C/ de Joaquín Costa, 56,
Learning the Language
The biggest challenge when moving to a new country is the language barrier. In Barcelona, Catalan is the primary language, not Spanish as many people first believe. Typically Spanish is spoken too, so if your Spanish is good that is more than enough to get you by.
If your Spanish is not so great, where better to learn than in Spain? If you are a student studying in Barcelona then ask your university if they offer any Spanish classes. If not, Speakeasy and Olé Languages are two of the best language schools in Barcelona. If you'd rather learn privately take a look on classifieds websites. such as Craigslist, for a private Spanish tutor.
Take a look at these useful Spanish phrases to get started. If you're confident in your ability to speak Spanish, why not take on a new challenge and learn Catalan?
English Book Shops
There are a number of English book shops for students in Barcelona, whether you're studying in English or simply looking for a good English book to read:
Come In Libreria Inglesa – C/ Balmes 129
Hibernian Secondhand English Bookshop – C/ Montseny 17
FNAC in Plaça Catalunya also has a small selection of English books, and if you're looking for something more comical try Urban Outfitters next door.
So there you have it, your essential student guide to Barcelona – one of the best student cities in Europe. Have any questions about making your move abroad? Let us know in the comments below.