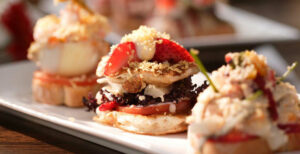 Last Updated: 14th September 2017
Trying some tapas in Barcelona is as much a part of the Catalan experience as visiting Gaudí's Sagrada Familia. Tapas may have originated in Andalucía but these tiny bite size snacks have quickly become a large part of Spanish culture up and down the Mediterranean coast.
'Tapa' means to cover, and the story goes that these tasty nibbles were originally slices of ham or cheese used to cover drinks and keep out the flies. However, tapas have come a long way from slices of cured meat and cheese on bread. Now, there are hundreds of variations of tapas, from a traditional plate of olives to seafood variations including tapas with caviar, and in Barcelona, the people of Catalonia have put their own twist on tapas, serving culinary delights like Pa Amb Tomaquet (bread with tomato) and slices of Butifarra (similar to a sausage) in restaurants all across the city.
Free Tapas in Barcelona? Yes, really!
One of the original customs of serving tapas was to offer them free of charge with drink orders, and many southern Spanish cities still uphold this tradition. While this cheap and cheerful practice is not often seen in the Catalan capital, there are actually some fantastic tapas bars in Barcelona where you can grab a glass of cerveza or Cava and a free snack!
So if you're in Barcelona on a budget, take a look at our top 5 bars in Barcelona for free tapas!

1. Ca'l Chusco
Right in the heart of Barcelona's seaside village of Barceloneta lies this gem of a restaurant. With every drink, you'll receive a free tapa such as one of their famed bombas (potato balls) and fried fish! This tapas bar also offers raciones or bigger portions, as well as an extensive menu for those who would like to dig into even more of these snacks.
How to get there: C/ de l'Almirall Aixada, 5. Metro station: Barceloneta (L4)
2. Pappa e Citti
This Italian joint serves free tapas with every drink ordered between 6-9pm, making it a great option for those looking to kick off the night! With drinks ranging from 1.80€ to 5€, you can't go wrong. The combination of great prices and delicious snacks, all  in the beautiful barrio of Gràcia, makes this one a must-visit!
How to get there: C/ l'Encarnació, 38. Metro station: Joanic (L4)

3. El Capritxo
If you are a big fan of fish dishes, you should make your way to El Capritxo. Open since 2009, with each beer (2€) you purchase, you get free fish tapas including fried fish, calamari, anchovies and more. Only a 5 minute walk from the closest metro, El Capritxo isn't one to miss.
How to get there: Carrer de Melcior de Palau, 73,  Metro station: Plaça del Centre (L3) 
4. Cervecería de Dues
Located in the heart of Gràcia, this charming little nook also serves free tapas with any alcoholic beverage. With beers as low as 1€ before 7pm, you are sure to enjoy a memorable Barcelona tapas experience here.
How to get there: C/ Torrent de l'Olla, 89. Metro station: Fontana (L3)
So, there you have it! Be sure to indulge in some of the best free tapas in Barcelona – a great way to start your night out, or top off your day of sightseeing. Already been to one of these bars, or perhaps a different Barcelona bar offering free tapas? Drop us a comment below and let us know what you thought of the experience!