Last Updated: 14th September 2017 
One of the city's most modern neighborhoods, El Raval in Barcelona, is a top spot for the latest trends, the hippest art scene and some of the wildest nightlife in the Catalan capital, and is best described as Barcelona's very own 'melting pot'. From the streets dotted with skaters to the endless bars that line this bustling 'barrio', this area of the Ciutat Vella district may not be suited to everyone, but it is well worth checking out. Due to the fact that El Raval is Barcelona's most ethnically diverse neighborhood, the streets of this town are packed with sightseeing gems. And, while the nocturnal life of this often controversial 'barrio' is not one for the faint hearted, it's not all party, party, party in El Raval, as the famous MACBA  (Contemporary Art Museum of Barcelona) and the CCCB (Center for Contemporary Culture in Barcelona)  add a dash of cultural spice to the mix! This is also one area of Barcelona rich with history. El Raval was actually hemmed in by city walls until 1859, when they were demolished due to the rapid rate at which the city was expanding. Culture, history and hip art, El Raval truly has something for everyone. In this edition of Apartment Barcelona's 'barrio' guide, we give you a few of our favorite picks from the Raval neighborhood in Barcelona. Who knows, you might even find yourself doing some serious "Ravalear-ing" on your trip – a term used by residents of Raval and visitors to the area meaning "to walk through el Raval."
El Raval, Barcelona: Sights Not to be Missed
Palau Güell: Completed in 1890, this UNESCO World Heritage Site is one of the lesser visited Gaudí sights in Barcelona,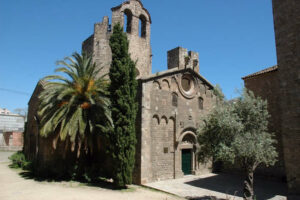 but offers an up-close look at some of his most intricate and colorful designs. Don't miss a glimpse of the roof of Palau Güell home to bright chimneys of all shapes and sizes. How to get there: C/ Nou de la Rambla, 3. Metro station: Drassanes or Liceu (L3) Església de Sant Pau del Camp: This quaint building is the oldest standing church in Barcelona. A true homage to Romanesque architecture, this is one Barcelona landmark  in el Raval that has truly stood the test of time; It has been ransacked twice in the 10th and 11th centuries, and once more  at the beginning of the 20th century during the Catalan capital's revolutionary riots.  Be sure to check out the Visigoth temple (a monastery founded in the 9th century), the chapel and the cloister for a truly religious experience! How to get there: C/ de Sant Pau, 101. Metro station: Paral-lel (L2) MACBA and CCCB Museums:  If you want to see the very best in contemporary art, the MACBA museum in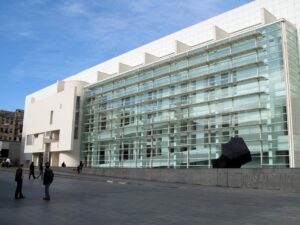 Barcelona's el Raval is a must. With exhibitions ranging from "Content Becomes Something to be Avoided Like a Plague" to "The Art of the First Globalization", there is bound to be something for everyone, from the art connoisseur to those who just like to browse. And for those intrigued by the audiovisual arts, the CCCB has various exhibits, from"Cosmic Ray. Music, Documentary and Avant-garde" to "Experimenting with Genre". How to get there: MACBA is located at Plaça dels Àngels, 1, while the CCCB can be found at C/ Montalegre, 5. Metro station: Universitat (L1) Antic Hospital de la Santa Creu: Don't miss your chance to see Catalan civil-Gothic architecture up-close! Construction on this hospital in el Raval started in 1401 with the aim of connecting Barcelona's six main hospitals on one site. Check out the courtyards and high-ceilinged rooms which currently house the library of Catalonia, art schools and cultural organizations. How to get there: C/ de l'Hospital, 56. Metro station: Liceu (L3)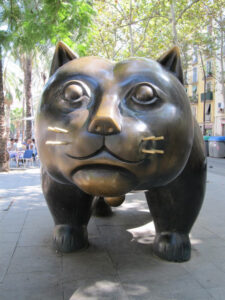 *Traveler's Tip: Don't miss your chance to catch a glimpse of Raval's very own giant cat. El Gato de Botero was designed by Fernando Botero and now an unusual symbol and meeting place in this quirky neighborhood. See if you can spot him as you Ravalear!
Shopping in El Raval
El Raval in Barcelona is known as one of the city's 'trendsetting neighborhoods' so it only follows that shopping in  this Barcelona 'barrio' makes for a great opportunity to stock up on some cool styles. From chic boutiques to vintage stores, everyone from the fashionista to the bohemian can find that perfect item to complete their outfit here. Clothing: For the best in vintage clothing, be sure to make your way to Lailo or HoLaLa Plaza. Here you'll find some of the most retro and antique bits and pieces to complete your ensemble. How to get there: Lailo is located at C/de la Reira Baixa, 20. Metro station: Liceu (L3) and Holala is situated at Plaza Castilla, 2, near the Universitat Metro station (L1). Art: Perfect for a souvenir for those friends back home who enjoy sprucing up their coffee tables with the latest collection of art and design books, Ras Bookshop and Gallery in el Raval is the go-to spot to pick up a memorable gift. How to get there: C/ del Doctor Dou, 10. Metro station: Liceu (L3)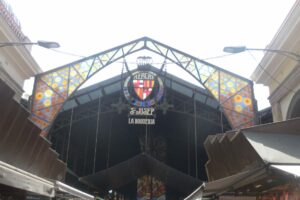 The Boqueria Market: A Barcelona landmark that should not be missed it the colorful Boqueria Market on Las Ramblas! One of the city's oldest outdoor markets, here you can browse the stalls that line this marketplace, filled to the brim with the freshest fruits and veggies, fish and meat, as well as numerous tapas bars, where you can munch on some tasty nibbles! How to get there: C/ de La Boqueria. Metro station: Liceu  (L3)
Dining and Nightlife in el Raval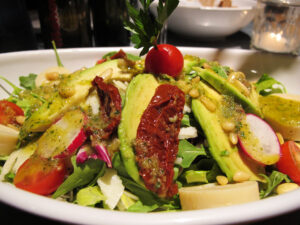 As Barcelona's barrio of fusion, it should come as no surprise that el Raval in Barcelona neighborhood boasts a wide variety of cuisines to satisfy every palatial desire! From Arabic to Indonesian, and of course, Catalan cuisine, you'll be spoilt for choice. Biocenter:  One of the longest standing veggie dining spots Barcelona; here you can enjoy some of the best organic bites in town! We recommend the tofu curry or the raw lasagne. How to get there: C/ Pintor Fortuny, 25. Metro station: Liceu (L3) El Mesón David: Don't miss out on traditional Galician cuisine at this Barcelona establishment, a favorite since 1908. Be sure to try the Pulpo Gallego (Galician octopus) or the Parnillada de Pescado (mixed grilled fish) – sure to leave your taste buds buzzing. How to get there: C/Carretes, 63. Metro station: Paral-lel (L2)
Marmalade: In search of a 50's Havana vibe? Look no further than this chic bar in el Raval, where hand carved black matte billiard tables await! Pair that with the cool and classy cocktails, including 'Bling Bling' and 'Champagne Charlie', and you're bound to have a memorable night out! How to get there:  C/ Riera Alta, 4-6. Metro station: Sant Antoni (L2) L'Ovella Negra: Translated as 'The Black Sheep', this rustic, authentic Barcelona bar is a great choice for those looking to kick back in a relaxed atmosphere with sweet Sangria and salty snacks. Best described as somewhat of an underground cave, this bar, despite being steps from the bustling Las Ramblas is a favorite among locals and students alike. How to get there: C/ Sitges, 5. Metro station: Catalunya (L1 or L3) Moog: Looking to dance the night away? Check out Moog in el Raval, Barcelona. With two floors playing the very best techno, house and pop music, you are sure to have a memorable night out, jiving with Barcelona's hippest crowd! How to get there: C/ de l'Arc del Teatre, 3. Metro station: Drassanes (L3)

Apartments in El Raval
To ensure that you experience all the very best of this Barcelona 'barrio', choose to rent one of the many Barcelona apartments in el Raval, from where easy access to all the sights, shopping spots and nightlife can be enjoyed. There are plenty of fully-equipped apartments in el Raval, complete with balconies, allowing you to pick up some fresh ingredients at the Boqueria Market and make use of your very own kitchen, then enjoy your Mediterranean dinner while overlooking this lively neighborhood. So, whether you wish to mosey around the intricate streets of El Raval in Barcelona in search of that 'oh-so-perfect' item, or wish to indulge in the endless gastronomy available in this neighborhood, El Raval should be atop everyone's Barcelona bucket list, especially those who seek a 'true feel' of the Catalan capital!