The warm weather and wealth of fun activities are two big reasons travellers love coming to Barcelona in the summer months. Another big pull to the Catalan capital is the gastronomy, with countless excellent restaurants, with delicious dishes to try, taking their home in the city. Inspired by both the mountains to the north and Mediterranean waters on its shores, Catalan cuisine is hearty and full of flavour.
If you're handy in the kitchen and want a taste of the Mediterranean from home, take a stab at making some classic dishes yourself! Catalan style of dining is very social and all about spending time with loved ones, so we're sure they'll be impressed by these culinary delights:
Traditional Catalan summer recipes
Pa amb tomàquet (Bread with tomato)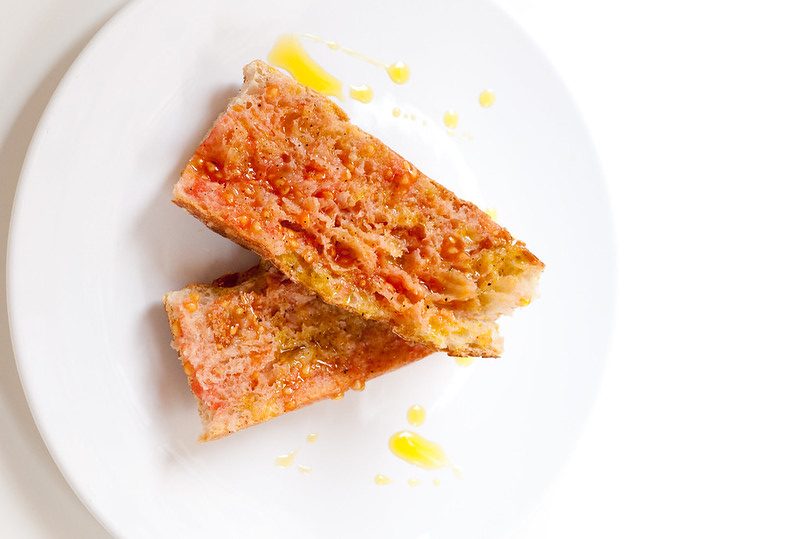 It can be said that it's the simple things in life that are the most extraordinary, and pa amb tomàquet is no exception! This beloved Catalan tapas dish is made from rubbing fresh tomato on toasted bread with olive oil, garlic, and salt. It's a simple concept and quick to create, but perfect in the warm, summer months when you want something light and tasty.
Ingredients:
Bread – any type works, but we recommend a baguette or similar.
Garlic
Tomatoes – any that are ripe and juicy
Olive oil
Sea salt
Recipe:
Toast the bread: slice the bread thinly, then toast either in the toaster or in the oven until golden.
Rub the garlic: slice an unpeeled garlic clove in half, then rub the clove over the surface of the bread. Raw garlic is spicy, so go light here if you're not the biggest fan!
Rub the tomato: slice a ripe tomato in half, then rub the tomato (cut side down) all over the surface of the bread, making sure to squeeze out lots of the rind.
Drizzle the oil: add a quick drizzle of a good-quality oil on top of the bread
Sprinkle with salt to taste
Enjoy!
Escalivada
This one-tin Catalan dish is vegan-friendly and super easy to make. The name comes from the verb 'escalivar', meaning to roast over embers. Escalivada consists of four grilled vegetables, pepper, onion, aubergine, and tomato, that are combined into one delicious dish by roasting in the oven.
Here's a recipe for escalivada that serves between 2-3:
Ingredients:
2 Aubergines
3 Red peppers
6 large vine tomatoes
1 Red onion, quartered
4 garlic cloves, unpeeled
A handful of fresh thyme
1 tbsp olive oil
50g whole almonds
1 tbsp lemon juice
1 tbsp olive oil
25g torn, fresh basil
Recipe:
Preheat the oven to 180 degrees fan/200 degree
Tip the aubergines, peppers, tomatoes, onion, thyme, garlic, oil and salt into a large roasting tin, toss to coat everything evenly.
Transfer to the oven and roast for an hour, tossing the almonds in for the last 10 minutes to roast
Remove the tin from the oven – the veg should be charred and soft when prodded. Remove the garlic and leave the rest of the veg to sit while you whisk the lemon juice, olive oil and a teaspoon of sea salt with the squeezed-out and mashed roasted garlic. Remove the tops and stems using a knife and fork, then roughly tear the vegetables apart.
Scatter over the basil and dressing, then mix well. Serve warm with some good crusty bread and enjoy!
Allioli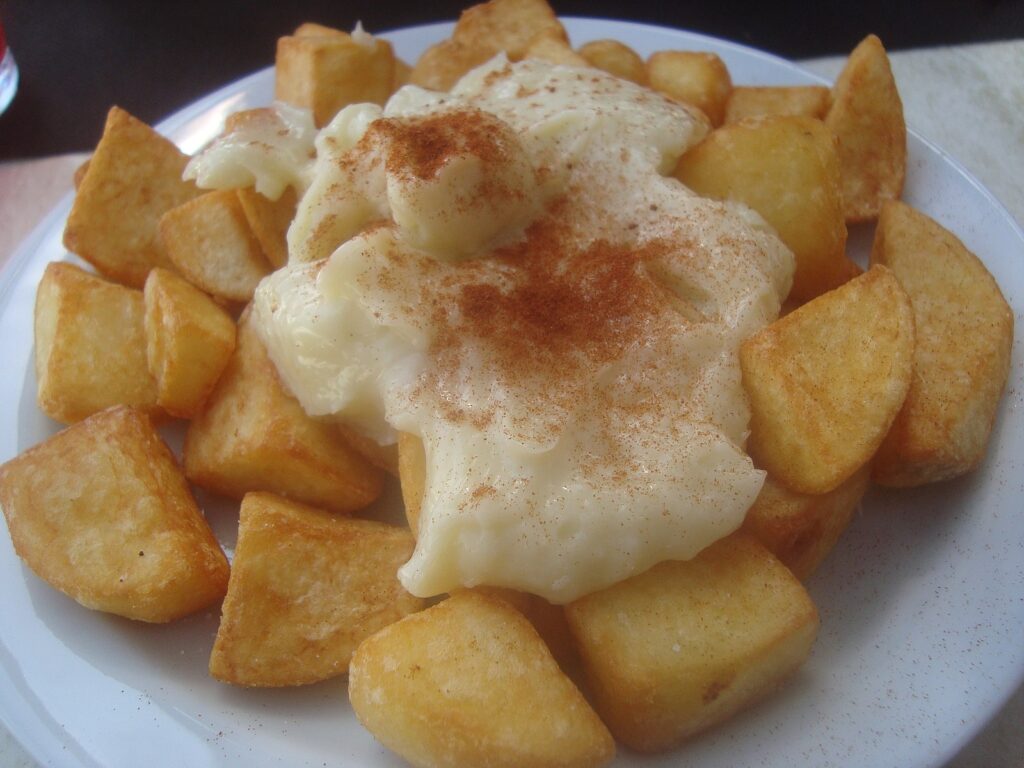 Allioli is delicious smeared on crusty bread, botifarra (sausages), potatoes, veg, just about anything tastes better with this delicious sauce! It is a strongly scented sauce made of garlic and olive oil, believed to have been brought to Spain by the Romans. It's served in almost every restaurant in Barcelona, but why not give it a try yourself at home this summer!
Ingredients:
4 cloves of garlic
½ tsp of salt
½ litre of extra virgin olive oil
3 tsp of lemon juice or white wine vinegar
Recipe:
Peel garlic and mash it in a mortar with the pestle and thick salt.
Add in the vinegar or lemon and leave for 3 minutes
Mash the mixture until it has an even paste-like consistency
Add in the oil a few drops at a time, thoroughly mixing in with a circular motion before adding more. Keep adding in the oil until it's gone.
For the non-traditional way, you can also prepare the recipe with a blender instead of pestle and mortar, simply adding it all together and blending.
Restaurant recommendations
In the heat of the summer, you can be forgiven for not wanting to work up a sweat in the kitchen! For those wanting to sample the delicious dishes of Barcelona but without the hard work of doing it themselves, here are some of our favourite restaurants that serve traditional Catalan dishes in Barcelona:
Bodega Biarritz
One of the best tapas spots in the whole of Barcelona, Bodega Biarritz is not one to be missed. They serve a wide variety of tapas that also caters to vegetarians, those who are gluten-free and with other dietary requirements too. They have over 35 options of tapas, with the option of a set menu that can be catered to your tastes. Guests say they love the laid back atmosphere and enthusiasm from the staff here too!
Address: Nou de San Francesc 7, 08002
Micu Maku
Another excellent spot for Catalan cuisine is the famed Micu Maku. We recommend trying the croquettes and the paella, which some say is the best in Barcelona! Wash it all down with a tasty sangria to feel in the holiday mood this summer.
Address:  Carrer d'Aribau 22, 08011
La Peninsular
Found in the beach neighbourhood of Barceloneta, it's no surprise that this restaurant is known for its incredible seafood. They serve delicious meat and seafood stews, mussels, crab, calamari, prawns and much more. Pick at some tapas dishes too on offer, such as the iconic patatas bravas and croquettes. You'll surely be back for more this summer with La Peninsular!
Address: Calle del Mar 29, 08003