When people think of Spain they rarely think of a meat free lifestyle. But we're here to convince you otherwise.
As a cosmopolitan hub, Barcelona is home to an extensive range of both vegetarian and vegan food sites. And in March 2017, the city finally named itself 'Veggie Friendly.' (Now that's pretty big stuff for a culture that prides itself on its succulent serrano ham and chunky chorizo sausage…)
We've already written a list of the best veggie and vegan restaurants in the city, and also one on where to find the best burgers. What we haven't done is combine the two…
So whether you're a flexitarian, vegetarian, or vegan warrior, here's where you can satisfy that burger craving without eating meat.
Vegan Options
Cat Bar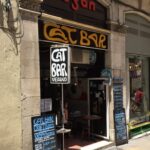 Describing itself as a 'Vegan Beer and Burger Bar,' Cat Bar offers guests one of the most delicious vegan burgers in the city along with an impressive range of artisan beer. A beer and a burger will set you back about €12, so it's pretty affordable. We've also heard good things about the bravas, so make sure to add those to your order.
The only downside to Cat Bar is that you cannot make a reservation, but this one's definitely worth chancing.
P.S there also aren't any real cats…
We recommend… The Mexican Red (Spicy burger in a bread roll with salsa brava, lettuce, tomato, red onion, and jalapeños)
Calle Boria, 17
Metro: Jaume 1 (L4)
La Trocadero
It's 2018 and Vegan Fast Food is most definitely a thing. La Trocadero will tell you that.
With an outstanding menu (which even includes vegan nuggets) and the option to order La Trocadero to your house, this place brings a new meaning to 'eating vegan'.
It's perfect for a casual date or as a quick grab and go option, and has a (dare we say it) real Hipster vibe. It also won't cost you an arm and a leg to eat there, which is always a plus.
We recommend… The LTClassic (Beetroot burger, red onion, vegan bacon, gherkins, rocket, salad, vegan cheese, vegan mayonnaise, and ketchup)
Calle Marina, 269
Metro: Sagrada Família (L2/L5)
Vegetarian Options
La Vespa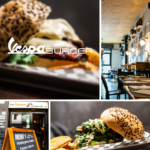 Although La Vespa has a meaty menu, they let you modify all of the burgers by replacing the meat with a veggie alternative. This way, you can still enjoy any of La Vespa's fantastic creations without eating meat.
They also do a lunchtime deal from Monday to Friday where you can get a burger, chips, and a drink for only €8.40.
We recommend… The Cheeseburger (Italian 'fontina' cheese, brie, caramelised onions, tomato, and homemade mayonnaise)
Calle del Torrent de l'Olla, 99
Metro: Fontana (L3)
Vegetarian and Vegan Options
Vegetalia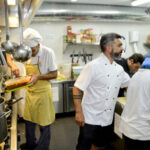 With restaurants in the Gothic Quarter, El Raval, and also El Born, Vegetalia is a super choice for an amazing vegetarian gastronomic experience.
The menu is extensive and covers all major cuisines (curries, pizza, pasta) by giving them a veggie twist. But they also do burgers.
Vegetalia offers a Classic burger (tofu, lentil and spices), a Premium (and vegan) burger, and also the mysterious Chef's Special. Cryptic it may sound, but this is the burger we'd recommend…
El Born: Plaza Fossar de les Moreres (Barceloneta L4)
El Raval: Plaza Emili Vendrell (Liceu L3)
Gothic Quarter: C/ Escudellers, 54  (Jaume I L4)
Bacoa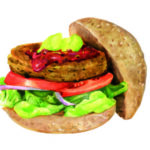 Bacoa is our favourite burger bar in the city, hands down. Informal and inviting, the fact that you get to design your own burger using a pencil and a checklist is almost as fun as eating the burger itself! (We said almost…)
Bacoa also offers a choice of vegetarian and vegan patties, both which can be customised with a variety of toppings and sides.
It's delicious, homemade, and ridiculously well priced. There's a reason there's so many in the city…
We recommend… The Gran Vegano (Chickpea spinach patty, tomato chutney and whipped avocado) with a side of patatas bravas, of course.
So there you have it, the list of restaurants you didn't even know you needed.
Adios Mcdonalds…