Finding the right places to kick-start your night out is never easy when you're in an unfamiliar city, and since the clubs in Barcelona don't usually see any action before 2am, a place to enjoy a tipple (or two!) before you head out is essential. If you want a bit more than just a few quiet drinks in your apartment, we have the solution right here. The city is full of cool taverns and cocktail bars, so to help you get the most out of your Barcelona nightlife experience, we've compiled a list from our own expertise and local knowledge. Here we give you the hottest spots for pre-drinks in Barcelona.
L'Ovella Negra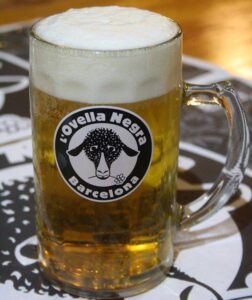 L'Ovella Negra occupies a rustic 17th Century building in El Raval offering a truly authentic pre–drinking spot. They also have another cool joint in the heart of Poblenou. Inspired by the style of traditional local taverns these bars are a great place to mingle with locals and tourists alike. They're always alive with chatter and the long benches and diverse clientele guarantee you will be making friends in no time. When it comes to the essentials, beer and sangria can be bought by the litre, with a novelty 5 litres available for the more daring. A 'jarra' or jug of beer will set you back just 3.30€!
Where to find them –  Calle de les Sitges, 5 + Carrer de Zamora, 78 @ovellanegrabcn 
Sub Rosa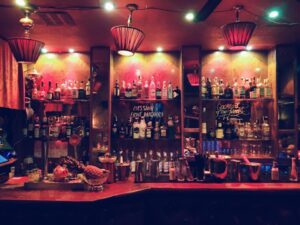 Successfully navigate the labyrinth of streets of the Gothic Quarter and you'll find Sub Rosa. When it comes to pre-drinking in Barcelona, this bar specialises in cocktails, particularly famous for its daiquiris, and offers an array of tasty flavours. Its small size and friendly staff offer a more intimate experience and makes this spot a a great place to kick off your evening in Barcelona. You'll find the prices hard to believe with most cocktails setting you back just a measly 3.50€. Aside from the great ambience and cheap drinks, it's situated close to many popular clubs such as Razzmatazz & Moog.
Where to find it- Carrer d'en Rauric, 23 Sub Rosa
Limehouse
Famous amongst the locals, Limehouse is one of Barcelona's coolest bars for pre-drinking. Self proclaimed specialists in beers, bravas and burgers, this establishment has all you could wish for before your night out. We highly recommend you try one of their homemade gins. They have an overwhelming array of flavours from grapefruit to the more unusual roast lamb for as little as 3.50€. It's situated in the vibrant El Born area of the city and attracts a stylish, younger crowd.
Where to find it– Carrer dels Carders, 31 @thelimehousebarcelona
Cal Brut
Cal Brut has a lively mix of drinks and tapas and offers a great place to get those pre-drinks in Barcelona flowing. With a notably bohemian décor, this place captures the essence of El Born perfectly. Distinctly Catalan, it doesn't get more local than this place. Describing itself as probably the dirtiest bar in the world isn't an exaggeration. It has a grungy atmosphere and dark lighting however it's still an infectious place and worth visiting. You can compliment your drinks authentic tapas like 'patatas bravas'.
Where to find it– Carrer de la Princesa, 42.
Sugar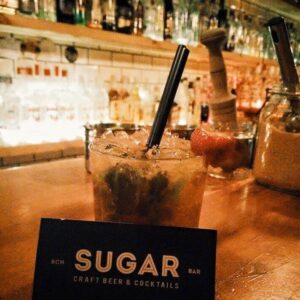 Another hidden gem of the Barrio Gótico is Sugar, a pre-drinking joint literally across from Sub Rosa. This cocktail bar is tiny and makes for a cosy place to begin a night on the town in Barcelona. Playing typically indie/rock genres this place has a really laid back feel. Make sure you join in with the games of roll the dice and rock paper scissors which may result in you winning a very cheap beer! 'Juegos' aside, even if you don't win you can't complain about drinks prices when you can pick up a cocktail for as little as 3€.
Where to find it – Calle Rauric, 21 @sugarbarcelona
Espit Chupitos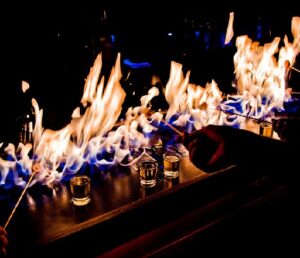 With over 600 shots on the menu, Espit Chupitos is a great way to kick off festivities in Barcelona and a sure way to keep any group happy. Mingle with merry travellers and locals alike in this quirky bar whose sole purpose is to bring you the best of all things shots! With two bars close to Universitat and one just off La Rambla, they're only a stone's throw away from all of the major clubs like Jamboree and easily within walking distance from the centre.
Where to find it –  Carrer d'Aribau, 77 + Plaça Colón, 8 + Carrer de Lincoln, 19, EspitChupito
Icebarcelona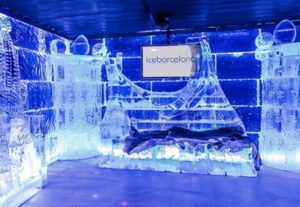 Icebarcelona really is cool in both the senses. If the heat is getting too much then this oasis of ice is the perfect place for you. However, shorts aren't advised as the bar is kept at a refreshing -5ºC. That said, it's a truly unique experience, with gloves and coat provided. You couldn't feel any further from its idyllic beachside position when inside, until you spot the large terrace with sea views to help warm you up afterwards.
Where to find it – Ramón Trías Fargas, 2 @icebarBCN
For more great ideas on where to grab a good drink in Barcelona check out Top 5 Cocktail Bars in Barcelona or Barcelona's Craft Breweries.