There are some amazing dessert restaurants to be found all over Barcelona. The options range from cool gelato to artfully crafted plates of sweetness. If you're looking to satisfy your sweet tooth in Barcelona here are the 5 best places in the city to do it.
1. Escribà
This cake shop has been around since 1906. Years of passing through family members that loved pastry enough to travel to Paris and study it have made this name a confectionery legend and current owner Antoni Escribà is even known internationally as the "Mozart of chocolate".
There are two branches of this dessert and pastry store in Barcelona, which make cakes for celebrities and big events, but also provide some sweet treats for a tasty breakfast or mid-afternoon snack.
Some of the desserts are on the pricey side due to their high quality ingredients and delicate touches, but this is a must visit on the Barcelona dessert tour.
How to Get There: Metro – Urgell (L1) (Gran Via location), Liceu (L3) (Rambla location)
2. La Dolça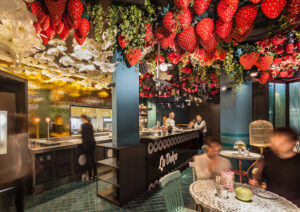 Go back to your childhood and enter a world of whimsical imagination at La Dolça of Tickets. This pastry shop is designed to remind guests of magical stories like "Alice in Wonderland" or "Charlie and the Chocolate Factory." Standing in it, you may feel like you've shrunk just like Alice did. The tables are like giant doilies. The ceiling is covered in vibrant and enormous strawberries, blueberries and flowers.
This dessert spot in Barcelona is connected to Tickets, a restaurant and bar rated number 29 in the World's 50 Best Restaurants and owned by Albert Adrià, brother to world famous chef Ferran Adrià. An association with this top quality restaurant guarantees the desserts are exquisite.
How to Get There: Metro – Poble Sec (L4)
3. Il Forno

Rated number one in Barcelona for desserts by Tripadvisor, Il Forno is a go to sweet spot. From mini cakes to tarts to chocolate cannolis, you'll find something for everyone here. While it offers more Italian delights than typical Catalan ones, this place is popular with locals and visitors alike so it may attract a crowd coming to snag a sweet snack.
How to Get There: Bus – Industria-Lepant (H8)
4. EspaiSucre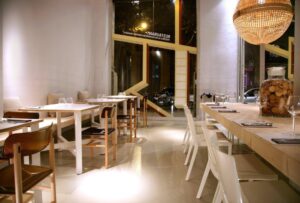 This one is every sweet lover's dream. EspaiSucre is a restaurant devoted to desserts. The location is sleek and modern and the menu will have you smacking your lips with anticipation. You pick a menu with a number of sweet courses and dive back into a childhood memory of wishing for dessert for dinner.
The artfully crafted desserts here are creative and often delicate, mixing both art and pastry. The dishes can be paired with a glass of wine from one of the bottles that line the wall. Set menu courses range from 35€ to 55€.
How to Get There: Metro – Jaume I (L4)
5. Gelaaati Di Marco
For a summer cool down and a sweet treat, try Gelaaati Di Marco. This artisanal gelateria offers 25 flavors of frosty goodness along with waffle and crêpe options.  To ensure their authentic Italian taste, these ice creams are made fresh every day by master Marco Di Consiglio who has over 20 years of experience. They promise top quality ingredients with no dyes or hydrogenated fats. It's a popular gelato spot in Barcelona with hundreds of reviews to speak for it.
How to Get There: Metro – Jaume I (L4) or Liceu (L3)