If halal food is your preferred or only choice, Barcelona has a lot to offer. Throughout the Catalan capital, restaurants are increasingly using halal ingredients, offering a wide selection of mouth-watering dishes. There are many restaurants dedicated to serving the best quality halal food, as well as others which incorporate halal dishes into their varied menu. Here we give you 10 of our favourites.
Eixample Esquerra
1. Al Jaima
This one is one of the best spots for Lebanese food in Barcelona. Al Jaima features an authentic selection of Lebanese cuisine. Their hummus is particularly good. With a laid-back vibe, this halal place in Barcelona is ideal for those who like to enjoy their meal without the rush.
 València, 218
2. La Mamounia
One of the most elegant Moroccan restaurants in Barcelona located in Eixample. In La Mamounia, you'll definitely have a real taste of Marrakesh. The lamb tangine with plums is one of their most popular dishes. They also offer shisha pipes here, too. You'll feel you're in a mini Morocco in Barcelona.
València, 193
3. Bukra Xu

This restaurant has been around for more than 30 years. Bukra Xu is mainly specialised in traditional Lebanese food, serving you authentic, home-made Lebanese meals and appetizers. Their beautifully seasoned hummus, tabouli, kafta and lebne are musts when you come here. All we can tell you is that this place is absolutely worth a try if you like authentic Middle Eastern food.
Muntaner, 34
4. Rincon Persa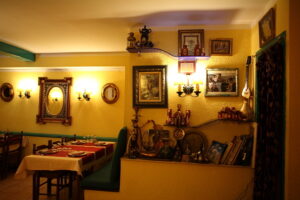 Experience the best of Iranian cuisine in Barcelona. Rincon Persa transports you to ancient Persia, with its authentic dishes and Persian decorations and paintings. This restaurant offers a variety of traditional Iraniandishes. Ranging from delicious starters, like Mirza Ghasemi (an intriguing dip of eggplant and eggs), and Masto Khiar (yogurt and cucumber dip), to tasty main courses such as the most popular Irainian dish, Chelo Kebab (ground beef skewers with Persian-style rice), plus lots of different kinds of delicious stew and rice.  You'll definitely want to come back to this halal-serving restaurant in Barcelona.
Floridablanca, 85
5. Lal Qila Barcelona
Offering wonderful Indian cuisine, while using the finest spices, along with Falafel and fresh tapas, Lal Qila Barcelona is famous for its authentic Indian food such us chicken curry and kebab. In fact, their Durum Kebab is one of the best in Barcelona. This restaurant also serves some fantastic Italian and Spanish meals, which gives you more options to choose from.
Roger de Llúria, 49
Old Town

6. Arabia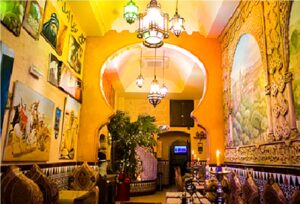 Providing delicious Iranian, Moroccan, and Syrian dishes all in one place, Arabia is a halal restaurant in Barcelona which has a warm and inviting décor and fascinating belly dance performances, so you can fully immerse yourself in a beautiful Arabic atmosphere.  It has a great location, really close to Palau de Música Catalana. This restaurant also offers Hookah and Arabic tea. Yum!
Sant Pere Mes Alt, 18
7. Maharaja
Looking for the best Indian food in town? Maharaja provides mouth-watering Punjabi dishes, including tasty curry and Tandoori chicken. Their Bhindi with Paneer is a must try for a real taste of home-cooked Punjabi cuisine. For those who love Indian food, this is the ultimate choice. What's more, all dishes are served with more than 40 different types of herbs and spices.
Rambla del Raval, 14
8. Ziryab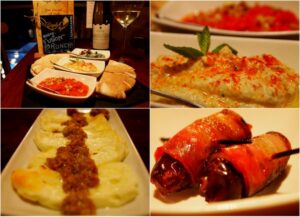 Ziryab offers a mix of heavenly dishes from the Mediterranean. They have some of the top rated tapas in Barcelona as well as delicious halal food, including some unique and very tasty dips with pitta. All meals are prepared using the finest ingredients and spices to serve you with a rich and delightful taste of the Med.
Career Dels Ases, 16
Gràcia
9. Aska Dinya
This family-owned restaurant offers different meals from the Arab region, specifically from Palestine. They're all homemade, with a delightful Mediterranean touch. Situated in a multinational-bohemian neighbourhood, Aska Dinya's falafel and kebe are amazing with all the dips of hummus and mutabal. Make sure you leave room for the out-of-this-world kebab kafta!
Verdi, 28
Sant Gervasi
10. Abou Khalil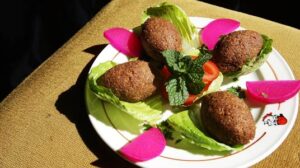 Old is gold! Founded in 1982, Abou Khalil is the longest-standing Lebanese restaurant in Barcelona. This halal-serving restaurant in Barcelona brings you a wide selection of seafood and meat, as well as delicious Lebanese appetizers. Don't forget to try their Shish Tawook and Reayash (a traditional marinated chicken shish kebab)! They also offer delicious salads, hummus, and vegetarian dishes.
Santalo, 88