Whether you're a Barcelona first timer looking for something unique and tasty away from the tourist crowds, or a Catalan capital veteran ready for your next foodie challenge, there's no way you can ever be bored with the culinary delights offered in this wonderful city. There are new restaurants popping up in Barcelona all the time, each with a different twist and always bang on trend. Here we've compiled some of 2016's coolest new restaurants to grace Barcelona.
Koku Kitchen
Ramen, it appears, is all the rage in Barcelona at the moment. Riding this trend, quite excellently I should add, is the contemporary Koku Kitchen, tucked away in the Gothic Quarter. Although originally Japanese cuisine, this brand new joint is owned by two Irish guys, who've given the restaurant a unique ambience with their own twist.
Although firmly dedicated to providing excellent food, Koku Kitchen has the sociable feel you may expect from a bar rather than a restaurant. Start off with some dim sum and nibbles and follow up with a zingy bowl of their tasty ramen.
Where to find it: C/ Carabassa, 19
Bellavista del Jardin del Norte
Flavour of the month in Barcelona right now has to be Lionel Messi's sleek new joint on the cool Enric Granados street. The development of his unique concept set him back a whopping 2 million Euro, money well spent in our opinion. The restaurant is enormous and divided into different dining areas which all have an individual theme but together are meant to represent a town.
Bellavista is just as much an experience as it is a gastronomic treat. As a diner you're expected to take a trip through the town which is packed full of enticing appetizers and sweet goodies like pastries, spreads and bakery items in differently designed rooms representing the town hall, newspaper stand, cinema, etc. The main menu is equally as impressive with authentic Spanish cuisine devised by top chef Ferran Adrià who has sourced some of the best cuts of beef you'll find in the city.
 Where to find it: Enric Granados, 86-88
Robadora
Situated in the up-and-coming El Raval neighbourhood, Robadora is the latest in a series of swanky new eateries in this thriving Barcelona district. Aiming to be a culinary landmark in its own right, Robadora sets its sights on offering quality and tradition with its tapas-based menu.
Keeping in line with the greater redevelopment aim for El Raval, Robadora is a self proclaimed 'Gastrobar', intent on becoming not just another restaurant but a meeting place for people, too. And with a menu that includes a quirky mix of teriyaki octopus and steak tartare with Girona beef 'French style', you won't be disappointed here. But the main selling point comes from its affordability and value, with many of the tapas dishes coming in at under 5€.
Where to find it: C/ Robador, 18
Trópico
Again in the progressive El Raval district you'll find the hidden gem of Trópico. Keeping in touch more with the vibrant local community, Trópico's menu takes inspiration from all over the world, with, of course, a distinctly tropical twist.
Colour is the focal point of everything they do. The menu is not just exclusively dedicated to taste, but through its exotic presentation and aromas, it successfully pleases all the senses. From neon-coloured smoothies and caprese mango salad to palm heart empanadas, this place has it all. The restaurant also has to be praised for its affordability with a main and cocktail setting you back no more than 15€.
Where to find it: Carrer del Marquès de Barberà, 24
Kappo Barcelona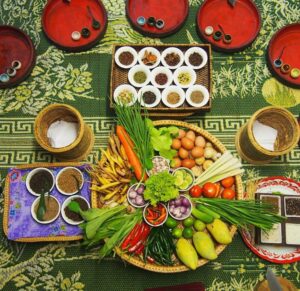 For all things Asian, it has to be Kappo. Head chef Carlos Coca conveys his passion for Asian cuisine in this cool and cozy new restaurant in Barcelona. A far cry from the bustle of the more touristic areas of the city, Kappo boasts of a much more laid back and authentic culinary experience. From Indian Tikka Masala to Japenese Tonkatsu, it's all covered.
The menu isn't large but the quality of each dish couldn't be better in both taste and presentation. As you would expect with this kind of cuisine, you'll be bombarded by great taste, hints of spice and superb colour. But above all, it's the value for money that must be commended with lunch menus here starting at 11.50€.
Where to find it: Passatge Lluis Pellicer, 24
El Fumet de Letamendi
For more traditional Spanish and Catalan cuisine, El Fumet de Letamendi is the place for you. From fresh fish and meat cooked on hot stones to an assortment of different rice dishes, including paella, this is one new restaurant in Barcelona you don't want to miss.
El Fumet de Letamendi is as authentic as a restaurant can get. With an emphasis on a home cooking style, the food on offer is very rustic and typical to this region. The traditional ambience is also evident through its décor, with plenty of rustic features giving the restaurant its charm.
Situated in the less touristic and laid back Eixample district, its terrace feels a million miles from the bustle of La Rambla.
@elfumetdeletamendi
Where to find it: Enrique Granados, 14