Trying to figure out how to make the most of a free day? Why not explore Barcelona's Old Town or Ciutat Vella district? We've compiled a complete guide with suggestions on how to best enjoy the charm and rich history of each of the Old Town's neighborhoods.
Morning – El Born/Sant Pere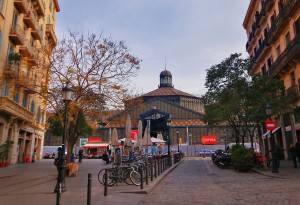 Breakfast: Start off your day with breakfast at Alsur Café, a popular spot in El Born. If you happen to come on a Sunday, they offer a brunch menu featuring classics such as eggs Benedict, omelets, pancakes with syrup, and freshly prepared fruit and yogurt parfaits.
-Address: Plaça de Sant Cugat, 1
After fueling up for the day, take a stroll through this Ciutat Vella neighborhood and take in the sights of the colorful terrace apartments. If you're in need of some retail therapy, then shopping in El Born is a great way of exploring the many unique artisan shops lining the narrow streets. You'll not only be supporting local businesses, but you're sure to score on finding one-of-a-kind gifts for friends and loved ones. Some cool locales to hit up are Biba, known for their leather handbags designed here in Barcelona, and Czar, a really hip shoe store. Both can be found on Passeig del Born, once the site of Mediaval jousting competitions.
Besides shopping, the Sant Pere neighborhood, which is just above El Born, is home to some of the most popular tourist attractions in Barcelona, one being the beautiful Palau de la Música Catalana. This elaborate Modernist building hosts many concerts for orchestra, classical, guitar, flamenco, and much more. During the day, the facilities are open for tourists to visit and check out the stunning architecture.
-Address: C/ Palau de la Música, 4-6
A great museum to pop into is the Museu Picasso in El Born itself. As its name suggests, it's home to famous exhibitions by Pablo Picasso who spent much time in Barcelona's Old Town. After gazing at famous works, you have the option of participating in some fun artistic activities organized by the staff. For this place, we recommend you purchase tickets online ahead of time, as entry is only reserved for certain times of the day you wish to attend.
Tip: admission to Museu Picasso is free on Sundays after 15:00h and free all-day admission is available on the first Sunday of each month.
-Address: Carrer Montcada, 15-23
If you're a big fan of architecture, then you'd love the Basilica de Santa María del Mar. This 14th century church is regarded as the best example of Catalan Gothic architecture for its dimensional proportions.
-Address:  Plaça de Santa Maria, 1
Additional sights: If you wish to stay longer within El Born, we recommend checking out the fascinating Born Cultural Centre. Admission is free and you'll get to experience seeing archaeological sites and artifacts from the early 18th century War of Spanish Succession.
– Address: Plaça Comercial, 12
Lunchtime – Barri Gòtic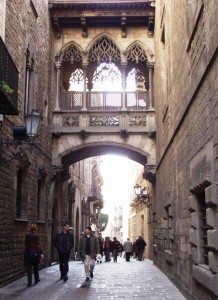 Conveniently next to El Born is Barri Gòtic, Barcelona's Gothic Quarter. This Old Town neighborhood, a labyrinth of narrow streets, retains some of its architectural characteristics from when the city was occupied by ancient Romans.
Lunch: Feeling hungry? We recommend you grab some lunch at Els 4 Gats. Here, the food is as rich as its history. Opened in 1897, this traditional Catalan locale was a popular grub hub for fans of the Modernist movement, including Picasso, who used to hang some of his paintings on the walls. If you're really trying to make the most of your budget, we recommend ordering from their Gastrobar menu, which includes delicious options such as assorted Iberian sausages, fried eggs with gula and red prawns, and green asparagus tips with Iberian ham and Romesco sauce.
-Address: Carrer de Montsió, 3
A must-see during your day in the Gothic Quarter is the Catedral de Barcelona. Dating back to 1298, this Gothic cathedral is adorned with breathtakingly high arches and vibrant stained-glass windows. Entrance to the main cathedral floor and cloister is free, however some areas require a small donation to enter such as the roof and the Capilla del Santo Cristo de Lepanto.
-Address: Pla de la Seu, s/n
After spending some time in the cathedral, follow the adjacent Carrer del Bisbe to Plaça Sant Jaume. On two sides of this Ciutat Vella square are two major government buildings: the Ajuntament de Barcelona and the Palau de la Generalitat de Catalunya.
Craving something sweet? For some of the best churros con chocolate in Barcelona, we recommend Granja La Pallaresa.
-Address: Calle Petritxol, 11
Afternoon – La Rambla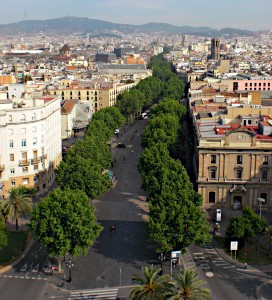 A year-round favorite, La Rambla is a 1.2 kilometer tree-lined pedestrian street connecting Plaça Catalunya and Port Vell. On any day here, you can find vendors, artists, and street performers (human statues especially) entertaining passing crowds.
While here, you should definitely pass through the delicious, bustling madness that is the Boqueria market. Under the large canopy structure are countless stands selling everything from delicious homemade fruit juices to South American-style empanadas. Toward the back of the market are some bars for visitors to sit down and have something to eat and drink.
If you're up for it, we recommend walking down to the end of La Rambla and spending some time in Port Vell. Take in the sights of the marina's numerous bobbing sailboats as well as the Mediterranean Sea itself.
Evening – El Raval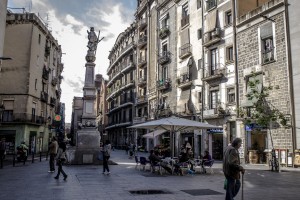 Having experienced a fairly recent immigration boom from parts of South America, Pakistan, Indonesia, and Eastern Europe, El Raval is regarded as the multicultural hub of Barcelona. In this part of our route around Barcelona's Old Town, we recommend taking a stroll through the beautiful tree-lined Rambla del Raval. Some additional places to visit are the Contemporary Art Museum of Barcelona (MACBA) and the Centure de Cultura Contemporània de Barcelona (CCCB)
-Address MACBA: Plaça dels Àngels, 1
-Address CCCB: Montalegre, 5
Dinner: Hungry after a long day of exploring? Have dinner at Lo De Flor. This rustic, cozy restaurant offers a savory menu that fuses together dishes from Spain, Italy, and France. Many visitors rave about the quality and presentation of each carefully-prepared item. Some favorite dishes include onion soup and roast beef.
-Address: Calle Carretas 18
Drinks: If you're in the mood to go out for some copas, check out Marmalade. This stylishly chic bar is raved about for making the best cocktails in Barcelona. Celebrate the end of an adventure-filled day by treating yourself to a hard-earned 'Nicky Lauda Saua'.Yum!
-Address: Carrer de la Riera Alta, 4-6