Whether you are coming to Barcelona to work or study, choosing a long term apartment can be a hard decision. Barcelona is such a big and vibrant city to live in and there are so many different options available. Here we have everything that you need to know and think about before you make your move.
Choosing your apartment
When deciding on an apartment its important to consider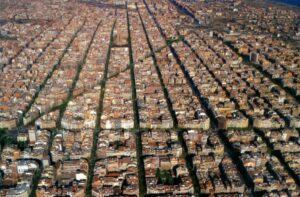 in which area it is located. The best place might not be right in the very city centre if your school or workplace is located in he suburbs. Each district in Barcelona can cater to different needs.
An apartment in the Eixample area, for example, would be more suited to families. This area generally has a lot of spacious apartments, cool Modernist buildings (with elevators) and can also be relatively quiet compared to other areas of the city. On the other hand you have the Ciutat Vella area of Barcelona, which is one of the liveliest in the city and might be more suited to students. You may also want to experience an apartment in the trendy area of Gràcia; Here you won't find as many tourists, so it's easy to feel more integrated into the Catalan way of life.
What you'll need to provide

For long term rentals in Barcelona, you will need specific documentation depending on the reasons you are moving here. The requirements can depend on whether you're a student, employed or just staying in the city over a long period. Furthermore, we advise that you apply for a NIE number (residency number for foreigners) straight away, as this is important, particularly if you are working in Barcelona, but also if you want to open a bank account, etc. To register, you'll need to make an appointment through this page. You will normally have confirmation on whether you have been successful in your reservation of your appointment within 48 hours.
What you actually need to provide to your landlord or rental agent varies, but to get an idea on what to expect, take a look at the Apartment Barcelona Long Term Rental conditions page.
Time to hand over the dough…
When making the rental payment for a long term rental apartment in Barcelona, you will normally have to pay via a bank transfer unless you have agreed on another method. Remember that agencies usually charge commission so make sure you know what you have to pay up front. It is usually the price of one or two months rent but this can depend on how long you're staying for. Remember that normally the agency commission will not be refunded if the reservation is cancelled.
Make sure that you are aware of the other conditions that might be included in the tenancy agreement. Utilities can vary depending on the size of the apartment and by how much energy you use. Maintenance may be provided by the flat owner but be aware that if any damage is caused you will be charged. You will always have to make sure that the flat has been completely cleaned when your rental period has finished. Also be sure to check whether towels and linens are provided, or if you need to bring your own.
Want to stay for longer?

If you want to renew your contract for a longer period it can normally be arranged if the apartment hasn't already been booked again. Although, be aware that charges may change for an apartment if you want to stay for a longer period of time. This can include extra admin fees and costs can very depending on how much longer you want to stay in the apartment.
A few things to keep in mind

If you want to bring Rex and Rover, make sure your accommodation is pet friendly as some apartments wont accept animals
Some apartments don't have accessibility for wheelchair users
Make sure you know which costs are included in the rental agreement – always read the contract thoroughly.
Check the reviews from previous tenants to get an idea of what to expect