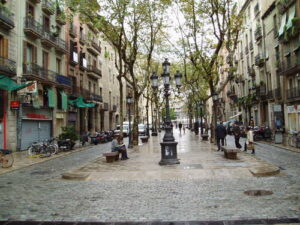 Last updated: September 2017
El Born, also known as La Ribera, is a fantastic area to visit on your trip to Barcelona. Situated in the Ciutat Vella (the Old Town), there is much to see in the area, and it is home to some of the most notable displays of Gothic architecture in Barcelona. From magnificent museums, including the revered Picasso Museum, to Gothic churches, to the astounding designs of the buildings that line the intimate alleyways, this neighborhood is sure to satisfy everyone that comes for a stroll in this distinctive 'barrio'.
Below we give you the top 3 places to visit in and around El Born:
Palau de la Música Catalana
This world famous conc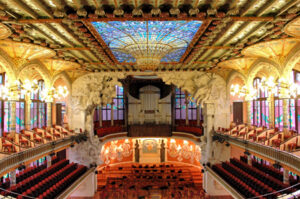 ert hall is one of Barcelona's most visited tourist attractions and is widely respected as the most representative building of Modernist-Catalan style. Designed by architect Lluís Domènech I Montaner, it has stood its ground since 1908. It holds significant value to the city, as this is the headquarters of the Orfeó Catala, an institution that was formed in 1891 to support Catalan music and culture.
Once inside, you will be astounded by the impressive designs decorating this magnificent building, which has played host to hundreds of world-famous artists, including Pablo Casals, Artur Rubinstein and Alban Berg's Concerto for Violin and Orchestra, which made its world premiere at this venue in 1936. Sculptures decorate the walls from top to bottom, with perhaps the most iconic figure being that of Beethoven, sculpted by Pau Gargallo and Dídac Massana. To this day, the hall invites you to experience music from some of the most important local and international acts in the world, while you marvel at its intricate features and grandeur. Although this historical pinpoint on the Barcelona map is technically located in the neighboring 'barrio' of  Sant Pere, a short scenic stroll will get you there. For more information and a full schedule of events, visit the Palau de la Música Catalana website.
How to get there: C/ Sant Pere. Metro Station: Urquinaona (L1 or L4)
Picasso Museum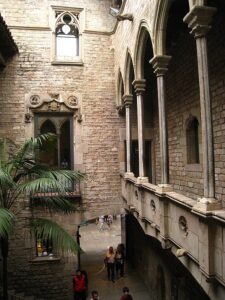 To fully understand the greatness of Pablo Picasso and his revered artworks, a visit to the Picasso Museum is a must on your trip to Barcelona! The museum, at the center of five medieval palaces in El Born, hosts more than 3,800 of the artist's works, and offers an in-depth look at his relationship with the city of Barcelona, one that shaped his youth, and ultimately had a great impact on his art. The museum, which opened its doors to the public in 1963, is a staple of Barcelona, and something every guest of the city, whether an art connoisseur or just an interested visitor, should see! For a full schedule of visiting hours and directions, visit the Picasso Museum website.
How to get there: C/ Montcada 15-23. Metro Station: Arc de Triomf (L1), Liceu (L3) or Jaume I (L4)
Basílica Santa María del Mar
One of the most notable constructional feats in the Born neighborhood of Barcelona is undoubtedly the great Basílica Santa María del Mar. Best described as the perfect display of Gothic style, this magnificent church offers a look at the purest form of Catalan architectural designs. Built in the 14th century, it is the only church in Barcelona that was ever completed, and was done so in an astonishing 55 years. To fully grasp the true essence of Gothic architecture, a trip to the Basílica will leave you with a feeling of awe and amazement.
How to get there: Pl. Santa Maria, 1. Metro Station: Jaume I (L4)
Whether you choose to take a stroll along its picturesque winding roads, or decide to immerse yourself in the great works of Picasso, El Born offers something for everyone. You could even choose to stay in an apartment in El Born, allowing you to step out every day into this beautiful neighborhood, and giving you ample time to experience all that this historically and culturally rich area in Barcelona has to offer.
Be sure to check out our video guide to El Born in Barcelona!