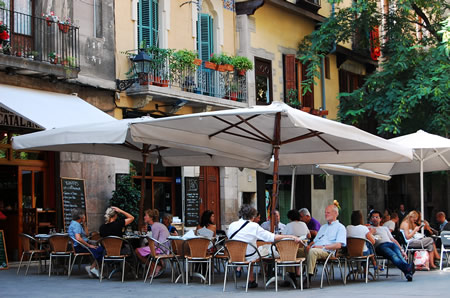 Last Updated: September 2017
In the cultural hub that is Barcelona, you can find many distinctive 'barrios', also known as neighborhoods. Amongst the more historical areas of the Catalan capital and right in the heart of the city, lies the area of El Born. It may be situated in a city famous for many architectural wonders and a charming charisma that welcomes you around every turn, but rest assured, between all the quirky boutiques and astonishing art on display in this up-and-coming zone of Barcelona's Old Town, there are many delectable delicacies and top eateries to be discovered!
Here we give you 3 restaurants in El Born with food to tickle your taste buds:
1.El Xampanyet: Tapas with a Catalan Twist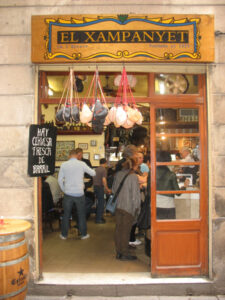 Craving a traditional Catalan dish? Look no further than 'El Xampanyet'! This bar is renowned for the delightful sparkling wine that it offers, and gives diners the ultimate experience in traditional meals, featuring tapas of seafood, Jabugo ham and the house special, fresh anchovies! This local gem has been a staple of the community since the 1920s, and has remained family owned ever since. Relax amidst the decorative tiles and trinkets in this quaint tavern and enjoy some typical Catalan food with a glass of Xampanyet Cava!
How to get there: Carrer de Montcada, 22. Metro Station: Barceloneta (L4)
2. Cat Bar: Vegan Anyone?
The city of Barcelona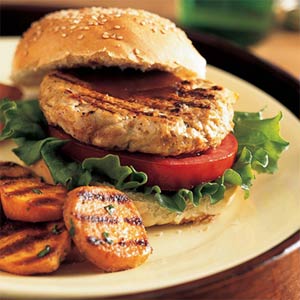 never seems to fail in its quest to offer unique experiences for every whim and desire. This treasure of a locale, offering all the best in vegan cuisine, is sure to make you rethink your opinion on the diet enjoyed by non-meat eaters. With an extensive menu that includes vegan beers, vegan wines, home made hummus and some of the tastiest vegan burgers, you are sure to leave with your hunger satisfied, whether you are a carnivore or not! With live music on display, this bar offers the perfect backdrop for a night out! For more information check out the Cat Bar Facebook page.
How to get there: C/ Boria, 17. Metro Station: Jaume I (L4)
3. Passadís del Pep
 If you are looking for a charming location for your dining pleasure and some of the best seafood in Barcelona, Passadís del Pep is the answer to your prayers! Founded in 1979 by Joan Manubens, this restaurant has gained notoriety for the secret of its success, which lies in the quality ingredients that are cooked with simplicity. Some of the more famous dishes served at Passadís del Pep include Iberian cured ham, baby squid with garlic and white rice and a scrumptious seafood casserole.  This hidden gem is tucked away and may not be easy to find, but then again, the best things in life often take some extra work! For directions, a full menu and contact information, visit the Passadís del Pep website.
How to get there: Pla de Palau, 2. Metro Station: Barceloneta or Jaume I (L4)
Whether you decide to indulge in some simple tapas, or make a night out of it, El Born is home to some of the most exquisite restaurants in Barcelona! The list above is by no means extensive, and you will certainly find a variety of fantastic eateries in this delightful neighborhood of Barcelona. Be sure to look out for La Pizza del Born for a little slice of heaven and La Luna for some classic pre-dinner cocktails! Enjoy!
Take a look at what else awaits in Barcelona's El Born with Apartment Barcelona's Video Guide!