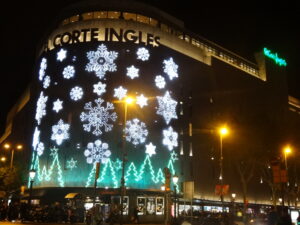 If you're not one who wishes to shiver your way through the Winter period, Barcelona is the place for you. Imagine yourself here, surrounded by Christmas markets, the sky is blue, seasonal carols following you wherever you go. Inspiring religious buildings surround you, the city is lightened by an array of Christmas light displays.
The Christmas sales and deals in Barcelona can be sought among all types of shops, shops which are also perfectly happy to wrap your gifts for you, completely free of charge. You can find gourmet Christmas treats and quality wines in your average supermarkets and speciality shops.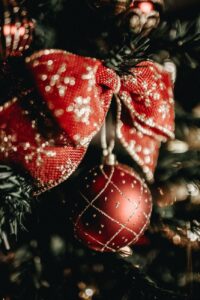 Throughout Barcelona you can also find some incredible Christmas markets, check out our top five. The markets sell sweet Christmas treats, like hot chocolate, churros, chestnuts and sweet potatoes. They also have beautiful homemade ornaments and jewellery, and traditional Christmas decorations and children's toys. These markets come to Barcelona around the end of November and tend to stay until the day before Christmas, with some staying until early January. 
As well as the huge and beautiful Christmas markets, you can find a plethora of incredible areas, shopping centres, department stores and outlets throughout Barcelona which will make your Christmas shopping easier, a bit more ideal & most importantly a lot more exciting.
Quick note: We recommend that when shopping in Barcelona, that you go earlier rather than later, as it can get pretty busy during the winter months! 
Shopping centres 
Diagonal Mar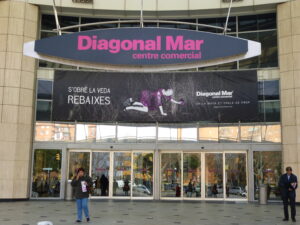 The Diagonal Mar Shopping Centre is one of the biggest shopping centres in Barcelona, split into three floors to accommodate the stores of which are leading clothes and design brands. They have a total of 17 cinema screens and even a bowling alley! 
They have over 200 clothes shops, restaurants and leisure venues. Not only this, but the Diagonal Mar is recognised as a model thanks to their promoted values of environmental sustainability and social responsibility. 
This is the perfect place for your Christmas shopping, as you can have everything in one place. They are also located just beside the Parc Diagonal Mar, and Museu Blau, which are ideal locations for spending the day as a family! 
Address: Av Diagonal, 3
Glòries Shopping Mall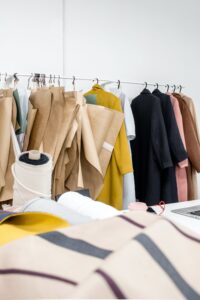 The Glòries Shopping Mall is located in one of the most dynamic places in Barcelona, the Plaza de las Glorias Catalanas. Surrounding this is the Barcelona Design Museum, Los Encantes Market and the Agbar Tower. 
The shopping centre is a large commercial and entertainment hub, with 77 major stores, restaurants, and cinemas, making it another one of the best places to go shopping in Barcelona. They also have many large- scale stores such as Carrefour, following their large variety of fashion, home and electronic stores. 
They have plenty of free parking available for those with cars, they have charging points for your phones, disabled access, kids' club play areas and free wifi all around. You can't go wrong here for a day of Christmas shopping! 
Address: Avenida Diagonal 208, 08018
Las Arenas shopping centre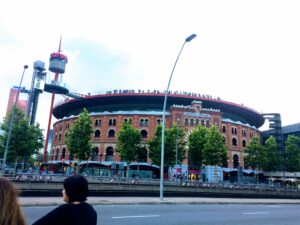 Las Arenas used to be a bull ring, noticeable by the shape of the building! Over six floors you can find 116 shops, a fitness centre, a 12- screen cinema, events hall, and several bars and restaurants. 
From the roof, you get a 360° view over the city and Montjuïc, with their countless restaurants up there. This place is an incredible converted arena which was designed by the British architect Richard Rogers. 
You can stay for as long as you want in this shopping centre, find your perfect Christmas gifts, check out their cool and trendy clothing, hit the sports facilities, check out a movie, have a bite to eat. Shopping doesn't have to be stressful here in Barcelona…
Address: Gran Via de les Corts Catalanes, 373-385, 08015 Barcelona
L'illa Diagonal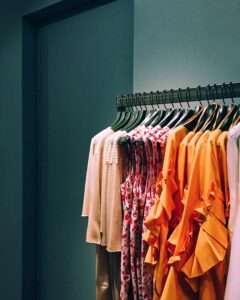 L'illa Diagonal, situated in Les Corts, offers a diverse selection of high-end boutiques, fashion brands, and specialty stores, making it a prime destination for fashion enthusiasts during the holiday season. 
Whether you are looking for designer fashion, exquisite jewellery, or the latest in home decor, L'illa Diagonal caters to all of your needs, whilst also providing a chic and sophisticated atmosphere, due to its modern design. In addition to its remarkable shops, the mall also boasts numerous eateries within the premises, making it an ideal spot to refuel after a long day of shopping.
Address: Diagonal, 557, 08029 Barcelona
Areas to visit 
Passeig de
Gràcia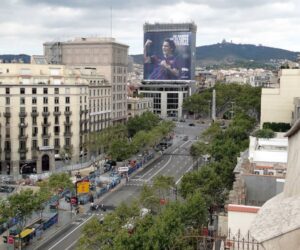 Passeig de Gràcia is one of the most well known streets for shopping in Barcelona, whether it be leisure, business, gastronomy, shopping or just the culture, you can find everything down the Passeig de Gràcia. 
They have their designer stores; Louis Vuitton, Coco Chanel. Gucci, amongst many more. A three- story apple store, and your more affordable shops; Zara, Stradivarius, Pull & Bear, H&M. The best part about this area is that once you begin to feel tired, or you're getting bored of shopping, you will find hundreds of incredible places to go for food, for just a coffee, or even a light beverage if you fancy it! 
This place is perfect for Christmas shopping if you're looking for those high end stores to treat your loved ones with this Christmas. 
Address of area: Central Eixample
Portal de
l'Ànge
l 
Portal de l'Àngel is one of the busiest streets in the city, it hosts numerous commercial establishments, and is a fantastic gateway for the Gòtic neighbourhood from Plaça de Catalunya. 
This is one of the most expensive streets not only in Barcelona, but in Spain. Although this, it is also a great place for finding craft items on the stalls of the craft markets which are located in the upper area of the street, these offer cool and trendy clothing and decorations. 
When walking down the Portal de l'Àngel, make sure you stay alert to your surroundings, which are some of the most incredibly beautiful buildings packed with balconies and spotless façades. 
Address: Av Portal de l'Àngel, 21 
Plaça de Catalunya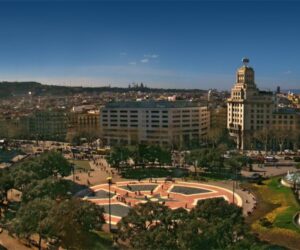 The Plaça de Catalunya is the perfect place for meeting in the middle. It is literally at the heart of Barcelona, separating the districts of Ciutat Vella and Eixample. 
It surrounds the incredible plaza which covers 5 hectares, featuring six sculptural groups around the plaza, representing the four catalan cities. There is also the Josep Maria Subirachs' monument, be sure to look out for it! 
This place has huge shopping centres, including el Corte Inglés and El Triangle, and it is constantly busy with crowds of people. It is one of Barcelona's most central areas and therefore the perfect meeting place for locals and visitors. You can find all of your affordable, popular shops around here, including multiple Zara's, Pull & Bears and Stradivarius, as well as Sephora, Footlockers, and many more! 
Address: Plaça de Catalunya 
Department stores
El Corte Inglés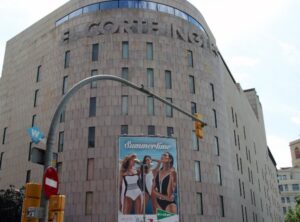 El Corte Inglés is a seven- storey department store, if you don't know where to find something, this is your answer. They have everything from makeup, to clothes, bathing suits, beach and pool wear, furniture, appliances, electronics, kitchenware, they even have a supermarket in their basement, with a gourmet section, of course! 
They also have extremely friendly and trustworthy staff who are willing to help you find exactly what it is you're looking for, especially in your beauty isles, where these assistants can help you discover your skin type, figure out which products are best suited to you, and tell you what they would recommend. 
There are Corte Inglés' all over Barcelona, whether it be Plaça Catalunya, Diagonal, Portal de l'Angel, you will find these dotted nearly everywhere. 
Addresses Barcelona: all around Barcelona!
Outlet shops 
La Roca Village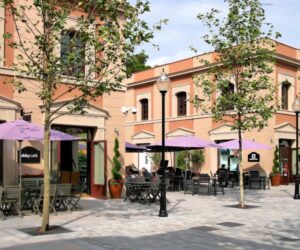 Whether it be North Face, Helly Hansen, Coach, Lacoste, Levi's, or Cavalli's, the Roca Village Outlet is the place to be. Find some of the best deals, discounts and huge offers on some of the most popular designer brands. 
La Roca Village is about 40 minutes north of Barcelona, but hosts 160 brand stores which offer discounts up to 60% all year round. The village itself is filled with beautiful tiny houses, and little cute alleyways, there are cafeterias, delicatessens and small restaurants surrounding the outlets. 
They have everything for men, women, children, whether it be sports, accessories, perfumes, gourmets, this is the perfect place to go for a day out shopping, and the perfect place to find a Christmas gift for everyone. 
Address: La Roca Village s/n, 08430 Santa Agnès de Malanyanes, Barcelona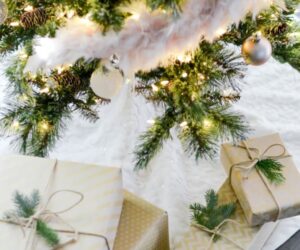 This Christmas, don't let the crimbo shopping get the best of you, there's no need to stress when you can shop in the most relaxing way possible here in Barcelona… use our guide to organise your perfect day of Christmas shopping.