Although the weather in Barcelona is sunny and warm for a large part of the year, that isn't to say that it is always the weather for being al fresco! This means that some of the usual bars that offer rooftop terrace seating can be closed in the winter months. But, not to fear! There are still many excellent rooftop terraces that are open for business in the winter in Barcelona.
To make the search for you, your friends, or family, looking for a few drinks and some tapas to accompany a little easier, we've rounded up the best rooftop terraces in Barcelona for you to try this winter.
1. Sky Bar
The Sky Bar at the Grand Hotel Central on Via Laietana is an excellent choice at any time of year. Known for its infinity pool and stunning views of Barcelona, Sky Bar is one of the best rooftop terraces that the city has to offer. The bar has a large selection of wines, beers, and cocktails to choose from, as well as a varied assortment of tapas. If you're looking to have a full meal here, the only downside is that the restaurant is based on the ground floor, so it doesn't offer the same breathtaking views as the rooftop.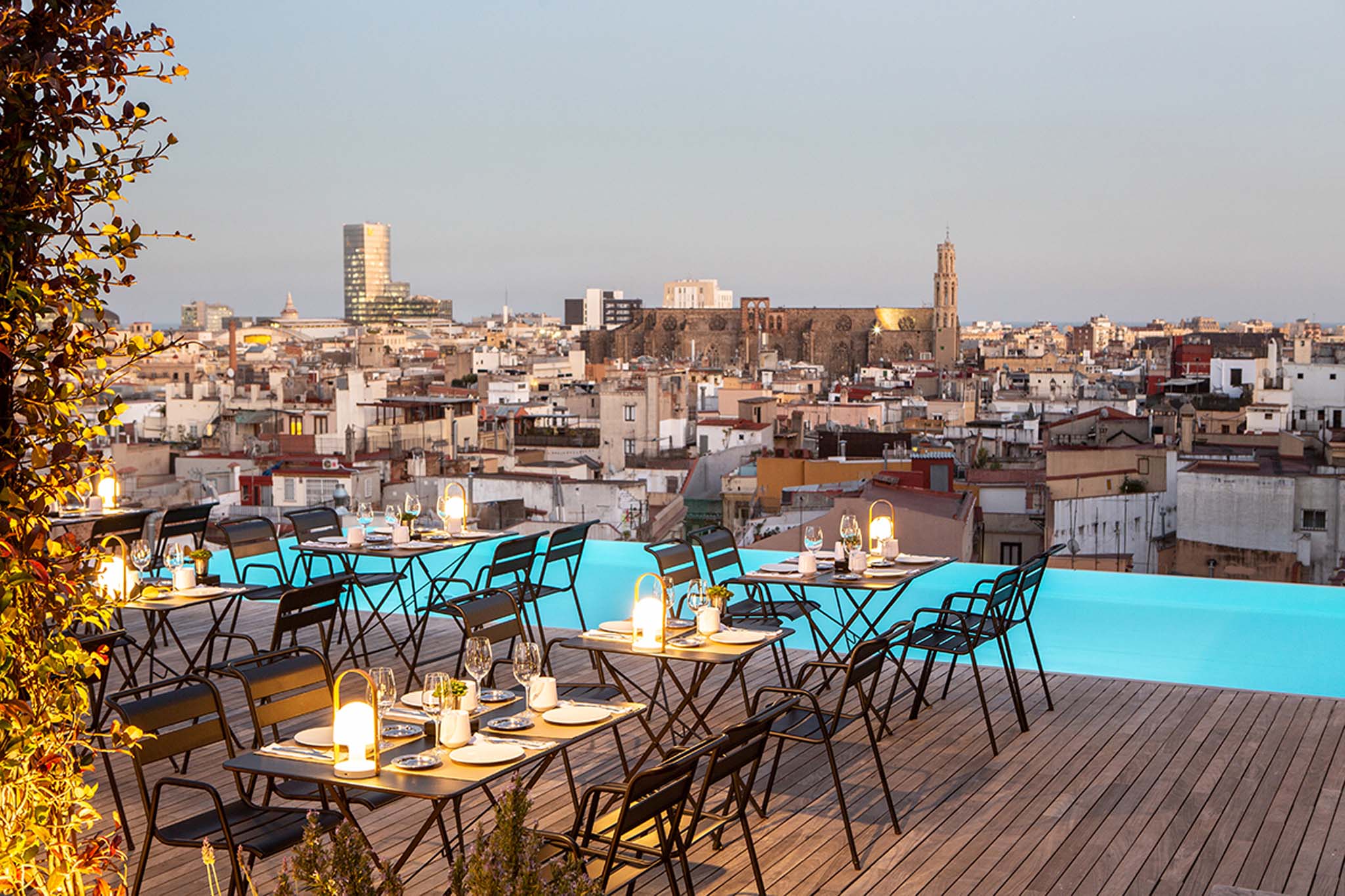 During the winter months the rooftop is open to the general public from Monday to Sunday. From Monday to Friday, 11am to 7pm and on Saturdays and Sundays from 11am to 8pm. If you're looking to catch the beautiful Barcelona sunset from this terrace, it's all the more reason to book a 5 star room at the Grand Hotel Central to make a full weekend of fun…
Via Laietana 30, 08003
2. The Roof at Barcelona EDITION Hotel
This Mediterranean terrace, located on the 10th floor of The Barcelona EDITION Hotel offers an unparalleled panoramic view of the city and is a top destination for Barcelona's nightlife. The terrace is decorated with iroko wooden tables, sofas, armchairs and sunbeds for you to relax upon with your friends. This spectacular terrace also features a small pool (perhaps not ideal in December), but to ensure that this terrace is comfortable and accessible all year round, The Roof has glass sliding walls, to keep the views of Barcelona visible to all, but without the cold breeze or rain.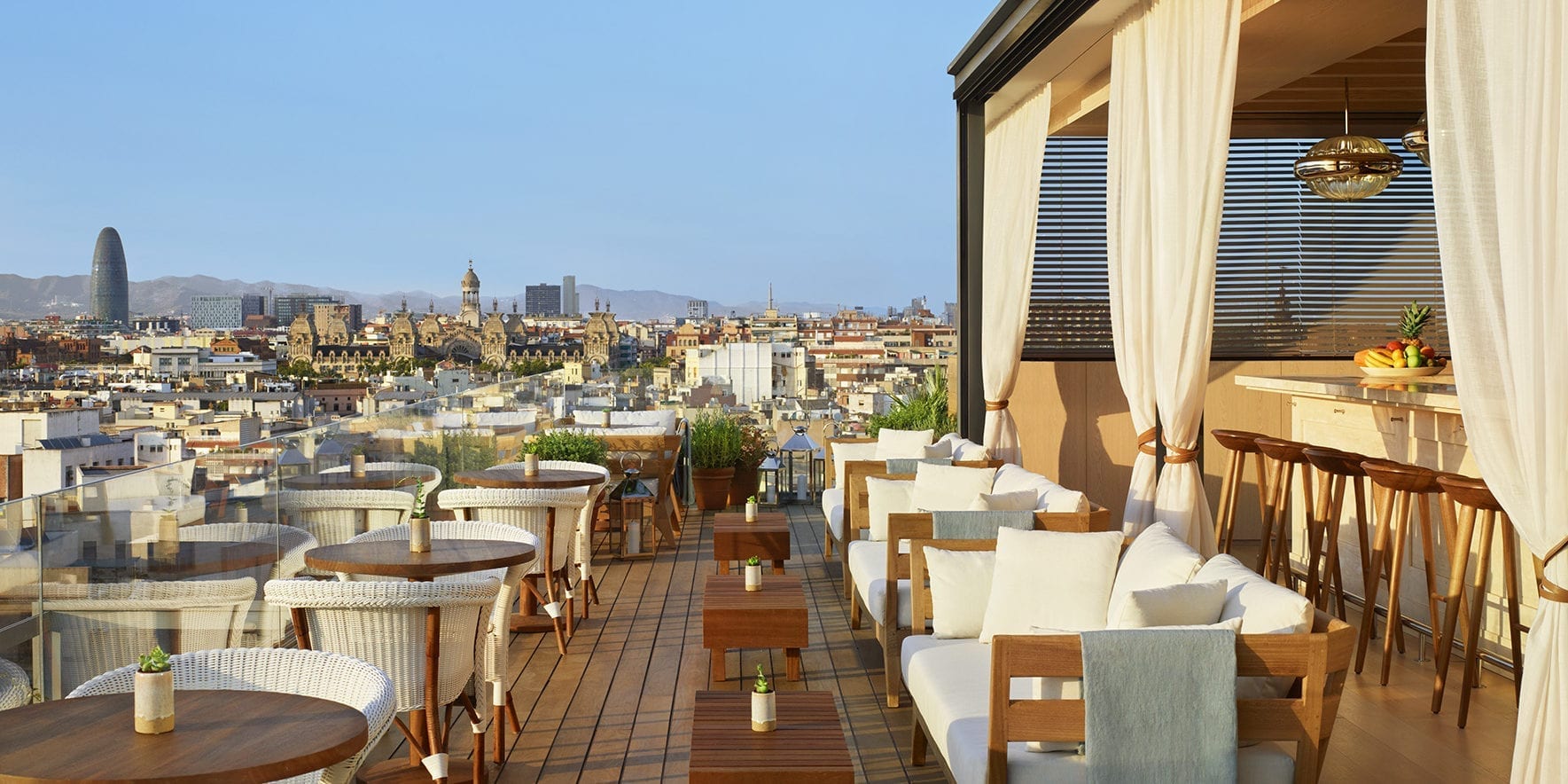 The top bartenders here offer a varied and seasonal menu of drinks, ranging from inventive cocktails, to healthy juices, smoothies, and kombucha. They also serve light dishes to accompany their excellent drinks too.
Avinguda de Francesc Cambo 14, 08003 
3. The Panoramic Rooftop at Hotel Colón
Overlooking the Barcelona Cathedral with, you guessed it, a stunning panoramic view of the city's fantastic skyline, is the rooftop terrace at the Hotel Colón. Set over two levels, grab a seat on the front row and you'll have a great view to enjoy for hours in the afternoon sun, or under a starry sky towards night time.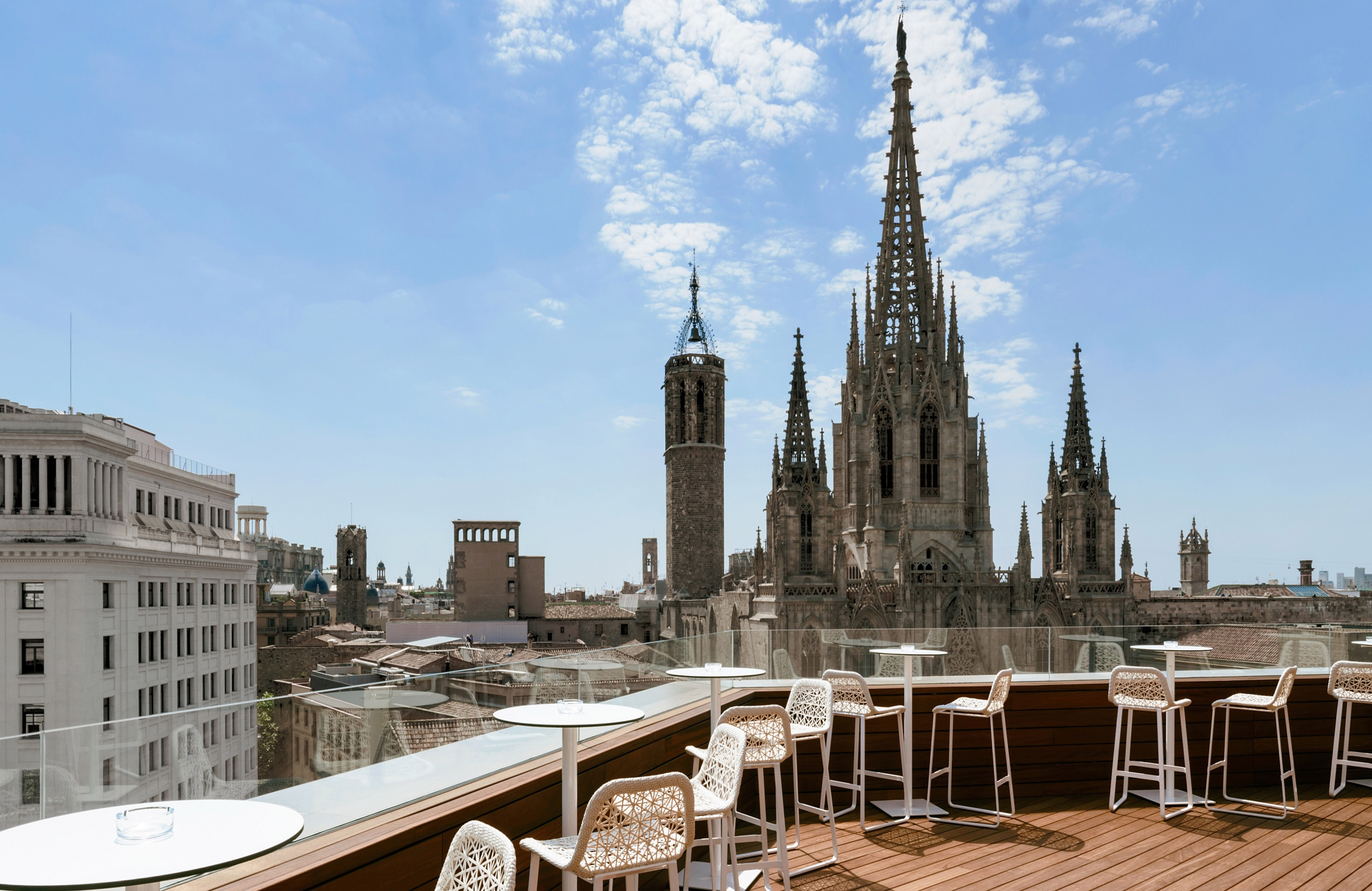 The Panoramic Rooftop serves refreshing cocktails, spirits and beers, to be enjoyed alongside the live music acts that are put on. Another great bonus is that they are open every day to the public; there are no restrictions on access times for non-guests unlike in some other places. There is however an additional option called 'Spa & Views' which gives guests of the hotel a private terrace with the same amazing views, but also with a relaxation pool and comfy sun loungers.
Avinguda de la Catedral, 7, 08002
4. La Dolce Vitae at Majestic Hotel
Situated on one of the most luxurious streets in Spain, Passeig de Gràcia, La Dolce Vitae based at the Majestic Hotel offers striking 360-degree views of the Barcelona skyline. La Dolce Vitae is not only one of the best rooftop bars in Barcelona, but also one of the best rooftop restaurants, as it serves Michelin-starred food alongside a selection of wines, champagnes, and cocktails.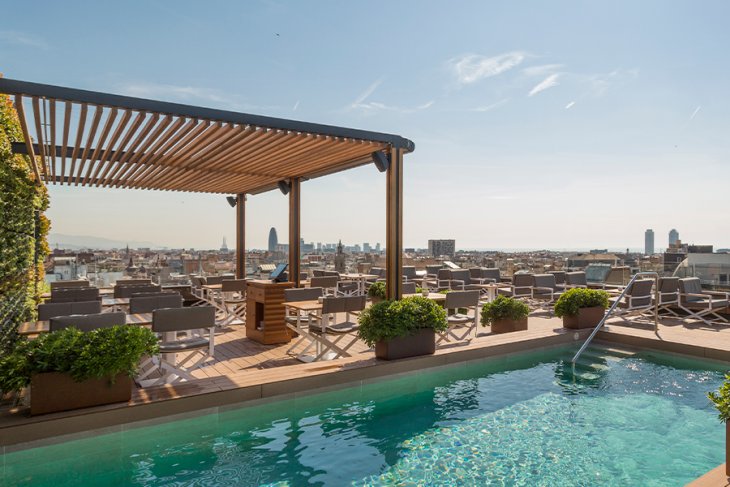 La Dolce Vitae even earned the title of Best European Hotel Rooftop in 2019, so you are sure to fall in love with an evening spent sampling the culinary delights whilst looking out over Barcelona's iconic landmarks, such as the Sagrada Familia and Agbar Tower. The only consequence that comes with such luxury is that the price is a bit luxurious too, with cocktails costing between €16-22, beers at €8, and a glass of the cheapest wine at €9. It's still definitely worth a trip as a treat, perhaps for a birthday celebration!
Passeig de Gràcia, 68, 08007
5. Terrassa de les Indianes
Located on the rooftop of the Museu d'Història de Catalunya, next to the 1881 per Sagardi
restaurant in Barcelona's Port Vell, is the trendy rooftop terrace of Terrassa de les Indianes. This unique bar is run by Sagardi and Bacardi, and unsurprisingly therefore has an extensive list of cocktails, beers, snacks and other refreshments, so you will be sure to find something that tickles your fancy at Terrassa de les Indianes.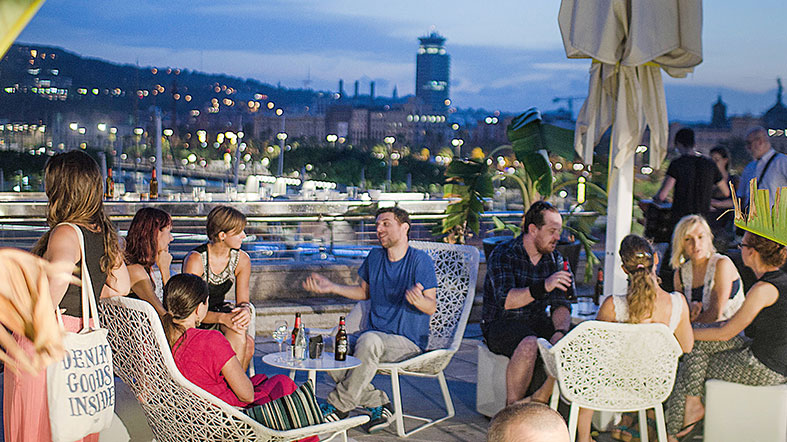 The rooftop terrace here is open all year round, and is known as a bit of a 'sun trap' that you can feel warm on whatever the weather is outside. The Terrassa de les Indianes bar is open during the day, but the best fun comes when the sun goes down, and they start to bring out their DJs to play live sets to get the party started!
 Plaça de Pau Vila, 3, 08003
So there you have it! The Best Winter Rooftop Terraces in Barcelona. If you enjoyed this, why not check out our blog on Why You Should Visit Barcelona in December.