As we all know, Barcelona is considered one of the top foodie cities in Europe. The likes of Ferran Adrià have put the Catalan capital firmly on the gastronomic map. But with so many incredible restaurants to choose from, it's difficult to know where to start when looking to eat out. What you need are some tips from the locals. So, here we have collected the top 16 restaurants in Barcelona, based on our staff favourites. As they say in Catalan, bon profit!
1.  Mimos El Born – Tapas
With a good range of delicious tapas and a great central location, this is the perfect place to stop off for a nibble mid-sightseeing! I recommend the pulpo (octopus), croquetas caseras (house croquettes), bravas and duck gyozas, and make sure you try their cocktails!
(Jess T)
Address: Plaça de Jacint Reventós, 08003 Barcelona, Spain
2.  La Piemontesa – Italian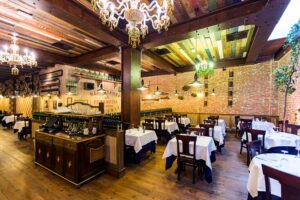 For pasta lovers this is the place to be! With an endless range of fresh pasta on the menu and the option to combine with just about any sauce you can think of, make sure you come here hungry! Try the Papparedele Peperoncino with 'rabiosa' sauce for a spicy experience.
(Hollie)
Address: C/ d'Enric Granados, 60, 08008 Barcelona, Spain
3.   La Rueda – Uruguayan – Rosselló, 266
This wonderfully rustic restaurant in Barcelona is full of authenticity and ideal for a feast with friends. The 'parillada' meat platter for two is definitely a winning choice. Their varied menu truly offers something for everybody, from pasta to salad to fish – here you'll find your new favourite dish for sure.
(Laura J)
4.  La Fonda del Port Olímpic – Traditional Spanish
From tapas and fresh fish to paellas and traditional meats, this port-side restaurant is great for sampling local cuisine. Situated right by the sea, it has a truly Mediterranean feel. You should try the Gamba Fresca de Costa (fresh shrimp) if you are an aficionado of seafood!
Jane
Address: Moll de Gregal, 7, 8, 9, 08005 Barcelona, Spain
5.  Restaurant Parrilla Alfonsina– Argentinian
Discover and experience true Argentinian cuisine right in the heart of Barcelona. If you're hungry, be sure to taste their 360g ribeye, known as the queen of the house, you'll enjoy the full flavour of South America. 
Address: Carrer de la Diputació, 379, 08013 Barcelona, Spain
6.  Micu Maku – Mediterranean
Specialising in local cuisine this is a great Barcelona restaurant. Try their black paella and see why everyone raves about it! For friendly staff and great food make sure to check them out!
Address: Carrer d'Aribau, 22, 08011 Barcelona, Spain
7.  Mosquito – Asian Tapas –
From dim sum to fired smoked duck and oodles of noodles on the side, this is a top choice for lovers of Asian cuisine. They specialise in dumplings: little pies filled with different ingredients – definitely worth a try.
(Antonello)
Address: C/ dels Carders, 46, 08003 Barcelona, Spain
8.  Govinda – Vegetarian Indian – Plaça Villa Madrid, 4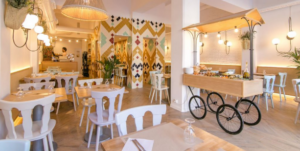 With so many delicious options on the menu, it's a tricky choice! Why not try the Thali patter which offers a variety of different dishes. Don't  miss their curry of peas, mushrooms and cream cheese – yum.
(Marina)
Address: Pl. de la Vila de Madrid, 4, 08002 Barcelona, Spain
9.  Jin Da Le – Japanese/Korean
From classic makis and nigiris to the range of tempting house specialities, this is a great place to eat out in Barcelona if you're in the mood for some eastern flavours. Try their delicious sushi or one of the really exotic soups.
(Laura DS)
Address: Carrer Aribau, 14, 08011 Barcelona Spain
10.  Il Mercante di Venezia – Italian
Boasting a top-notch selection of pizzas as well as plenty of other Italian favourites, this Venetian-themed restaurant in Barcelona is just a stone's throw away from the bustling Ramblas. I recommend pizza San Daniele: really delicious with tomato, mozzarella and ricotta.
(Malakay)
Address: Carrer de Josep Anselm Clavé, 11, 08002 Barcelona
11.  Amaltea – Vegetarian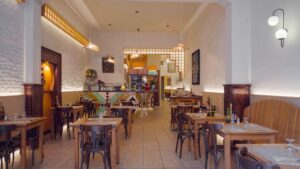 For you veggies out there this is a winning choice with lots of delicious homemade dishes on the menu. The restaurant also runs occasional vegetarian cooking classes too. They offer a meal for 8,70 Euro with a drink and dessert included, as well as a salad bar.
(Esther)
Address: Carrer de la Diputació, 164, 08011 Barcelona, Spain
12.  Blai Tonight – Pintxos
This lively local hangout is known for its tip-top tapas and great prices! Its delicious range of 'pintxos' (bread with a tapa on top, pinned with a toothpick) are always a winner amongst the crowds. If you're heading to Barcelona on a budget, they offer various pintxos for just 1 Euro! Get yourself a plate and grab what you can eat, while meeting new people and enjoying the atmosphere of the vibrant, trendy neighbourhood of Poble Sec.
(Josephine)
Address: Carrer de Blai, 23, 08004 Barcelona, Spain
13.  Ziryab – Catalan-Middle Eastern fusion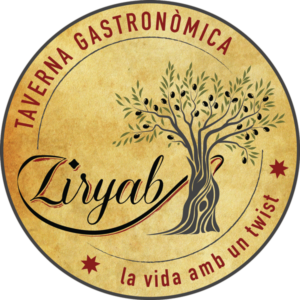 Fancy something a little different? This Barcelona restaurant offers a creative menu combining the delicious flavours of the Middle East with local favourites. The restaurant offers Spanish tapas but with an Arabian twist, and its totally worth trying their hummus or tasting the wine.
(Marina)
Address: Carrer de Grunyí, 5, 08003 Barcelona, Spain
14.  Barnabier – Traditional Spanish
This wonderful seafront restaurant in Barcelona is perfect for sampling typical Spanish food. From tapas and fish dishes to the timeless paella and sangria, this popular place is ideal for visitors to the city. Their tapas are truly delicious. Try the fried squid and prawns with sweet chilli sauce or choricito (mini sausage) a la Diabla.
(Roberto)
Address: Centro Moda Shopping, Torre Mapfre, Carrer de la Marina, 16, 08005 Barcelona, Spain
15.  Green Shots – Vegetarian, Eco Friendly
Perfect for the health-gurus among you, this cute café has a great range of freshly squeezed smoothies and homemade dishes such as quiches and salads, all organic and locally sourced.  Get your meal or dinner for 7,50 Euro with one dish and one tasty juice.
(Yolanda)
Address: C/ de París, 201, 08036 Barcelona, Spain
16.  Gustos – Paella – Comtal, 11
Fancy watching a paella cooking show? Then this is the place for you. Watch your feast being prepared before your very eyes at this fantastic Barcelona restaurant. Try arroz negro Gourmet or paella Valenciana and you will know what Spain tastes like.
(Kristin)
Address: Carrer del Rosselló, 108, 08036 Barcelona, Spain
So there you have it! Some of our top picks from the multitude of amazing restaurants in Barcelona. If you enjoyed this blog, why not check out our take on the top 5 cocktail bars in Barcelona?
Have any to add? Leave us a comment below!