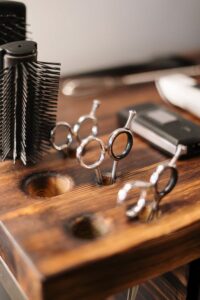 If you're staying in Barcelona you will be aware that this city has everything to offer. However, when searching for the perfect place to sort out your bad hair day, opt for a change, or simply fancy treating yourself, you will be overwhelmed with the options available. Every other street hosts a salon in this city. But we will give you the best salons so that you can find English- speaking hairdressers, European staff who cater to all hair types, places that offer everything from hairdressing to waxing and lashes, and all places affordable to luxurious. 
We have put together some of the very best salons in the city, those that stand with sustainability, will make you feel at ease, and those with special extra touches such as massage chairs and the opportunity to get your nails done at the same time as your hair. 
Quick tip: Once you've found the salon that you like the sound of, check out their Instagram pages, this way you can check out their previous work and decide if it is similar to what you desire. 
1 – La Hair Boutique 
La Hair Boutique offer everything from colour services to extension applications, they are based in the gothic quarter and open every day until 8pm other than Sundays. They also offer services for men, and when booking online you can expect to be responded to the same day. The staff here are all multi-lingual and extremely friendly, not to mention experts in their field and for this reason they give La Hair Boutique the reputation for being one of the best salons in Barcelona. The salon itself is easy to find and artistic in design, and if you don't believe us when we say they are one of the best, just check their reviews. 
Address: Plaça del Regomir, 5, 08002 Barcelona
2 – Dtox Hair Salon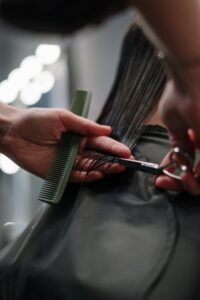 Just down from Plaza Catalunya is the Dtox hair salon, again open everyday until 8pm apart from Sundays. You can book easily online to get the haircut of your dreams. They will listen to exactly what you're looking for, whether it be colour, cut or just a style! Their staff are professional and well trained, ensuring that their services are completed to perfection. Customer service skills are not something they are lacking either, and their prices seem to be much lower than expectations. 
Address: Carrer dels Tallers, 77, 1ra, 08001 Barcelona
3 – Virgola Milano Blow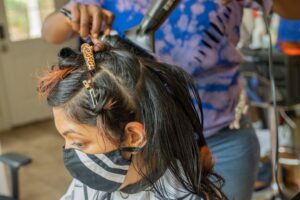 Based in Eixample is the Virgola Milano Blow salon, open every day but Sundays until 9pm. Their specialty seems to be blow drys for which they have extremely good reviews. They use top notch products which will leave your hair smooth and shiny. If you're looking for something extra, they also offer the opportunity to get your makeup done. The best part, if you're desperate, they offer home services 24 hours per day. 
Address: Carrer de Casp, 12, 08010 Barcelona
4 – Le Petit Salon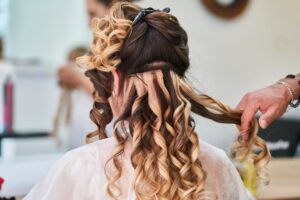 Le Petit Salon is the place to go for anything hair, makeup, waxing, lashes and treatments. They offer an enormous amount of services and are open weekly until 8pm and on Saturdays until 3pm. They are based in Eixample and provide their clients with well trained, kind and professional artists. Their reviews show that their customers are over pleased with their treatments, and recommend the salon based on the amazing customer service. The place itself is hip, trendy but classy, and certainly worth a visit if you're looking for the perfect place for a pamper day. 
Address: Carrer de Buenos Aires, 15, 08029 Barcelona
5 – Opera Lounge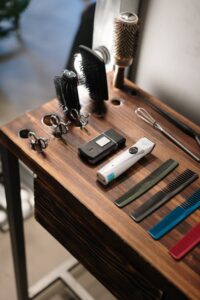 Another salon in Eixample, is Opera Lounge, open Tuesday- Friday until 8pm and on Saturdays until 2pm. The professionals here are known to 'work magic' on their clients, paying much attention to detail and listening to exactly what their clients are looking for. They even go to the lengths of adjusting their customers' brows to fit their new dos. If that's not attention to detail I don't know what is. Their team are kind and take pride in their customer service, they also are recommended for their excellent blow drys. The team do speak English so don't worry if you aren't confident with your Spanish! 
Address: C/ de Mallorca, 193, 08036 Barcelona
6 – Pódame BCN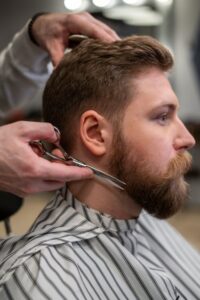 Pódame BCN offers everything from Beard and Moustache trims, to perms, hair treatments and extensions. They are located in Gràcia and are open from Tuesday to Saturday until 8pm. They are recommended especially for their incredible styling techniques, transforming faces with layers, curls and waves and changing partings to fit your face perfectly. The salon itself is calm and relaxed, so that you can feel as comfortable as possible whilst getting pampered. They also specialise in colouring, whether you fancy going bright and bold, or just need to refresh your balayage, they will have you sorted. 
Address: Carrer del Torrent de l'Olla, 10, 08012 Barcelona
7 – Onda Hair and Beauty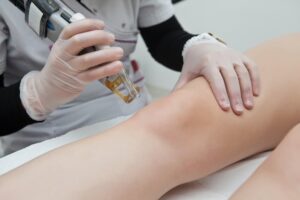 If you want a hair salon that can also offer you full body laser hair removal, threading and waxing, you've found your place. Doesn't matter where you want your hair removed, Onda Hair and Beauty cover the whole body. They are open until 8:30pm weekly and until 7pm on Saturdays, and are based in Barceloneta. They only use the highest quality products and focus on detail and customer satisfaction. Their staff have high levels of English and are very kind and professional. Make sure to book online however as they do get busy!
Address: Carrer de l'Atlàntida, 53, 08003 Barcelona
8 – WIT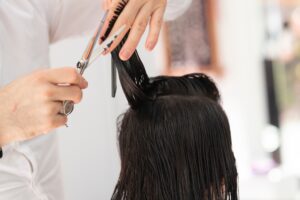 In El Raval you can find the incredible WIT salon, open weekly until 8pm and Saturdays until 7pm. They are known for their amazing cuts and talented staff. Their products are all cruelty free, and their staff are all english speaking and are very cautious. They will take time with your trim and give you good value for your money. The salon itself is stunning, bright and airy, to make you feel at ease. It is also known that WIT has been the first option for several movie producers when filming in Barcelona… so they must be pretty good!
Address: Carrer de Sant Pau, 122, 08001 Barcelona
9 – Hairmonia
With several years of experience and training Hairmonia can guarantee you an unforgettable experience in their salon. They are talented and can aid with damaged hair from DIY work, they provide expert colour service and aim to recover natural beauty, shine and softness. They also offer keratin treatments and straightening, and different types of hair extensions. They are based in Gracia and are open Tuesday to Saturdays. They have multicultural staff who can speak English, French, Portuguese, Spanish and Catalan, so communication won't be a problem. They seem to take well to taking walk-ins as well, so don't stress if it's last minute and you need an appointment asap. 
Address: Carrer de Còrsega, 393, 08037 Barcelona
If a perfect salon isn't what you're looking for and you need a good barbershop to sort your trim, check out our blog on the top 5 barber shops in Barcelona.