Catalonia is blessed with diverse and fertile soils, and a warm climate, making it the perfect location for wine making. Over 70,000 hectares in Catalonia are used for wineries and vineyards. In Barcelona you can find more than your average wine tasting and vineyard tours. The city has much more to offer in respect to wines, you can find places to create your own cava, tours through the city, electric bike vineyard tours, and wine tasting with tapas.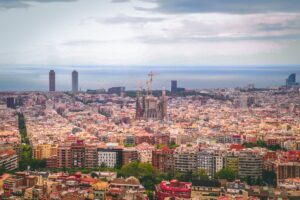 The city itself is full of opportunities to taste authentic local wine, but as well as this there are many places surrounding Barcelona which have stunning vineyards and wineries. Getting out of the city for a day of wine tasting can also be the perfect way to escape the busy Barcelona for a day and relax!
Wine tasting in the city centre 
The Gothic Quarter: A small tour and traditional sangria tasting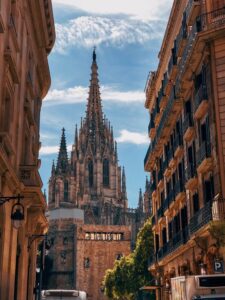 If you have heard of the stunning Gothic Quarter in Barcelona, you know this is not a tour to be missed. You don't just get to taste incredible refreshing local sangria, but you also receive a deeper dive into the historical attractions of the gothic quarter. 
You will be introduced to the aspects of this district that most tourists may miss. You will also have the opportunity to meet fellow visitors and get to know each other over sangria. This tour is 3hrs long and will show you some of the most interesting sights in the city. This tour is around €50. 
Exploring Jean Leon, Familia Torres and Freixenet 
Another wine tour which takes place from the city centre lasts 8hrs and is known to be one of the best value for money wine tours from Barcelona. It takes place ultimately in English and includes the transportation to 3 local wineries for wine tastings and tours of the wineries.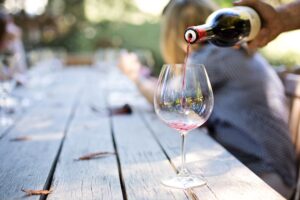 This tour will enable you to really experience the wine region of Barcelona and appreciate Cataluñas wine production history. The tour begins at plaza Catalunya, upon arrival at each winery you will be offered light tapas with cava tasting and still wine tasting. At the Familia Torres winery you will also experience a special wine and cheese pairing. This is a great tour to choose if you love admiring beautiful settings and landscapes whilst indulging yourself in the Catalonian culture. This tour is around €250 per person. 
Wine tasting in the city centre with an electric bike tour 
Barcelona has so much to offer; its food, the gothic, gaudí… Why not enjoy the unmissable architecture of Gaudí? Explore the best of Barcelona but still enjoy some of the city's famous wine whilst exploring your surroundings!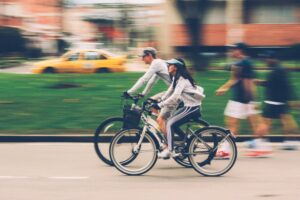 For around €60 you can explore the city of Barcelona without tiring yourself walking or pedalling on a bike. You will be given an electric bike and navigated by your trusty guide who will lead you to hidden squares through narrow alleyways. The tour ends with free tapas and wine. The tour is 3.5hrs long and begins in central Barcelona. The perfect way to enjoy the sights of Barcelona and enjoy the local wine. 
Create your own Cava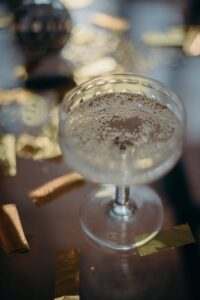 Creating your own cava offers a completely hands on experience, you can expect guided strolls through sunkissed vineyards, cellar tours, an insight into the production process and the invitation to participate in the wine's preparation. The guests are made to sample several blends of Cava, choose a bottle of their favourite and then begin the process of 'disgorgement'. They then can personalise the bottle themselves to take home and drink at your leisure. 
You must make the journey to Penedes yourself from Barcelona, which is an easy 50 minute journey. The cost of the tour is €49 per head and includes a free pick up from the local train station at Penedes. If you choose to splash out a bit more, you can expect to finish your tour with either tapas (€15 extra) or a rustic lunch (€28 extra) in the romantic 1,000 year old farm house. 
Best wine tours away out of Barcelona 
Montserrat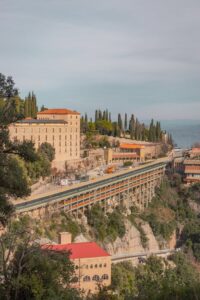 Montserrat is a beautiful area just out of Barcelona, it is a multi-peaked mountain range and a very popular location for day trips for those staying in Barcelona. Montserrat is well recognised for its majestic monastery, but also its incredible vineyards. It is easy to get to and gives people an opportunity to explore the Spanish countryside and get away from the busy city and enjoy some of the greatest views in Catalonia. 
Castle experience, Montserrat Tour with Lunch and Gourmet Wine Tasting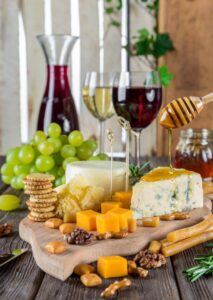 This trip to Montserrat is a 10hr day trip from Barcelona and the tour is around €106, which includes a Catalan lunch and wine and cheese tasting session at Oller del Mas. 
Oller del Mas is a 10th century castle set in a 1,000 acre estate. You can expect to enjoy tours, free time at the monastery and the basilica of Montserrat, explore the cellars of the vineyard and receive personalised attention in a small-group setting as well as a multi-course lunch served with wine. 
Catalan tapas, wineries and Montserrat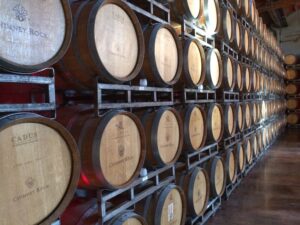 If you're looking for a shorter trip to Montserrat, this trip may interest you. The tour itself includes a visitation to the magical mountain of Montserrat. This mountain is iconic and very close to Barcelona. Following this you will visit a family owned winery estate for a guided tour with wine tastings and tapas. Here you can admire the beautiful landscapes and enjoy the special winery. Coach transportation from Barcelona is also included and the tour is just under €80 pp. 
Penedès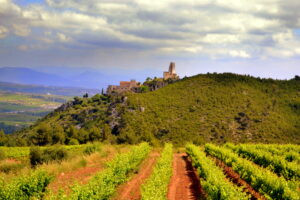 Catalonia is known for its famous cava, but the Penedès region is well known for its white wine coming from its some 150 vineyards. Penedès and its wine is known on an international scale, making it an ideal location to take a private tour and enjoy the famous wine. 
Penedès eco tours 
The eco tours here start at just €12 and include self-guided bike tours. Available on this tour are passionate guides who participate in regular tours or for private tours for groups of friends. They also organise events for companies and team building. To get to Penedès you can take the Rodalies R4 directly from Plaça Catalunya.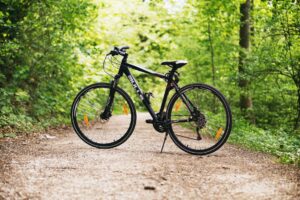 Penedès eco tours offer 4 types of tours; the self-guided routes where itineraries are proposed with the option for visitations to up to several wineries which have wine bars for you to try the wines. 
They offer bike and electrical bike rentals, so you can rent high end SCOTT bikes and electric bicycles and use these to enjoy the cava and wine route. They offer regular tours which include transport from Barcelona and a tour guide who will talk you through the history of the region and the secrets behind making the wine and cava. Also you can book private tours to explore Penedès at your own pace in the group that you wish. 
If you are a lover of wine and want to know more about the best wine bars in Barcelona, check out our blog.