When it comes to food in Barcelona, you cannot go wrong. This city has some of the best cuisine in the world. If you are a lover of Japanese cuisine, you will find hundreds of sushi restaurants in Barcelona! The only issue with this is, picking the very best restaurants to visit. Therefore, we have helped you in the process, by breaking down your favourite cuisines into categories and finding you guys the best of each in Barcelona.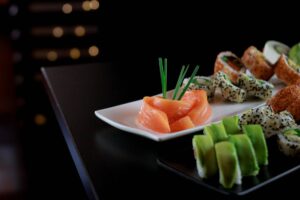 When visiting any of these traditional Japanese restaurants in Barcelona, please ensure you book a table, to avoid disappointment. 
Feten Sushi and Burger Barcelona: For a fusion of sushi and burgers 
Feten Barcelona offers you everything from your dine in to takeaway or deliveries in under an hour.They provide a fusión of quality sushi and burgers, in their lively and modern restaurant.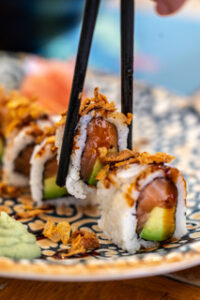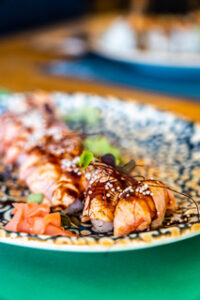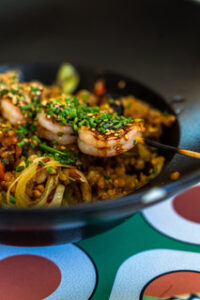 They offer everything from sides of nachos, bacon cheese fries, gyozas, tempura prawns, croquettes and much more! They also serve proper burgers, including crispy chicken, veggie options, and double hamburgers. Obviously they have an enormous selection of sushi, ranging from your classic california makis to cesar rolls, fresh salmon, nigiri rolls with salmon, octopus or anything you could want. 
This place gets even better when you check out the sushi boxes they offer, so you can enjoy up to 36 units of sushi for those times where you really need to fulfil a craving. Also, for those vegans, don't worry they have plenty to offer! 
Avenida Constitución, 149, Castelldefels 
Open 12:45-4pm/ 7:45-11pm (Closed Mondays & Only open Tuesday evenings)
Sato I Tanaka: Watch your food cook while you wait
This small restaurant is divided into two rooms and the tables surround the sushi chefs. You can opt in for a tasting menu, either €29 for a smaller one, or €35 for the longer. The shorter menu includes a whole 15 dishes, ranging from sashimi, nigiri, makis, miso soups, and plenty to ensure you're fully satisfied.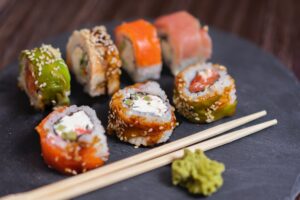 If you're looking for a relaxing and spa- like environment, and a tasting menu to die for, Sato I Tanaka is your place. 
Carrer del Bruc, 79, 08009 Barcelona 
Open 1-3pm/ 8:30-10pm
Hitsumabushi: A taste of Tokyo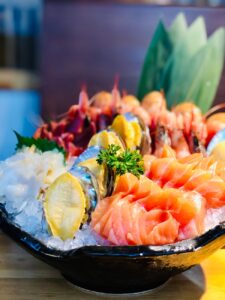 Hitsumabushi provides us with the famous chef Nobuyuki Kawai who has worked at a sushi restaurant in the famous Tsukiji Fish Market in Tokyo. This place is almost hidden, let's just say you won't pass it by accident. You can sit at the bar here and watch the chef work his magic. 
They have edamame, gyozas, and different types of fish carpaccio. One thing which you certainly won't see on your average menu, is their Eel. It is known to melt in your mouth when cooked by Nobuyuki Kawai. Chef Kawai is from Hamatsu, an area where eel is a speciality, so you must be sure to experience it. 
For just €30 you can get plenty of dishes for two people, this one's the perfect place for your lunch date. 
Avinguda de la Riera de Cassoles, 3, 08012 Barcelona
Open 1-3:30pm/ 8-10pm (Closed Sundays and Only open Mon-Weds afternoons)
Koy Shunka: For your fancier sushi dates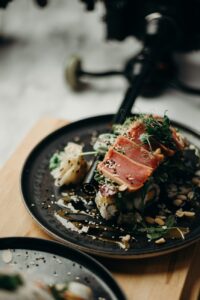 Koy Shunka, their name translates to 'intense seasonal aromas'. In this restaurant, the flavours and emotions of Japanese cuisine are displayed through the art of the head master chef, and his team of younger chefs. He combines the classic flavours and textures of Japan with Mediterranean ingredients. 
The tasting menu here is around €130 (drinks not included). This is the place to book for an unforgettable experience. They currently hold one michelin star and again offer the experience of watching your food's creation by their incredible chefs. 
Their staff are super knowledgeable, and will ensure you are fulfilled by a high quality service, with high quality food and accompanied by a great atmosphere! 
Carrer de Copons, 7, 08002 Barcelona Spain
Open 1-2pm/ 8-9pm (Closed Mondays & Tuesdays)
Ikibana: A Japanese- Brazilian fusion 
Ikibana has locations in El Born, Sarria and Parallel. Ikibana is more of a modern, chilled out and trendy restaurant. It's restaurants have a much more interesting interior design, some also have interesting outdoor terraces and jungle patios.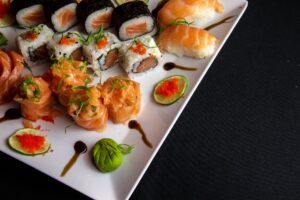 Ikibana hosts fresh top quality food dishes, such as salmon tartar, sushi, gyozas, lobster sarada, yakimeshi, and delicious desserts. 
Their prices meet the quality of their food, ranging from €30- €70 for a good amount of dishes. They also serve cocktails and mocktails for you to wash down your tasty dishes with. 
Passeig de Picasso, 32, 08003 Barcelona (Born) (Open 1-4pm/ 7:30pm-1am)
Carrer del Dr. Fleming, 11, 08017 Barcelona (Sarria) (Open 1pm-1am)
Av. del Paral·lel, 148, 08015 Barcelona (Parallel) (Open 1pm-1am)
If sushi isn't your go to, don't worry, check out our take on the best Italian food in Barcelona or the best paella and seafood.