History of Passeig de Gràcia
Passeig de Gràcia used to be known as Carrer de Jesús for many years. It was the main road that linked the centre of Barcelona with the former town of Gràcia. If you read our article about the story of Gràcia, then you may be aware that it joined the city centre as part of the 1820s plan to expand this part of the city, making the whole area a lot larger. One of the main parts of this urbanisation plan in Barcelona, was to make the Carrer de Jesús an avenue. This soon became the part of the city where aristocrats would show off their horse-riding skills and their stylish horse-carriages. This is when Passeig de Gràcia first became linked to the finer things in life.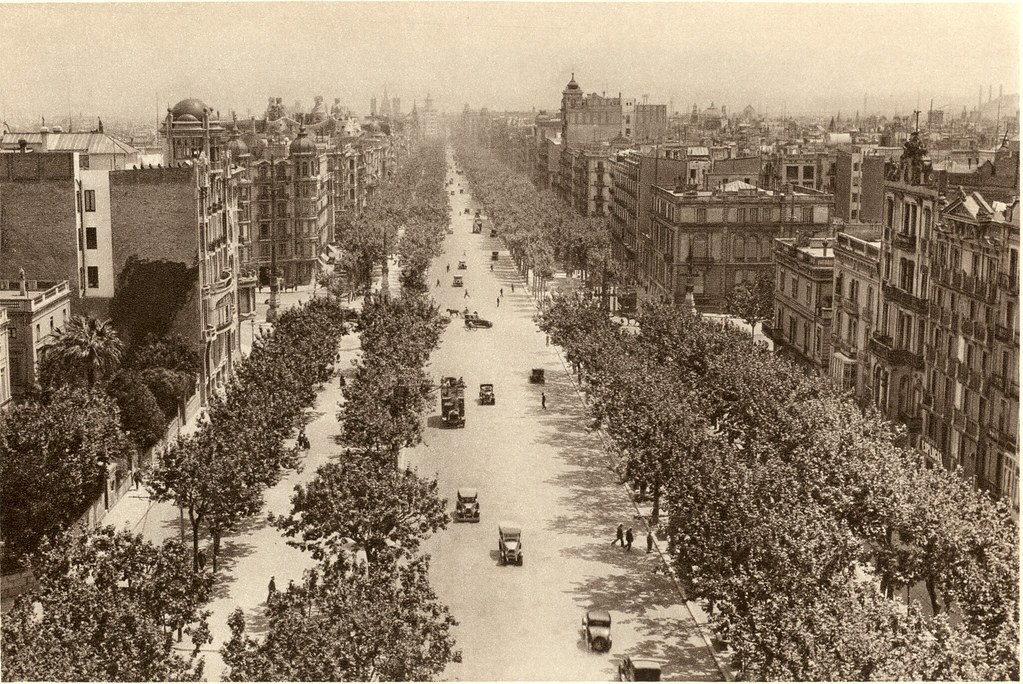 Going on from this point, the middle 19th Century saw a rise in popularity for Passieg de Gràcia and people began to dream of having their own family home here. Instead of having it in the residential area of Gràcia. This led to more trees and greenery being planted here and, in 1906, the architect Pere Falqués i Urpí, built the famous streetlights and benches that you find here today. Slightly before these installations, some of the most influential architects of the Modernisme movement would be hired by the most wealthy to make them a unique and fashionable family home. Then, in time, came the designer shops too, which made Passeig de Gràcia such an iconic street in Barcelona and the wealthiest one in Spain.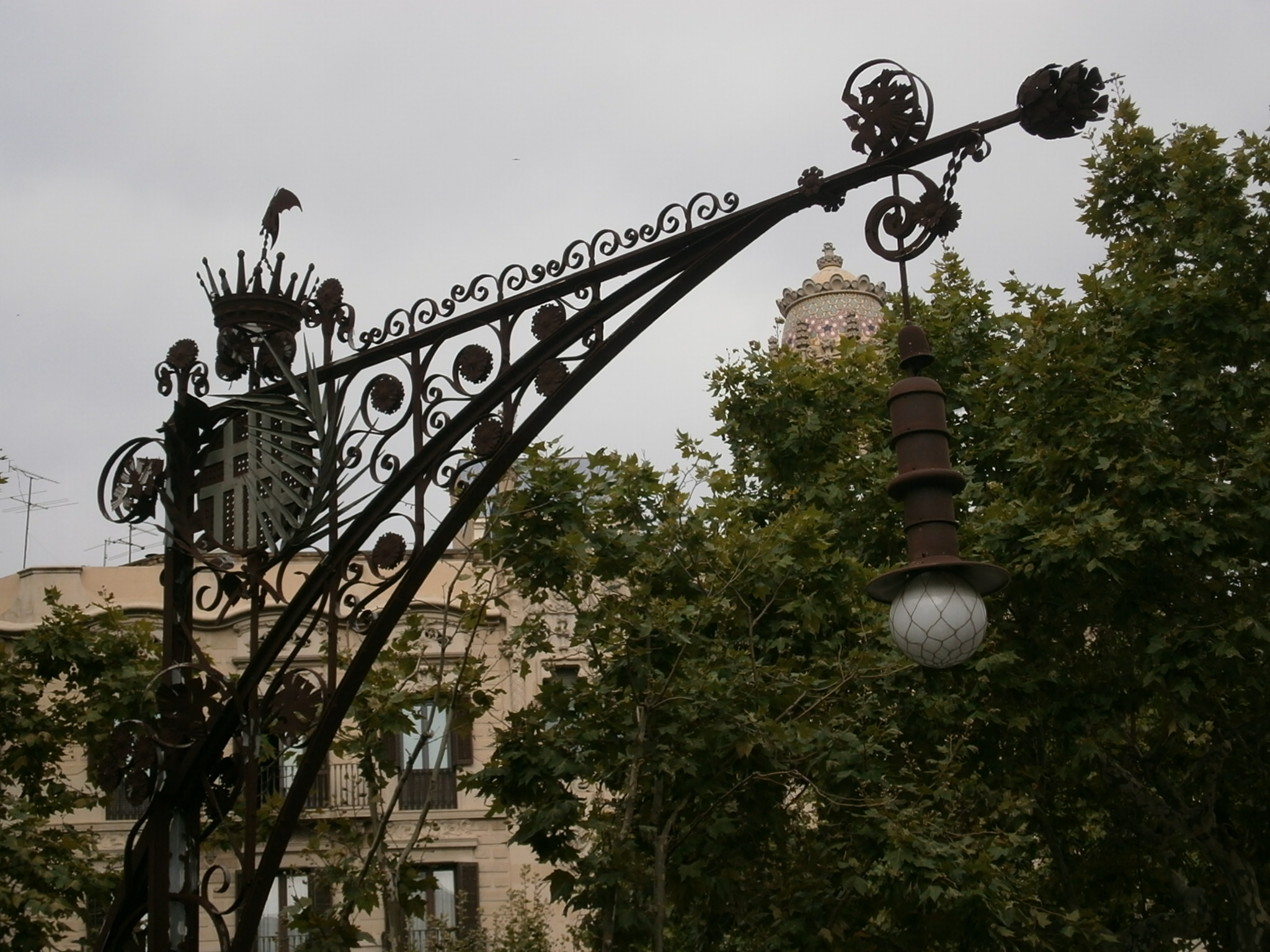 Famous buildings
With many people wanting revolutionary houses, the architects were essentially given a free pass to make works of art that defied what was once seen as impossible. From curving walls to colourful facades, these works gave Barcelona a unique identity and inspired many in the years that followed. Now, let's have a look at some of the most famous buildings found on Passeig de Gràcia, or, as it is also known, the Illa de la Discòrdia (the block of discord), where works of architects: Lluís Domènech i Montaner, Antoni Gaudí, Josep Puig i Cadafalch and Enric Sagnier are found, that are still groundbreaking designs today.

Casa Batlló – 1904-1906
Also known as Casa dels ossos (House of Bones), Casa Batlló is a fascinating work by Gaudí. With colour, geometric shapes and a great story, this building is one of the most iconic in Barcelona and on Passeig de Gràcia. With its roof being home to a dragon, the artist used tiles like scales and balconies to mimic the skeleton of its prey. The thought-provoking design is textbook Gaudí and should be adored with a tour of its rooms.
Casa Amatller – 1890-1900
Next up and found next door to Casa Batlló, is a building from Josep Puig i Cadafalch. This notable Catalan architect wanted to make his own mark on this high street, and he did so in a wonderful fashion. It was built for the well-known Antoni Amatller, the famous chocolatier of Barcelona. This building, despite pushing less boundaries than its neighbour, still shows a well-designed house, relying on squared geometrics for visitors to enjoy. Also, it has a captivating design on its facade, making for a very wonderful work of art.
Casa Lleó Morera – 1902-1906
The third masterpiece found here was built by another Catalan architect, Lluís Domènech i Montaner. This is found within the same block as Amatller and Batlló, making up the corner building of the Illa de la Discòrdia. This work is possibly the most eye-catching, due to it facing more of Passeig de Gràcia than the two mentioned before, which run parallel, rather than adjacent. It was also the only of the block to win Barcelona's town council's Arts Building Annual Award (Concurso anual de edificios artísticos), obtained in 1906, being chosen for its take on traditional architecture, but with an artistic interpretation. With large windows, curved balconies and detailed finishing, it is another beautiful building found in Barcelona.
Casa Milà (La Pedrera) – 1905-1910
Another very famous building found on Passeig de Gràcia is from Antoni Gaudí, Casa Milà, or La Pedrera, has an interesting background. The legend goes that the Mila family asked the architect to do a design similar to Casa Batlló. However, those who knew Gaudí well, would know that he always did the opposite to what was expected of him. In retaliation to this request, he would make La Pedrera, a stone building, in brutalist design, for the owners. The Milas, were believed to be mortified by this and would abstain from paying until being forced to. Aside from this great story, La Pedrera also shows a wonderful interior, with his trademark style running throughout the house. Up to the roof terrace, with wonderful sculptures and views, you must visit Casa Milà on your next visit to Barcelona.
Shopping
Nowadays, Passeig de Gràcia is full of tourists wanting to visit some of these amazing buildings mentioned above, as well as looking at the shops here. If you are a fan of shopping, you will feel at home on Passeig de Gràcia. From designer shops, like Louis Vuitton, Fendy and many more, to more mainstream stores like Nike, Zara and Tommy Hilfeiger, Passeig de Gràcia has something for everyone. Whether it be lovers of architecture, shopping or those who like to sit out and have a drink and some tapas, you will find it all here.