Barcelona is a city that always has something going on, be it a street party, a market or a live music event. Sometimes, however, it's nice to unwind and find time to focus on your hobbies or personal goals, or perhaps you just want to try something new whilst you're in the city. Either way, what better place to do so than Barcelona? Here's a list of a few classes to try…
Photography
Photography is a relatively modern form of art that can be used for various different purposes. If seeing life through a lens is something that might be for you, why not take some photography classes here in Barcelona? Whether a beginner or a pro, in such a picturesque city, you can never run out of opportunities to put your new found skills to the test! We've created a list of the best photography class providers in Barcelona, including those that offer photography tours, lighting and exposure classes and standard photography courses.
 Barcelona Photography Courses
Barcelona Photography Courses offers a range of photography teaching services, including 1 to 1 lessons and fortnightly 'Photo walks'.
Carrer de Buenaventura Muñoz, 9, 08018 Barcelona
Barcelona Photography Tour
Barcelona Photography Tour is an international company that offers photography classes and tours in many different locations, not only including the city itself but other areas around Catalunya. Their experienced team will ensure that you find it both enjoyable and inspiring.
Grisart
For a longer-term option, Grisart offers a range of intense photography courses ranging between basic courses, to specialised and professional courses. Grisart is a well-established company with a range of partners, ensuring the training you receive is the highest quality!
Carrer de Méndez Núñez, 14, 08003 Barcelona
Cooking
The authentic taste of Spain in the form of paella or tapas is easy to find once you deviate from the tourist-traps, but how about learning to cook the best Spanish food in the heart of the city, or even in the home of a local teacher? Barcelona is overflowing with cooking classes, however few will demonstrate the most authentic cooking techniques, so if you want to impress your friends and family with delicious paella, take a look at some of our top picks for Spanish cookery classes here in Barcelona.
Marta's Paella Classes
At Marta's famous paella class, she brings together amazing food and a warm atmosphere inside her own home- the ideal combination to grasp the authentic taste of Barcelona! To book, you can visit her Facebook page or her EatWith profile
Plaça Tetuan 33, Barcelona
Cook&Taste
Cook&Taste offers a wide range of programs to meet everybody's needs and tastes: individuals and groups, travellers and companies, couples. Their hands-on workshops offer the opportunity to get completely stuck in, whilst learning the best Mediterranean cooking techniques to ensure your Spanish dishes are at the highest of authenticity!
Carrer del Paradís, 3, 08003 Barcelona
bcnKITCHEN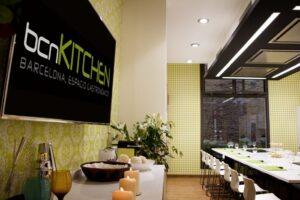 In the charming district of El Born, bcnKITCHEN offers cooking classes with a slight twist. Instead of arriving at a kitchen with all the required ingredients laid out in front of you, bcnKITCHEN gives you the opportunity to visit a local food market along with the chef, to ensure you know where to buy the freshest ingredients. After this, let the cooking commence and of course, enjoy your creations!
Carrer de la Fusina, 15, 08003 Barcelona
Art
If Barcelona's spectacular culture has your artist senses tingling, you will not be short of classes and workshops to make the perfect canvas to express yourself through a variety of medias such as painting, sculpting and drawing. If art classes are what you desire here in the city of Barcelona, then look no further…
Arte Bar
Arte Bar is a unique company whose classes take a twist on your standard art class, as they offer a range of local wines, beers, non-alcoholic beverages and snacks to get your creative juices flowing…what could be better? The classes at Arte Bar are an amazing way to get together with your friends or meet completely new people in a fun, trendy studio atmosphere!
Carrer de Roger de Flor 135, Bajo, 08013 Barcelona
Libremente Art
Libremente Art also offers an alternative to your standard art classes, with the opportunity to travel around Barcelona whilst expressing yourself using a variety of different art forms in orienteering-style activities around the city. Such medias that you will use whilst exploring the city include photography, modeling, creative writing, sketching and intuitive drawing. Libremente Art also offers regular art classes, for those who would like to express themselves in a calmer environment.
Carrer de l'Església 4, 08024 Barcelona
La Terraza Atico
La Terraza Atico offers an exciting plein-air watercolour painting course, led by artist Paul Raymonde and his wife Angela. The best part about La Terraza Atico is that it offers all the benefits of an intensive painting course whilst taking in the fresh open air and magnificent culture of Barcelona. There are a variety of options that can be taken via La Terraza Atico's website, including 1-day courses with a picnic lunch or a 5-day course. Paintbrushes at the ready!
Avinguda Diagonal, 519 – 521, Atico, 08029 Barcelona
Languages
Learning a language can give you a different perspective when visiting a new city, as you feel much closer to the culture and surrounding residents, so where better than Barcelona to practice your Catalan and Spanish language? If learning a language here is something you think you would be interested in, take a look at some of our language course picks:
Olé Languages
If you would prefer learning Spanish in a smaller, personal group, then Olé Languages may be the best option for you! Located in the central neighbourhood of Eixample, Olé Languages is a professional Spanish language school that offers courses for all levels taught by dedicated and enthusiastic teaching staff. The unique thing about Olé Languages is that they organise meet-ups each week in which you can do different tours and activities whilst mingling with your new found language learning amigos!
Carrer Mallorca, 201, 08036, Barcelona
Government (Consortium for Linguistic Standardisation)
If you have an interest in learning Catalan, as many people do here in Barcelona, then you're in luck! The Generalitat de Catalunya offer Catalan language courses for free via the CPNL in order to facilitate the knowledge and use of the Catalan language. These courses give participants the opportunity to learn both in and out of the classroom through group and individual work. The Government offers a wide range of language courses aimed at different levels, so find yours today!
Carrer de Muntaner, 221 – 08036 Barcelona 
Speakeasy
Accredited by the Institute Cervantes, Speakeasy is a Spanish language school located in the heart of Barcelona close to Plaça Catalunya. Speakeasy offers a wide range of Spanish language courses aimed at different levels, from A1 (Beginner) all the way to C2 (Mastery level) ranging from short to long term courses. Their highly qualified and experienced teachers together with an excellent course plans will enable you to feel comfortable and confident whilst learning Spanish!
Ronda Universitat, 7, 08007 Barcelona Spain
Sailing
If you're in need of a boost after lying on the beach all day, then sailing may be a great option for you! The best part about taking to the ocean on a sailboat or yacht is that it can be unpredictable, as some days it may be a calming experience in the heat of the sun or on other days where the waves are choppy and high – so is the adrenaline! Take a look at some of our best picks for sailing lessons in Barcelona:
Business Yacht Club Barcelona
Located on Port Olimpic, Business Yacht Club offers great opportunities to visitors and longer-term residents alike. This company offers individual intensive sailing courses with an expert skipper on board, along with basic sailing classes that are great for short visits to Barcelona however the club also offers a long term membership which allows members to take part in many activities each month. With a wide range of options, it's definitely worth checking out their website to see what they can offer you!
Moll de Gregal,18-19, 08005 Port Olimpic, Barcelona
MT Sail & Power
With the options to take classes in both Sailing or Power yachting, MT Sail & Power offers day courses, competent skipper courses and courses for 'Yachtmasters' alike. Their dedicated team have a passion for sailing and yachting and offer hands-on experience to enable the highest quality of training that meets your personal requirements whilst taking to the ocean!
Passeig de Joan de Borbó, 18, 08003 Barcelona
Sailing Experience Barcelona
If you prefer a more laid-back approach to sailing, perhaps a sailing tour is more tailored to you. Enjoy the adrenaline and adventure of sailing the shores whilst picking up some tips along the way, however with the opportunity to sit back, enjoy some light brunch and a few glasses of wine. If this sounds like your thing, Sailing Experience Barcelona could be perfect for you! Help sail the yacht or simply enjoy a tour of the ocean!
Moll de la Barceloneta, 1, 08003 Barcelona
With so much to see and do in the Catalan capital, there's no excuse not to get out try something new today!