Barcelona is a city revered for its colorful festivals and celebrations, and if you are lucky enough to find yourself in the Catalan capital during January, you'll be able to experience some extraordinary festivals and events! One of these is the Sa Pobla Festival, which takes place in Barcelona's Gràcia district.
What: In true Barcelona style Sa Pobla Festival 2017 will be a vibrant affair featuring live music, drummers, dancing red devils, bonfires and much more!
When: the last Thursday, Friday and Saturday of the month

Where: All throughout the Gràcia neighborhood but especially in Plaça de la Virreina and Plaça del Diamant
How to Get there: Metro Fontana (L3)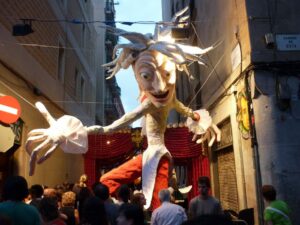 A Barcelona Street Party like No Other
The Sa Pobla Festival is held in honor of Sant Antoni, who lived between the 3rd and 4th Century AD and dedicated his life to help the poor. Legend holds that near the end of  January, bonfires were made and rites were recited in order to favor the livestock and boost the fertility of the crops. Nowadays, to follow this tradition, you can see some amazing bonfires at the heart of the Sa Pobla Festival each year!
What's more, during this fantastic Barcelona celebration, the streets of the vibrant Gràcia district will be filled to the brim with dancing devils, processions of drummers and dancers, and some typical Catalan customs like Castellers (human towers) and giant dragons! It goes without saying that no Barcelona festival would be complete without a Correfoc, aka a fire-run, so keep an eye out for a slew of horned devils sporting fireworks running through the streets of this Barcelona 'barrio'.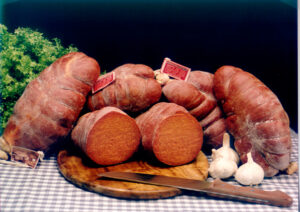 Mallorcan Fare in Barcelona
The Sa Pobla Festival is one of the biggest celebrations of the year on the island of Mallorca. So it stands to reason that attending this cool event is also a great opportunity to enjoy some traditional Mallorcan foods that are laid out in the many squares of Gràcia. One of these is sobresada: a delicious meat with a pâté-like texture.
The festival will be taking place throughout Gràcia as its beautiful open spaces double as theatrical platforms where talented street performers, dressed in peculiar masks, create an unforgettable atmosphere filled with magic and mystery. Be sure to catch the shows taking place in Plaça del Diamant and Plaça de la Virreina for a truly unforgettable Mallorcan experience!
Apartments in Gràcia for the Sa Pobla Festival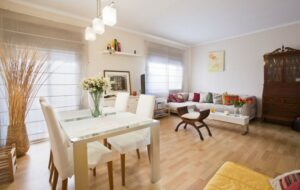 To ensure that you don't miss a beat of this much anticipated Barcelona festival, why not rent one of our many central Barcelona apartments near Las Ramblas or apartments in the Gràcia area, which will ensure you're in the center of all the action throughout this traditional event. This is truly one celebration you don't want to miss, so pack your suitcases and get ready to dance with devils!