It's no puzzle why escape rooms are so popular. They're are fun, mysterious and adventurous. Unlike other methods of entertainment like movies, theaters and video games, you're not just watching the story, you're actually in the story! And this can be a fantastic way to pass some time in Barcelona if you're here with friends or family, or on a stag or hen party.
What's an escape room?
Escape rooms are a type of adventure game in which people are 'locked' inside a themed and decorated room. In order to earn your freedom and 'escape the room' you and 1-5 other adventurers need to work as a team to unravel the clues and uncover the answers. But be quick, you only have 60 minutes! What's more, Escape Rooms are great team building activities. The game is designed for intense cooperation and working together.
Think you have what it takes? Look past the obvious and leave no corner untouched. Use the clues to solve the puzzles. Solve the puzzles to find the keys and set yourself free. Here we give you some of the best escape rooms in Barcelona.
1. Lock-Clock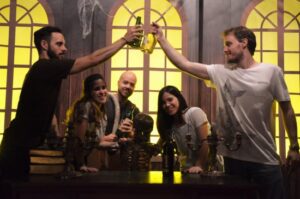 Lock-Clock is a fantastic escape room in Barcelona for adults and children right in the city center. Lock-Clock invites you into a hidden world, where you'll need to work as a team to solve puzzles and clues in a mysterious environment. Lock-Clock has made three escape rooms with exciting themes:
Gaudí's Secret
You'll find yourself in the year 1936 in the workshop of one of the greatest architects of all time, Antoni Gaudí. Suddenly, a revolutionary group has set fire to the workshop. Their plan is to destroy the archive of precious plans and blueprints. Are you capable of solving the mysterious clues in order to save Gaudí's masterpieces in this Barcelona escape room?
Aztec Treasure
You're on a sinking Spanish galleon full of treasures from the ancient Aztec civilization. On a dark stormy night you must find all the treasures hidden in the captain's cabin. Find all the treasures or sink with the ship and be lost at sea forever!
After-party
It's the morning after an amazing, crazy party in Barcelona. Suddenly, you wake up in a strange, unknown apartment. With a headache and a vague memory, you need to find your way out. Time for an aspirin!
Where: Passatge del Patriarca, 4
Price: 14€ – 20€ per person
Website
2. Chicken Banana
Chicken Banana offers a real-life adventure game in five rooms with three different themes of escape rooms in Barcelona. Besides solving puzzles and mysteries you may find some unexpected surprises. Being locked in a room with hidden dangers may bring the best or the worst out in you. Who knows, maybe you discover an unknown side of yourself, or of your teammates…
Mafia

You are working for the Mafia, your job is to recover evidence on the Barcelona mafia kingpin, Felix Manchunga. Do whatever is necessary to complete the job, but remember; don't forget who you are working for.
Psychiatry
You're a patient in the asylum of Barcelona. Dr. Steinberg is making illegal electroshock experiments on the patients. In the course of time a lot of patients and staff have been disappearing… Will you be able to escape in time or will you be the next to vanish?
Prison
The regime of the prison has never been stronger and more corrupt. Lately a lot of prisoners have not been returning to their cells. What did they do? Where did they go? But more importantly, would you wait to be the next one?
Where: Carrer de Rocafort, 12
Price: 17€ – 20€ per person
Website
3. Claustrophobia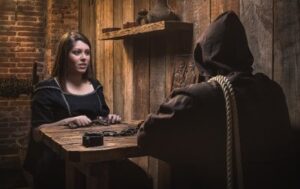 Claustrophobia is all about adventures. Experience another reality and do something that you have never done before. This is something we miss in our everyday lives. The everyday meetings in the office do not even come close to the grand reunions of knights at the round table. Claustrophobia has two exciting themes of escape rooms in Barcelona.
The Dungeon Prisoners
Medieval Europe was known for its tough regime and methods. Do not even hope for mercy while being locked up in one of the dungeons. Escape from the dungeon before the headsman comes and executes you for no reason…
The Bootleggers
Chicago, 1920. Mafia clans divide the city and you are member of one of these gangs. You're captured by the powerful mob family of Don Iscapone. Escape before it's too late.
Where: Carrer de Girona, 27
Price: 50€ – 80€ In total
Website