Last updated: 12th December 2014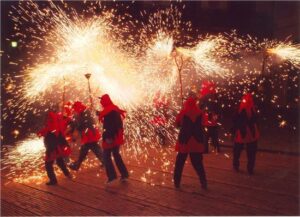 Barcelona's festivals are an amazing sight to see, especially if you're a visitor taking your first peek into the world of tradition ever present in this beautiful city. Hitting the streets in various shapes and sizes, the fiestas of Barcelona celebrate religious holidays and many other things with vibrant and vivid displays, demonstrations and processions. With everything from scorching fire-runs to super-high human towers, Barcelona is home to some of the most exciting festivals in Europe. So here we challenge you to put the Sevillian Flamenco night on hold, stow away the tickets for bullfighting in Madrid, and head to Barcelona to experience some of the most breathtaking, amusing and downright entertaining colorful Catalan customs.
Castellers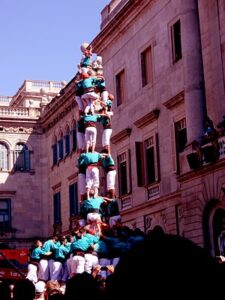 No trip to Barcelona would be complete without witnessing one of the Catalan capital's most dangerous traditions, sure to leave you in awe: human towers! The troupes, known as Castellers, build various layers, sometimes up to 8 stories high, by carefully climbing up one another. This tradition has been captivating audiences for centuries, but as the years have passed, the basic towers have remained the same, since a Castellers tower must consist of three parts:
The base, called a Pinya, which stabilizes the structure.
The actual tower, the Tronc, has several levels with a specific number of people depending on the design
The Pom de Dalt – the Tower Dome. Only kids may perform this last step due to their light weight.
These Casteller shows are usually performed during the many festivals and celebrations in Barcelona, including the Festes de la Mercè which takes placein September each year! Sure to make you hold your breath as you anxiously hope that no one falls, witnessing this pure display of human strength, dedication and of course, concentration, is sure to leave your heart thumping!
Where to see it:  All Barcelona festivals, as well as the morning of Catalonia's National Day (September 11th), normally at the Monument a Rafael de Casanova.
La Sardana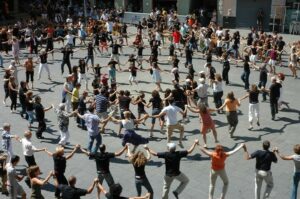 Forget the Flamenco, here in Catalonia the official dance is the Sardana! Dancers join hands with raised arms, forming circles which grow bigger and bigger as more people join in. Known to be an extremely disciplined dance, the Sardana calls for exact movements and expert timing, provided by a leader in each circle. The background music is played by a Cobla(an 11-person band with woodwind, brass and drum players).
Where to see it: This dance is usually performed during religious festivals and special day-long gatherings but you can also catch it on Saturdays outside the Barcelona Cathedral during the summer months.
Correfoc

The 'fire run', also known as the Correfoc, is one of the most anticipated events during the annual Festes de la Mercè in September. Dragons, devils and various 'bestiari de foc' (fire beasts) perform dances and parades where sparks fly and the colors of fireworks splash the night sky. In true Barcelona style, an estimated 80, 000 fireworks are used during the Correfoc at the Festes de la Mercè, but don't worry if you cant make it, as there are plenty more festivals throughout the year where you can see this amazing Barcelona tradition.
Where to see it: You'll find the Correfoc at many festivals and events in Barcelona, but the biggest is the Correfoc on Via Laietana at the Festes de la Mercè in September each year.
Gegants and Capgrossos

If you have ever had the pleasure of witnessing a Barcelona festival, you have undoubtedly seen these oversized papier-mâché figures dancing down the street! Known as Gegants and Capgrossos (giants and big heads), these characters are as much a part of Barcelona as Gaudí's designs are.  Representative of each neighborhood in the city, these colorful creatures are usually part of the opening act to any Barcelona festival, and perform dances while towering up to 4m above you.
Where to see it: La Mercè festival every September, as well as smaller neighborhood parties like the Festa Major de Gràcia each August.
Bastoners
This Catalan custom, best described as a group of individuals dancing while stick fighting, is one of Catalonia's oldest traditions with the first written reference dating back to 1150! The dancers are called Bastoners, and in most settings, two opposing rows of dancers clash their sticks at another. Legend goes that this dance, the Ball de Bastons, is the name of a ritual weapon dance that originally spread throughout Europe and Iberia. So, take a seat and enjoy yet another Catalan custom all while a tabor pipe, shawm or a bagpipe provides the perfect background music!
Where to see it: All traditional Catalan festivals, as well as festival parades. Be sure to catch them in action at the Festa Major de Sants every August.