It's sometimes difficult to please everyone when it comes to a night out on the town, so it's good to know where to go to suit your style. Whether you want to dress up, go cheap, enjoy some live music, or simply let your hair down, Barcelona has something to keep even the most selective of clubbers happy. Here's our guide to the most popular nightclubs in Barcelona and what they do best.
Name: La Terrrazza
Good for: Summer
There's nothing better than partying under the stars in the warm summer air. If that's what you're after, then La Terrrazza is the place to head, although it's a Barcelona club which is only open during the hotter months of the year. Here you'll find a fusion of cutting edge house and techno.
Address: Avinguda Francesc Ferrer I Guardia, (Poble Espanyol)
Name: Eclipse Bar
Good for: Views
Party the night away in one of Barcelona's most prestigious hotels. Way up on the 26th floor of Barcelona's iconic W building, you will find Eclipse Bar. This stylish hangout boasts unrivalled panoramic views of the city and provides an excellent backdrop whilst you enjoy great music and exotic cocktails.
Address: Hotel W, Plaça de la Rosa dels Vents, 1,
Name: Opium
Good for: Beach clubbing
You can never go wrong with combining sun, sea and partying. This is exactly what the guys at Opium have done, and boy they know what they're doing. With an incomparable location and terrace overlooking the Mediterranean Sea, this club is sure to be hit with anyone looking for a taste of Spanish nightlife. Its chic design, location and stylish clientele make for this one of the most popular nightclubs in Barcelona.
Address: Passeig Marítim, 34
Name: Razzmatazz
Good for: Variety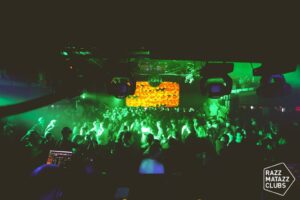 With five different rooms offering five different genres, Razzmatazz is Barcelona's king of variety. This enormous club is guaranteed to keep everyone happy and is arguably one of Barcelona's best nightclubs. Popular with locals, students and internationals alike, this super club is a must see.
It's also worth bearing in mind that Razzmatazz also doubles as a concert venue and has played host to an abundance of acts from the likes of Dusky to the Arctic Monkeys. As long as you don't lose your friend in this cavernous club you're guaranteed a great evening.
Address: Carrer de Pamplona, 88
Name: City Hall
Good for: Techno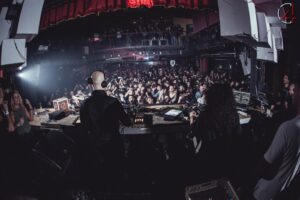 Techno has been taking Barcelona by storm in recent years but undoubtedly the freshest sounds in the genre can be found at City Hall. Each weekend this club has been offering an exciting new helping of DJs to the city. From the likes of Gabrielle Ananda to Monika Kruse? if you're all about the music then this is the venue for you.
Address: Rambla de Catalunya, 2-4
Name: INPUT High Fidelity Dance Club 
Good for: Newest
Th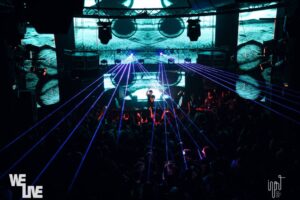 e latest edition to Barcelona's vibrant nightlife scene has come to Poble Espanyol. Opening back in April 2016, INPUT High Fidelity has finally brought something more permanent to the famous square. Another Mecca for house and techno lovers, if this is your scene then you must pay a visit during a trip to the city. With an experimental approach to music, great lighting and sounds, this place has truly established itself as one of Barcelona's best nightclubs.
Address: Av. de Francesc Ferrer i Guàrdia, 13
Name: Sala Apolo
Good for: Live music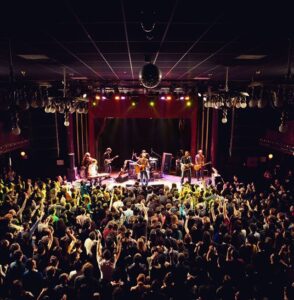 Sala Apolo is no longer the new kid on the block for live music but a well established concert venue. Playing host to the likes of Todd Terry, Carl Craig, Kenny Larkin, SBTRKT, DJ Shadow, Autechre, DJ Rush, Apparat and A-Trak this is one of the most happening venues in Barcelona right now. With its diverse history of artists it's definitely worth researching what's going on there during your stay in Barcelona.
Address: Carrer Nou de la Rambla, 113
Name: 
Moog
Good for: Practicality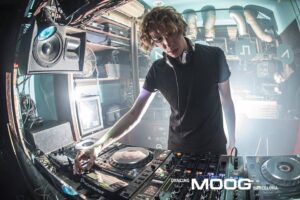 If you fancy something a little less dressy, and you're up for going out on a Wednesday night then Moog is for you. This inconspicuous club hiding in an alleyway just off La Rambla is open seven nights a week. Although certainly not one of the biggest clubs in Barcelona, it's by far one of the most convenient. The club is split over two floors with the 'mirror room' above providing a more poppy genre and the level below a more underground techno and house vibe.
Address: Carrer de l'Arc del Teatre, 3
Name: 
Jamboree Dance Club
Good for: R&B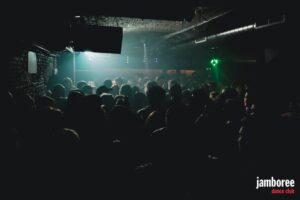 Jamboree is a grungy club situated in Plaça Reial. It's one of very few places in Barcelona which is dedicated to providing great R&B and hip-hop music. This is the place to go if you want to listen to current hits and the R&B of times gone by.
If you're a fan of jazz, don't miss Jamboree Jazz, which has hosted live performances for over 50 years, and is now a point of reference in the industry.
Address: Plaça Reial, 17
Name – Bling Bling
Good for – High brow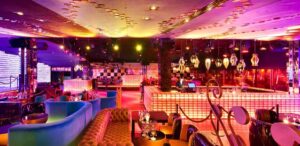 One of the larger nightclubs to be found uptown, this ultra-modern joint (as the name might suggest) provides something a little more sophisticated. It's time to fix up, look sharp, as this is the place where Barcelona's most stylish and beautiful people like to hang out. The door policy at Bling Bling is a little stricter than most other clubs in the city and as a result attracts a slightly older crowd who come to enjoy the great house music on offer.
Address: Carrer de Tuset, 8
Name: Luz de Gas
Good for: Elegance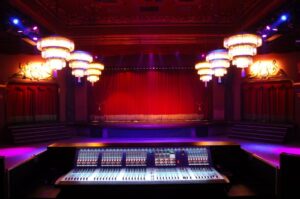 Designed in the style of an old theatre and located in the heart of Eixample, Luz de Gas is one of Barcelona's more stylish clubs, with a unique interior and décor. You can expect to hear a great variety of music at this well-established nightclub. Some old, some new, with genres ranging from 60's to soul.
Address: Carrer de Muntaner, 246
Name: Shôko
Good for: Food and drink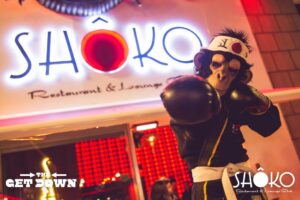 Drink, dine and dance all under one roof at Shôko. Proudly situated on the beachfront it is popular with locals and visitors alike. Enjoy a tasty meal at Shôko and you're automatically able to attend the club later for free! Normally entry requires getting on the guest list.
From modern European to Asian cuisine your taste buds will be dazzled and you're prepped for night of partying too. With house, hip-hop and electronic music all on offer Shôko is guaranteed to be a hit, especially if you're in a group.
Address: Passeig Marítim, 36
Name: Pacha
Good for: Ibiza feel
An über-popular club brand, Pacha is synonymous with the Ibiza clubbing scene,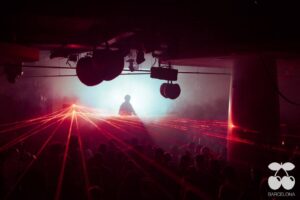 and offers a fantastic taste of something Balearic right here on the beach in Barcelona. The club is split into three different rooms. The main dance floor is found inside with house and electronic music on offer, the Red Room adjacent playing Latino party music known as Pachangueo, and most importantly the terrace, where it excels with its amazing sea views.
Address: Passeig Marítim Barceloneta, 38
Name: elrow
Good for: Themed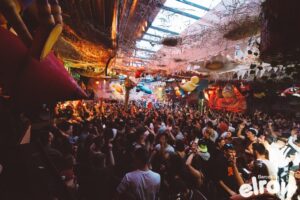 From its humble beginnings in Castelldefels, elrow is now a household name for clubbing right across the world. But here at its spiritual home in Barcelona, you'll find one of the best places to party.
Themed events at elrow take place throughout the year. A sensory overload with colour, props, costumes and performers, this nightclub, situated just outside the city, has captured the essence of a Spanish fiesta and made it global.
Address: C31, Km 186,1, Viladecans
Name: Sidecar Factory Club
Good for: On a budget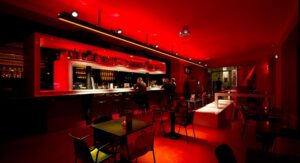 Offering something a little more affordable is Sidecar Factory Club. Close to La Rambla in Plaça Reial, this popular indie club is a great place to head if your pockets are feeling a bit empty after a busy few days in Barcelona. It's also well known for live music and entry prices start at just 5€.
Address: Plaça Reial, 7