Ah, Barcelona! The capital of Catalonia, the largest metropolis on the Mediterranean, where sandy, blue-flag beaches stretch for 4.5km along the coast and you can stumble across more UNESCO world heritage sites than Paris, London and Rome put together – 9 to be exact! You may think you know all there is to know about Barcelona and Catalonia, perhaps you're Gaudí's biggest fan and have been to Park Güell more times than you can count, but did you know any of these famous products have their origins in Catalonia and some in Barcelona itself?
1. Chupa Chups

Although these tasty little sweet treats can be found in over 150 countries worldwide today, they were actually founded in Barcelona by Bijoux Goddard in 1958. The 'Chupa Chups' brand name comes from the Spanish verb chupar, which means "to lick or to suck". Their world-renowned logo was even designed by the Catalan surrealist painter Salvador Dalí in 1969. In fact, many Chupa Chups distributed throughout Spain and Europe today are still made in Barcelona.
2. Estrella Damm Beer
This popular Catalan beer was first brewed in 1876 by August Küntzmann in Barcelona. Estrella, meaning 'star' in both Catalan and Spanish, is the oldest brand of 'cerveza' in Spain and is today available in many countries across the world. You can pick up an ice cold glass of Estrella Damm beer almost anywhere here in Barcelona.
3. Espadrilles
This casual shoe made of canvas/cotton fabric and jute rope also has its origins in Catalonia. Although popular amongst both men and women today, they were once considered as 'peasant footwear'. Espardenyas in Catalan, or Alpargatas in Spanish, can be bought in many authentic, handmade stores across Barcelona in a variety of different styles and colours. One of the most famous is La Manual Alpargatera in the Gothic Quarter, where Hollywood stars such as Penélope Cruz, Tyra Banks and Jack Nicholson are amongst the famous names to have stopped by. Who knows who you might bump in to!

4. Local Fashion
Looking for the low-down on the latest Catalan fashion trends? We recommend a trip to some of Barcelona's local boutiques. Ivori is a Barcelona boutique created by young, local designers that aims to be both attractive and affordable. You'll find the latest Catalan trends at Ivori, including clothes, shoes & handbags made in Barcelona. Custo Barcelona is another popular boutique founded in Barcelona. The Custo label represents the vibrant youth in this city and is popular today across the world. If you're looking for an authentic Custo experience, and the latest trends straight out of Catalonia, why not visit one of three Custo boutiques in Barcelona?
5. Cava
Cava is Spain's answer to Champagne and originates from Catalonia. In fact, 95% of Cava production in Spain today is made in Barcelona's Pendès region just outside of the city. Cava is a sparkling wine that can be both white (blanco) or rosé (rosado). It is an important part of Catalan life and is often consumed at celebrations like christenings and weddings. Sampling a local Cava in Barcelona is a must, and if that's not enough why not take a tour of some of Barcelona's Cava cellars?
6. The Christmas Caganer
This popular figure can be seen in nativity scenes throughout Catalonia during Christmas. The Caganer, a.k.a "the pooper" in English, is a man doing his 'business' to fertilise the earth. For the locals of Catalonia, the Caganer symbolises good luck throughout the festive period.  Today you can even pick up a celebrity Caganer from the likes of Lionel Messi to Albert Einstein. Caganers are best found at the Christmas markets during November and December.
7. Barcelona Antiques

There are some great bargains to be had at Barcelona's markets, many of which are often hand-crafted and made in Barcelona. La Fira d'Artesania del Palau de Mar, situated between Port Vell and Barceloneta, is a small market selling all kinds of handmade items, including jewellery, ceramics, sandals and clothing, hand-crafted by locals. It takes place every weekend from September to June between 11:00 and 20:30.
Mercat dels Encants Vells is Barcelona's largest flea market where there are plenty of bargains to be had! Head down to the market at Plaça de les Glòries Catalanes every Monday, Wednesday, Friday & Saturday between 9:00 and 20:00 to see if you can get your hands on any antiques made in Barcelona!
8. Pan con Tomate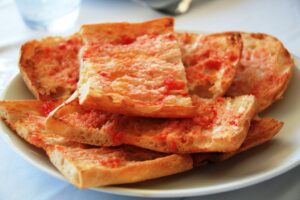 Pan con tomate, 'bread with tomato', is made by rubbing tomato, olive oil, salt and sometimes garlic over regular or toasted bread. Simple yet delicious, this local speciality, also known as 'pa amb tomàquet' in Catalan, is said to originate from Catalonia and is a firm favourite at most restaurants throughout Barcelona. While some believe its origins are in Catalonia, others believe it only arrived in Catalonia after the 15th century from America. Either way, this dish is widely regarded as the epitome of Catalan cuisine and is a must try in Barcelona!