If you're new to Spain you might be wondering why the coffee here is so outstanding. The quality of the coffee bean is much higher than what you may find in the UK for example, and the method in which it is roasted and blended is unique to what you may be used to. 
In Barcelona, you may already know that the city has endless amounts to offer. This doesn't stop when it comes to coffee shops, because in Barcelona, you will find some of the coolest coffee shops ever, offering the most delicious coffee you've ever had. Our guide will treat you to the opportunity to explore your options and make the most of what's on offer. 
1. Eat Nudes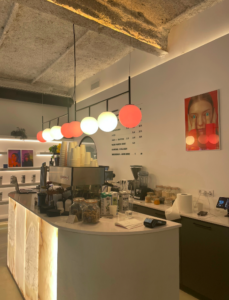 Located in the El Born district on Carrer de Rec is Eat Nudes. This is a brand new concept in the el Born district, with a unique interior and much on offer. Instead of your average chairs and tables, Eat Nudes host a large white bench with levels for you to take a seat and enjoy your beverage. They have every type of milk you could imagine, making it vegan friendly, and they also offer delicious salads, breakfast oats and protein balls. If you love a ginger shot, pick one up here. If you don't speak Spanish, don't worry, their staff speak perfect English, be sure to check them out any time between 8am and 8pm. 
2. Nomad Roasters' Home 
In the Poblenou district, you will find the delicious Nomad Roasters. They have high end coffee importers and roasters who work between their part café and coffee roaster area. Here feel free to learn, to ask about their coffee, to taste the uniqueness. You can observe how in this coffee shop, they carefully select the beans, toast them and serve them whichever way you prefer. Rather than focusing on the minimalist cafe in which you can enjoy their coffee, you must focus on the way that the coffee is made and served. Find them on the Carrer de Marroc. 
3. Satan's coffee corner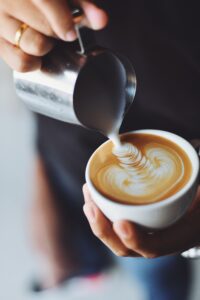 At Satan's coffee corner, you can enjoy some of the best coffee in the city, alongside some delicious breakfast dishes. Their blends of right side coffee and many more are in constant rotation, meaning you can always taste something new. Based in the gothic quarter, they are just a 3 minute walk from the famous Barcelona Cathedral, on the carrer de l'Arc de Sant Ramon del Call. This could be an excellent choice for some morning fuel before a day of sightseeing in the city. 
4. Three Marks Coffee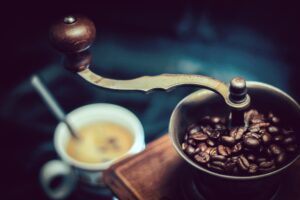 The owners at three marks have a passion for specialty coffee, offering delicious blends of coffee in whichever shape or form you deserve. The location is industrial- hipster chic and has a cosy setting for you to enjoy. This is a great place to check out to get some work done, to read their culture magazines or to just enjoy great coffee and relax. 
5. Ruma's Coffee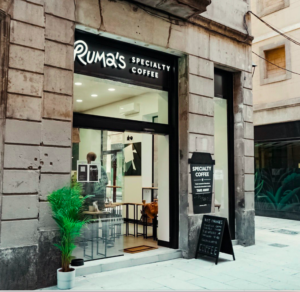 Just a 2 minutes walk from the Palau Güell is Ruma's coffee. This is the place to go to drink true coffee, here they offer coffee beans toasted by Hidden, as well as the best in the city. The stock is constantly refreshed meaning it is always of the best quality and from the best locations. If you love chocolate, Rumas may be the place for you as they also offer some of the most incredible chocolate cakes, bonbons and delights, or if you prepare in a cup! 
6. Hush Hush Café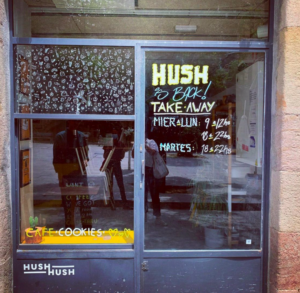 Hush Hush is a neighbourhood favourite, they host a relaxed atmosphere and provide a stunning outdoor terrace which is perfect for enjoying a coffee with friends. This again is an ideal location for getting work done, due to their relaxed atmosphere. They don't just serve coffee, they also offer food, wine and cocktails, so be sure to check this place out!
If you enjoyed reading about the coolest coffee places in Barcelona, perhaps you're interested in checking out the top 7 places to have brunch in the city.