There are too many Chinese restaurants in Barcelona. But would you like to find the most authentic Chinese restaurant in it? And do you know how to order authentic and delicious Chinese food, as often the menus are in Chinese and difficult to understand?
We will recommend the most authentic Chinese restaurants and their most special dishes that are definitely worth visiting and tasting, as well as places from as cheap as 4 euros per dish to luxury dishes.
1. Wenzhou II (4€ /person)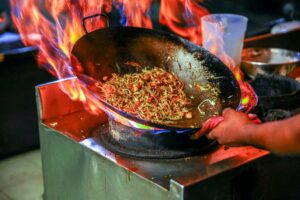 We can say that Wenzhou Noodle Restaurant is definitely one of the cheapest Chinese restaurants in the centre of Barcelona. But just being cheap isn't worth recommending. The food in this restaurant, the portion size of the noodles are huge. On average, a bowl of noodles costs only 4-5 euros. We highly recommend their dishes: beef ramen, pork gut ramen, teppanyaki tofu, and chicken legs with pickled peppers.
Address: Carrer d'Alí Bei, 71, 08013 Barcelona
Hours: 12:00pm-23:00pm
2. Dim Sum Cantonese  (10-15 € /person)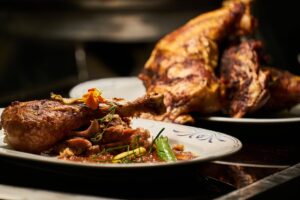 If you like sweet food, this restaurant is the perfect option! They specialise in cuisine from Guangdong Province, China. This restaurant is run by a local from Guangdong Province, China, and the taste is very authentic. The dish we highly recommend is: Roast, it is a species that contains: pork, ribs, chicken, pork, etc. If you want to eat Roast, better if you go early, because this dish is served in limited quantities per day.
Address: Pg. de Sant Joan, 44, 08010 Barcelona
Hours: 11:30am-23:30pm
3. Casa de Qingdao (10-20 € /person)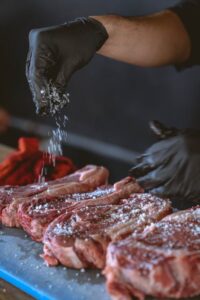 If you want to try the classic North Chinese food in the evening, try Qingdao House. His house specialises in barbecues, with various types of barbecues such as lamb, beef, pork, chicken, seafood and vegetables. You should order a bottle of Cerveza China with your BBQ. Their ravioli is also delicious. But be careful: their food comes in enormous portions so make sure your eyes aren't bigger than your stomach. Even if you are a vegetarian, there are also vegetable grills and staples for you here.
Address: Gran Via de les Corts Catalanes, 734, 08013 Barcelona
Hours: 12:30pm-23.30pm
4. Restaurant Chengdu (30 € /person)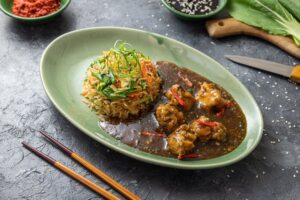 If you can eat spicy, definitely don't miss this restaurant! This restaurant provides authentic Sichuan Chinese cuisine. The specialty of his house is that the portions of food are very large, so if three people eat, it is enough to order two dishes. We recommend their mini hotpot and potato strips sautéed with pepper.
Address: Carrer de Roger de Llúria, 35, 08009 Barcelona
Horario: 13:00pm-16:00pm, 19:00pm-23:00pm
5. Restaurant Chao Zhou Barcelona (30 € / person)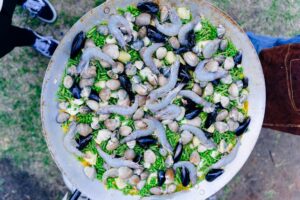 This restaurant is Chaoshan Chinese cuisine, chaoshan cuisine pays attention to light health and seafood cuisine. Main course we recommend seafood casserole porridge, meat we recommend special meat hot pot, dessert we recommend egg yolk quicksand bun and sago sauce. Please note that because they only use the freshest ingredients, if you want to eat seafood or hot pots, you need to book at least one day in advance. Casserole porridge should be boiled for more than 1 hour, so you should book 1 hour in advance.
Address: C/d'Aragó, 197, 08011 Barcelona
Horario: 13:30pm-15:30pm, 19:30pm-00:00am
6. Spice Soul Hot Pot (20-30 € /person)
The hot pot is perfect for a group of people to eat when they are meeting. We could say that this shop is the best hot pot restaurant in Barcelona! And they also have a free dessert buffet. Order a small crunchy meat and a sour plum soup before eating. If you can eat animal offal, we highly recommend: tripe, duck intestines, duck blood, meat rolls. Please note that we recommend that it is best to book a table in advance, because they will be busy.
Address: Carrer de Girona, 51, 08009 Barcelona
Horario: 12:30pm-16:30pm, 19:00pm-00:00am
7.CoCo Fresh Tea & Juice (4-6 € /person)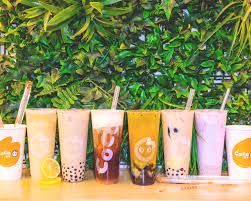 This shop is a very famous chain milk tea brand in China. Try this restaurant If you want to experience authentic Chinese-style drinks! If you like milk-flavored drinks, you can try "3brothers" and "Té con leche Taro y Judía Roja". If you like fruity taste, you can try the "Bubble Gaga". Note: When you order food you can choose sweetness and cold and heat.
Address: C. consell de Cent, 329, 08007 Barcelona
Hours: 11:30am-23:00pm
8. Zheli Here (4-6 € /person)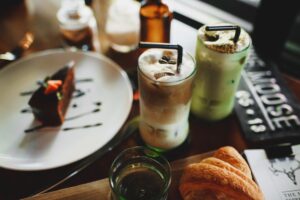 This shop is probably the most famous milk tea shop in Barcelona, near the Arc de Triomphe. We really like "Grass Jelly" and "Silk Road". If you like desserts, don't miss the strawberry cake from this shop. Keep in mind that this store has a lot of customers, so you may need to queue.
Address: Ronda de Sant Pere, 68, 08010 Barcelona
Hours: 13:00pm-21:30pm
If you're a massive foodie and loved our article on the best authentic Chinese food in Barcelona, see if you're interested in hearing more about the best street food in Barcelona!