Can you imagine living in Barcelona and working in New York? This is already a reality! Teleworking was established in our homes with the arrival of the Covid-19 pandemic. At AB Apartment Barcelona we know well that this is not a passing craze, so here are our reasons for choosing Barcelona as a destination to telework. 
Fourth best city in the world for telecommuting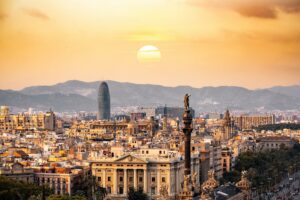 Barcelona is a city in which you can fall in love with every corner. Beyond its tourist attraction, it has the ideal conditions to be one of the best destinations for teleworking. Not only do we say it, but the Catalan capital is in the Top 5 of the best cities in the world to telework!  
Among the key factors of this success are: the mild climate that accompanies the city during all the months of the year and the long hours of sunshine it has. In addition, Barcelona has a  magnificent location. Being surrounded by both the sea and mountains, it becomes a city perfectly communicated with the rest of the world's capitals.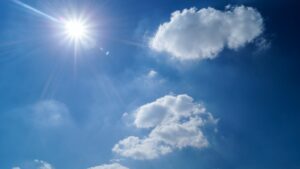 Barcelona is a city full of life and you will always find plans and activities to do. Not to mention the price of housing! The cost of living in Barcelona is not too high if we take into account everything that the city offers us. If you are looking for accommodation in Barcelona , do not hesitate to take a look at our website! 
Cosmopolitan Capital
Barcelona has always been at the forefront in fields such as technology, science, design, architecture, gastronomy… Our city is a true world reference in all these areas and more! In addition, today it is considered one of the most cutting-edge digital cities in Europe.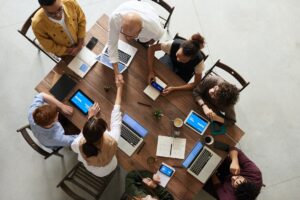 But that's not all, Barcelona is an avant-garde city, where diverse cultures and ethnicities coexist. This multicultural profile makes both locals and tourists take away a sense of universality of our city. While teleworking you will be connected with your colleagues, in your free time you can go out to meet people from Barcelona! 
Multitude of Coworking Spaces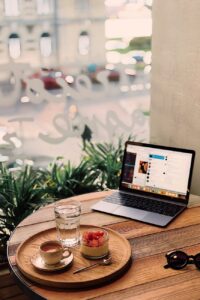 In 2015, Barcelona was already mentioned as the world capital of coworking, having several coworking spaces. At present, however, it occupies the second position in the European ranking, only behind London. For people who enjoy teleworking in Barcelona, having these spaces is paramount. Here we provide you with our list of some of the best coworking spaces in Barcelona: 
Betahaus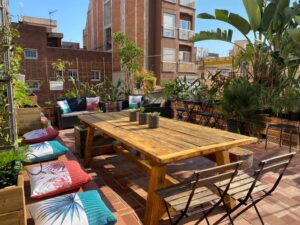 Located in the heart of the Gràcia district, Betahaus is a 6-storey coworking space open 24 hours a day. They also have 5 terraces and a rooftop to work outdoors and admire the spectacular views of the city! 
Price: 143€/month
Location: Vilafranca Street, 7 Barcelona 
Kubik Coworking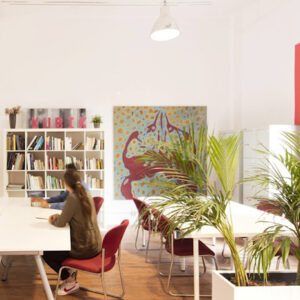 Kubik has 25 years of experience and is the first coworking site that opened in Spain. Like Betahaus, it is located in Barcelona's Gràcia district. It is a space for entrepreneurial teams to explore in the fields of creativity, communication, design…  
Price: 89€/month
Location: C/ Luis Antúnez, 6 
Attico 
In Attico they did not choose their name at random, because their penthouses are to die for with the views they offer! In this coworking space they offer free coffee and tea, gym service, space for bikes, and much more! Best of all, they have offices all over Barcelona! 
Price: On request
Locations:
Attico Med: Passeig de Garcia Fària, 49, Barcelona 
Attico Verdaguer: C/ Provença,339 Barcelona
Attico Urquinaona: Ronda de Sant Pere, 52 Barcelona
Attico Bogatell: C/ Pallars, 108 Barcelona 
Cloud Coworking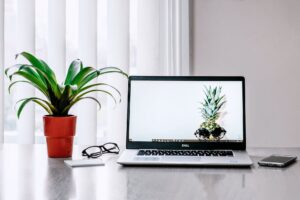 In the heart of Barcelona, just a few meters from the Sagrada Familia, is Cloud Coworking. In it you will find a relaxed and pleasant atmosphere to organize your work. They even have two terraces with enviable views of the city! 
Price: 180€/month
Location: C/Sardenya 229, Barcelona 
Find more coworking spaces in Barcelona, in our blog!  
Unbeatable Natural Environment 
Working at home can be exhausting if you lock yourself in those four walls for many hours. Therefore, we recommend that you take a break from time to time and go out to enjoy some of the best outdoor areas and parks Barcelona. In addition, the city is surrounded by the mountain of Montjuic, the Sierra de Collserola and the Mediterranean Sea. The perfect environment to disconnect, play sports, or just walk!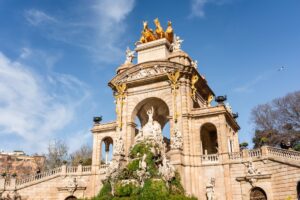 Do you dare to work remotely in Barcelona? Move your desk to the Catalan capital and you will have an incredible experience!