If you own a property, apartment or hotel management company, now more than ever you need to know how to make your clients book directly on your website.
Why? It's very simple. If you don't have your own sales channel, you will have to depend more on OTAs (Online Travel Agencies), such as Airbnb, Booking.com or Expedia, among others. They are a great option to give visibility to your properties, but they are associated with high commission fees and a loss of control. What would happen if tomorrow the sales on Airbnb fell, or Booking.com disappeared? Could you survive without them?
There are so many advantages to having your own successful sales channel.
Some of them are:
Online visibility for your website
Flexibility in the rates and seasons offered
No fixed fees or commissions
Greater control of your property information
The possibility of making specific advertisements for your website
If you want to learn more about how to generate more direct bookings on your site, then you should not miss The Book Direct Show,  a one of a kind event dedicated to short-term rental managers, hoteliers, B&B owners and serviced apartment providers who are seeking more direct bookings on their properties.
The event will be taking place online on both the 29th and 30th of September and will contain invaluable information and advice for any accommodation manager looking to diversify, reduce their reliance on major OTAS and increase their business independence.
Over 50 specially selected industry experts will cover topics such as booking conversion, branding, consumer trust, content marketing, guest experience, Google, professionalisation, profitability, review management, SEO, social media, staycations, technology, website design and much more.
AB's own Marketing Director, Sandra Roig will be presenting on how to utilise Google ads structure and web design to bring you more direct bookings. Sandra has over 20 years of experience, and over a decade of which has been spent working in the digital marketing sector, so she is an expert in the field. These are some of a few of the themes that she will be covering in her presentation:
How to structure your account based on your website
Why the ad groups of your campaigns should be structured by themes or products according to your website
Keyword selection and the importance of the landing pages we will send our potential customers
Writing a conversion-friendly ad copy to increase CTR
Using ad extension to increase your CTR and your bookings
Do not forget to use Remarketing!
The importance of measuring all your actions and the cost of sales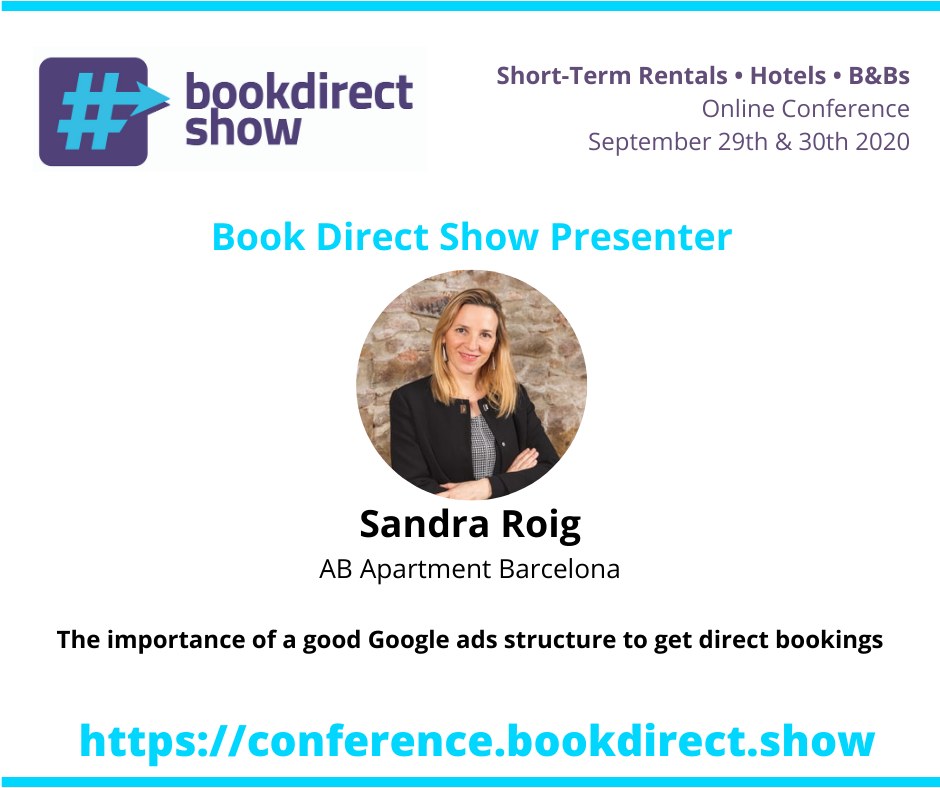 Best of all, all attendees will have access to the invaluable presentations shown throughout the two-day event for three months. Book in as soon as possible so you don't miss out on pivotal advice to gain more direct bookings!