History of transport in Barcelona
Barcelona is a modern city that prides itself on a number of transport methods to get you around the city in a timely manner. Whether it be the metro, bus, train or tram, there are usually multiple ways for locals and tourists alike to arrive from A to B. Since the 1860s, Barcelona opened its first metro line, which ran from Sarrià, which has become the L6. Since then, there have been more lines added over the years and constant development of this metro has given Barcelona an effective mode of transport that is on time, reliable and affordable.
The same can be said for its bus services, which can be accessed by the same tickets as the Metro, train and tram! There are many types of ticket to choose from, depending on the number of journeys you take, whether you´re travelling alone etc. These tickets have been subject to change since January 2020, to their prices and the number of journeys you get for this. This article will explain all the changes to transport tickets for Barcelona as of 2020 to make sure you get from A to B in the cheapest way!
If you plan on staying in the outskirts of the city, then you should be made aware of the transport zones in Barcelona, as that will be a factor in deciding what transport ticket to buy.
There are many different types of ticket to choose from, some are aimed at locals who catch transport everyday and others are more short-term tickets that have no expiry date. Follow the names and prices below to work out which ticket would be best for you to get around Barcelona. The choice of whether to catch the metro, train or bus is entirely up to you! Just remember how many zones you will pass through and if your transport ticket will allow it.
T-Casual
The T-Casual used to be known as the T-10 as it gave you 10 journeys with one ticket, for 1 zone, without expiration. This is the same as what you get with the new T-Casual, except that it has increased in price from €10.20 to €11.35. It is ideal for a long weekend to Barcelona as you can travel to and from all the famous monuments in the centre of Barcelona, still having enough journeys all in zone 1!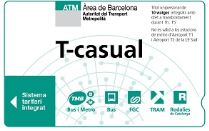 T- Familiar
The T-Familiar is a multi-person ticket, meaning that you and others can share the ticket when travelling together! You get 8 trips around Barcelona to be used in 30 days within 1 zone. The purpose of this transport ticket was so that a family of 4 members could travel into the city, or wherever in Barcelona they needed to go, then return back in the same day. This costs €10 and is perfect for a family break over a few days in Barcelona.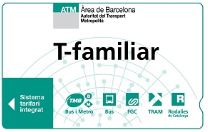 T-Usual
This was formerly known as the T-Mes is, as its name suggests (T-Month), is ideal for a long-term transport ticket in Barcelona. The T-Usual is no different. With this ticket, you get unlimited trips within a 30-day period. Prices vary dependent on the zone, and this new ticket is an improvement on the T-Mes €54.00 price if you are travelling in 2 zones.
T-Usual 1 Zone=€40.00//2 Zones=€53.85//3 Zones=€75.60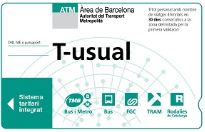 T-Jove
If you are under 25 and are staying in Barcelona for a long period of time and will be catching transport frequently. You should be aware of the T-Jove, a card that gives you unlimited travel over 90 days for just €80 over 1 zone. This is ideal for students or interns that will need to catch public transport every day.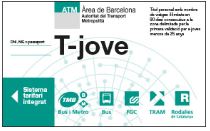 Airport ticket
El Prat de Llobregat Airport is some distance from the city centre but can still be reached on metro or train, as well as bus. The airport ticket is for those catching the metro via the L9 to the airport from the centre of Barcelona. This costs €5.15 for a one-way ticket and gets you a short walk away from all the terminals. Ideal for getting into the centre of leaving after a memorable trip to Barcelona.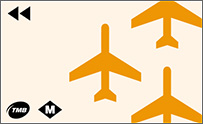 T-Grup
Another long-term option is the T-Grup. This is another recent change to transport tickets in Barcelona to give people in the city a multi-person ticket to use. With 70 trips for 1 zone over 30 days, the T-Grup is perfect if you plan on travelling to Barcelona with sports teams or in a large group and need to get around the city as one. This transport ticket in Barcelona costs €79.45.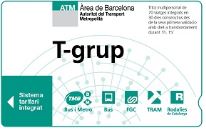 Billet Senzill
A single ticket for the bus or metro in 1 zone costs €2.40 and gets you a one way travel in the city. This is ideal for those who are staying in the centre of Barcelona and do not need to catch public transport frequently and only plan on doing so to reach monuments on the outskirts of the city, such as Mount Tibidabo or Park Güell.

T-Dia
If you have a limited amount of time in Barcelona and need to cram in all your trips in one day, then the T-Dia is for you. This transport ticket in Barcelona gives you unlimited trips on all types of integrated transport over 24 hours all for just €10.50.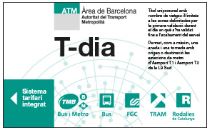 T-16
If you live in Barcelona and have a child aged between 4 and 16 you can apply for a personalised transport ticket for them to use all types of transport for free within the city. This is a great thing to be aware of when moving to Barcelona as it will save you a lot of money.
Benefits of transport
The main benefit of using public transport in Barcelona instead of hiring a car is the reduction of pollution due to less cars being on the street and more shared methods of transport being used. There has also been a change to the roads around Barcelona, in an attempt to reduce the city´s carbon footprint. The creation of a Low Emissions Zone in Barcelona will have the effect of more people using public transport and having to purchase the transport tickets in Barcelona. In this way, we are all contributing to live on a planet with less polluting emissions!