Virtually everyone has been in the situation of searching for a flat to rent in a city they don´t know and, being honest, it isn´t exactly a fun and straight forward task. Looking through the internet, you will find thousands of renting portals for apartments in Barcelona, although many times you do not know if you will be able to reserve in a safe way or if you will be choosing the best option.
If this is your situation, you are in luck, as in AB Apartment Barcelona we are aware of this reality and because of this, we are at your disposal with all the facilities you need to find your new home in Barcelona (Albeit for a few days!).
Why AB is the Best option for renting an Apartment in Barcelona?
AB Apartment Barcelona is one of the most important agencies for tourist apartments in the whole city, with more than 600 apartments in Barcelona and over 13 years of experience in the tourism sector. Also, its the best positioned local tourist apartment company on Google, something that strengthens its position as the number 1 agency in Barcelona within this sector.
One of the strong points of AB is its innovative technology. We are constantly applying the latest technology in the sector in order to offer you an unforgettable stay in Barcelona. So much so, that we have implemented Check-in Online, together with a system of moving in with digital keys for the majority of our apartments.
We aim for quality, comfort, simplicity and well-being for our 10,000 annual customers. For this reason, all of our apartments are completely managed or verified by AB, in order to guarentee you the best possible stay. All the properties are very well located and connected to the public transport network, so that you can be near your preferred points of interest and can move easily within our wonderful city.
On our web page, we have a search enginge of apartments where you can see its location and filter in accordance to your needs: Less than €50 per person per night?, near the Sagrada Familia?, With space for up to 8 people? With a balcony? Or pool? Don´t you worry! We have this and more. The only thing you need to do is put the dates when you are going to visit the marvellous city of Barcelona, reserve the apartment that best suits your needs and you can start to enjoy your trip to Barcelona with AB.
Another important point is that AB Apartment Barcelona has every type of housing depending on the situation that you find yourselves in (Erasmus student, Family holiday, Weekend getaway, Business trip…). With us, you will be able to choose between a holiday apartment for a certain number of days, an apartment for medium-long stay renting for longer periods, or even, buy an apartment in Barcelona.
Facilities and services included in your apartment in Barcelona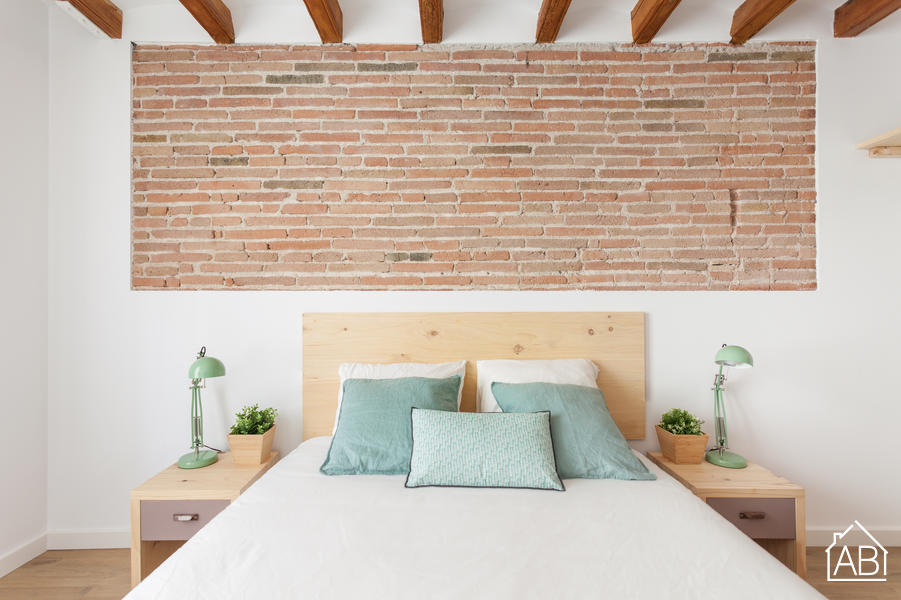 In AB Apartment Barcelona, we know that arriving in a new place isn´t always easy, therefore we give you all the commodities and services needed so that you don´t lack anything and feel at home. One of the largest advantages that our company has is our reception located in the centre of Barcelona and is open 24 hours a day, 365 days a year, meaning that you will always have someone to consult with about any doubts you have. Also, we offer international personnel with more than 10 languages which we can put in touch with you.
Once you arrive at the apartment, you´ll be able to enjoy all the following services in order to have a 10/10 stay in the city. All the flats are fully equipped with:
• WiFi and Television
• Dressing gown and Towels
• Utensils for cooking: toaster, kettle, cafetiere etc…
• Washing machine and dishwasher
• Air conditioning and heating
• Official tourist guide of the Association of Apartments in Barcelona
• Ahlan Review, the only Arabic Review of Barcelona
• Basic kits for cleaning, cooking and hygine
• Discounts on more than 500 activities in Barcelona
In AB Apartment Barcelona we love our work and this is reflected in the fact that our customers come from more than 50 countries and trust us with our service. For us, our customers make up a part of our large international family… Are you going to join us?