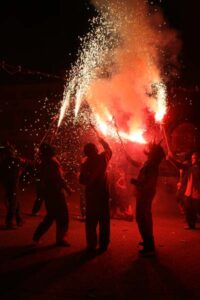 As the leaves start to change colour and the summer months draw to a close, you may think all of that Barcelona fun may soon come to an end… But truth be told, Autumn is one of the best times to visit the Catalan capital! With the Mediterranean climate cooling down, Barcelona comes to life with festivals and events, making it the perfect time to enjoy the city at its fullest. Plus, there's plenty to see and do like day trips and trying some new Catalan flavours, all of which are definitely best enjoyed against a warm backdrop of the vibrant shades of red, yellow and tangerine!
Here's our top tips for making the most of Barcelona this Autumn…
Bid farewell to the Summer, Catalan Style!
In true Catalan style, the city says goodbye to the Summer with one of the most anticipated street festivals in Barcelona. If you are heading to Gaudí's city at the beginning of autumn you'll be in luck, as the Festes de la Mercè are held in September this year. This memorable event has everything from colourful parades to imaginative creatures from the Gegants and Capgrossos (giants and big heads), to the Correfoc: a fire run, where dancers dress up like devils and fiery characters as the streets come to life with more than 80,000 fireworks!  Also not to be missed this year is the BAM music festival, featuring local and international bands, taking place across the city. For a list of artists and a full schedule visit the La Mercè website.
Sitges Film Festival
When: 3rd – 13th of October
Forget Cannes, Sitges film festival is the greatest celebration of horror and fantasy genre films.  It's been frequented by many famous faces over the years with likes of Anthony Hopkins, Jodie Foster, George A. Romero and Cameron Diaz, just to name a few. Whether you're a film connoisseur or just interested in viewing an independent screening, there's loads to see here. The ten day festival will be screening everything from the latest blockbusters, to independent movies, so don't miss out on the action!
Take a Daytrip to Mount Tibidabo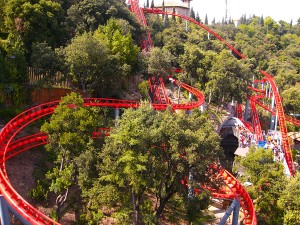 For an unforgettable family day out, grab your loved ones and head for Mount Tibidabo! With a planetarium, the beautiful Sagrat Cor church (which can be seen for miles around at night) and a science museum, Tibidabo has it all! Sitting atop the Collserola mountain range at a whopping 512m above sea level, prepare to witness some breathtaking views of the city at its peak. Also home to the Tibidabo Adventure Park, known to be one of the oldest theme parks in the world, you can enjoy some great rides like the classic Ferris wheel, or a little red plane that zips through the clouds… and don't forget the candy floss! Check out our post on Tibidabo for more information about the mountain and how to get there.
Calling all Jazz fans!
When: October – December
For jazz lovers making their way to Barcelona this autumn, the VOLL-DAMM International Jazz Music Festival in Barcelona is sure to meet your musical needs. Celebrated from October through to December, and featuring acts from all corners of the globe, the event will be held in different venues across the city, from the grand Palau de la Música, to more intimate venues like the Harlem Jazz Club. For more information and a full schedule, check out the Barcelona Jazz Festival website.
Gastronomic Delights this Autumn
Traditional Tapas: It goes without saying that no trip to Barcelona would be complete without indulging in the delicious bite-size snacks known as tapas! With everything from spicy nibbles to savoury and sugary combinations, prepare for ultimate palatal pleasure in Barcelona this Autumn.
Be sure to indulge in some tapas with a Catalan twist this season, including prunes wrapped in bacon, as well as various seafood-inspired dishes, fresh from the Mediterranean! We suggest heading to El Xampanyet for an authentic experience, while you enjoy the tantalizing taste of a variety of tapas paired with a glass of traditional Catalan Cava!
Catalan Customary Treats: If you find yourself in Barcelona on the day after Halloween, prepare to have your taste buds tingled. On All Saints Day, the people of Barcelona celebrate La Castanyada: a day to remember loved ones while enjoying some sweet treats! With vendors on every corner of the city, you can't miss a chance to try the famous castanyes (roasted chestnuts) as well as hot sweet potatoes and panellets: little almond cookies with pine nut decorations. Wash it all down with a cup of sweet muscatel to complete this culinary experience!
Visual Delight at Montjuïc Fountains
One of the favourite attractions amongst visitors all year round is the Montjuïc Magic Fountain display! Prepare to be mesmerised as the fountain near Plaça Espanya comes alive with vibrant colours, lights and sounds, making a truly memorable experience. For a list of show times, check the official website.
If you are lucky enough to be in Barcelona for the Festes de la Mercè, be sure to make your way to the Magic Fountain as the final event of the Mercè Festival is the fantastic pyromusical show!
Apartments in Barcelona this Autumn
For an all-round experience in Barcelona this Autumn, we recommend staying in the Ciutat Vella district of the city. Choose an apartment in the historical Gothic Quarter for your Autumn getaway as the intricate labyrinthine streets, intimate plazas and amazing Gothic architecture of this beautiful Barcelona 'barrio' are best enjoyed against a colourful autumn backdrop.
The neighbourhood, also home to the Barcelona Cathedral and situated only steps from the famous Las Ramblas, ensures that you and your loved ones can soak up all that Barcelona has to offer! A central location, as well as easy access to public transportation makes renting an apartment in the Gothic Quarter of Barcelona the ideal choice this autumn!