When you're staying in Barcelona, it's almost a legal requirement to take some snaps for Insta. You want to make your friends jealous that you're here, as well as spicing up your Insta feed, of course. That's why we've chosen some of our favourite photos of Barcelona from Instagram, to give you all the inspiration that you need.
Montjuic Magic Fountain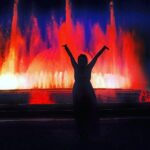 The magic fountain show is one of the best places for a Barcelona selfie in the city, this spectacular event fusing music, light, colours, and of course water, to provide visitors with the ultimate insta backdrop. Our favourite photo of this spectacle comes from travelling_aroundthe_globe
If you want to replicate a stunning shot like this one, head to the magic fountain show on the following dates:
• 01 March – 31 March: Thursday, Friday, Saturday. 20:00-21:00.
• 01 April – 31 May: Thursday, Friday, Saturday. 20:00-22:00.
• 01 June – 30 September: Wednesday, Thursday, Friday, Saturday. 21:30-22:30.
• 01 October – 31 October: Thursday, Friday, Saturday. 21:00-22:00.
• 01 November – 06 January: Thursday, Friday, Saturday. 20:00-21:00.
Metro: Espanya (L1/L3)
Bunkers del Carmel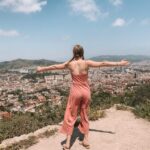 Want to get the whole city skyline on your Instagram? If you want to get a photo like this one from emmahastings_, head to the Bunkers del Carmel.
Former civil war bunkers, this viewpoint is one of the most instagrammed locations in Barcelona ever. A tip is to go to the bunkers late in the afternoon to capture a perfect sunset on the background of your shot. Take the 22 bus up to the final stop, and then walk just 15 minutes up the mountain.
Street Art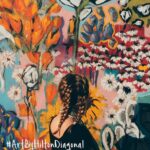 When it comes down to it, Barcelona is an open-air museum full of beautiful street art on all of its walls. Around every corner, there is a new design to see, each one somehow bigger and better than the last. Just look at this photo by hiltondiagonalmar. Obviously all of these paintings will look incredible on your insta feed.
We recommend doing a street art tour with a knowledgeable guide, or if you fancy it, you can do your own tour using our blog about street art in Barcelona. Here are some of our favourites:
1. The Gothic Quarter
zio_piet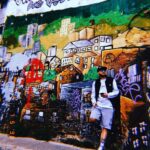 2. Poble Sec/El Raval
dillina_mini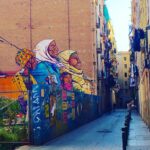 3. Carrer Compte d'Urgell
joanmasana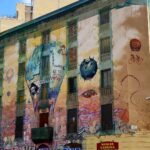 4. Carrer De La Riereta, 8
Borgeavenue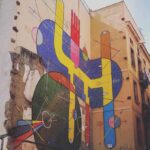 Tibidabo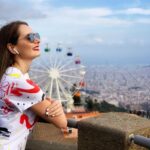 Mount Tibidabo is one of the most spectacular sights in Barcelona, and there is even a theme park on top of it! Indeed, Tibidabo is the location of the colourful Ferris Wheel that gives you amazing views of the city, but also looks great on insta. Check out the photo from lina_ponomariova_ for inspiration.
Sadly, a ride on the Ferris Wheel isn't free, but it's worth paying to enter the theme park as there's also plenty more photo opportunities inside.
To get to Tibidabo, take the L7 line from Plaza Catalunya to Avenida Tibidabo. Heads up, this is a RENFE train, not the metro.
Barcelona Cathedral Bridge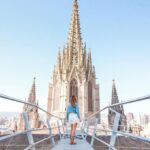 The city's Cathedral in the Gothic Quarter is hands down one of the most stunning pieces of architecture in Barcelona, save the Sagrada Familia, of course. But did you know some of the best shots can be taken on its tiny bridge? Check out dianamiaus for example. And this location is so easy to get to. Just take the metro to Jaume I (L4) and you'll be there in no time.
Pont de Petroli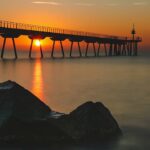 We love this shot from nico_ncd97 of Badalona's pier, a city just next to Barcelona. The beach at Badalona is a lot less crowded than those in Barcelona, and with a gorgeous pier like the one in the photo, it's easy to spice up your account with snaps from outside the city as well. We recommend going for the sunset.
To get to Badalona take the R1 train from Plaza de Catalunya. The city is just under 20 minutes away.
Mirador de Horta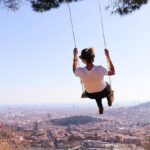 Swinging on a mountain with a view of the city, now that's a good photo for Instagram! If you want to take a picture like zawszenawakacjach head to Serra de Collserola Natural Park to find his swing.
Once in a while this swing gets repaired because of the sheer number of people that use it, but more often than not you can find it in its rightful place!
Why not bring a picnic with you and make a day of it? When the sun is beaming, this park offers many more photo opportunities than just on the swing!
To get to Serra de Collserola Natural Park, take the metro to Mundet (L3).
Now it´s time to get snapping! whilst you´re at it, give us a follow @apartmentbarcelona for more inspiration! and check out our website for more information on our apartments on offer in the beautiful city of Barcelona.