We get it; eating out with children can be hard, especially when you're in a foreign country. But as a whole, the Spanish actually love kids and it's not unusual that children will eat out with their parents, especially during the daytime and in summer.
Because of its location under the Mediterranean sun, Barcelona is full of outdoor terraces and delicious food spots that combine great food, with a great place to catch some rays. We recommend heading for these places first, or even some of the Chiringuitos along the beach (although sometimes these can be super pricey). If none of these tickle your pickle, try some of our favourites below.
Tapas: Louro
But you told us never to eat on La Rambla! We hear you. But this is an exception.
Louro is a delicious seafood restaurant great for children and parents alike. But don't worry if your little ones don't like fish, the restaurant also has a quality children's menu.
Rambla dels Caputxins, 37.
If you're determined to eat tapas during your stay in Barcelona, here's a few of the most popular dishes for children that you can order in any good tapas place.
Patatas Bravas (potatoes with a tomato sauce and garlic mayonnaise)
Tortilla (egg frittata)
Pan con tomate (toasted bread with tomato)
Albondigas (meatballs)
Choricitos (mini cured sausages)
Mediterranean: Semproniana
Semproniana offers a new and scrummy take on French and Catalan cuisine, as well as a great lunch time set menu. The dishes are fun, fresh, and always original, and there's even kid's cooking classes on Saturday afternoons during term time!
Don't miss your chance to get stuck in at Semproniana.
Carrer del Rosselló, 148.
Metro: Hospital Clínic (L5)
Italian: Don Kilo Barcelona
Who says you have to eat Spanish food in Spain? Pizza is a great option for families with fussy children, and Don Kilo offers true Italian grub that will make you feel like you've left Barcelona and landed in Rome!
For food so delicious and with such impeccable attention to detail, this pizzeria is reasonably priced.
Heads up! We recommend making a reservation beforehand as this place is almost always full.
Carrer de Girona, 133.
Metro: Verdaguer (L4/L5)
Café: Pudding
Pudding is arguably the most child friendly spot for food in the city. With a special kid's zone, children's books, board games, chalkboards, dartboards, and even iPads, it will be difficult to get your kids to come home!
Pudding was opened by a Frenchwoman based in the city, as a place where parents could spend the afternoon with their kids but at the same time relax a little. The café offers homemade cakes, pastries, sandwiches, salads, quiches, and even burgers. Did we mention that they also do birthday parties?
Carrer de Pau Claris, 90.
Metro: Urquinaona (L1/L4)
Dessert and Pudding: Chocolatería La Nena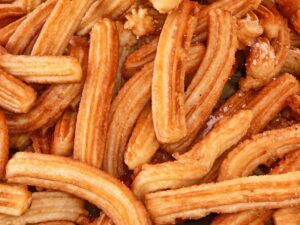 Have your kids got a sweet tooth? Enjoy some churros and chocolate at Chocolatería La Nena, a café famous for its delicious drinking chocolate.
La Nena is the ideal place for families and there is even a small play area for children inside.
Best of all, the owners love chatting and joking with the children so all families will feel welcome here.
Carrer de Ramón y Cajal, 36.
Metro: Fontana (L3)
Sushi: Doble Zer00
As far as family-friendly food goes, we don't blame you if sushi doesn't immediately spring to mind. But at Doble Zer00, they have a specialised children's sushi menu that makes this exotic cuisine, a lot more accessible.
There are three Doble Zer00 restaurants in the city, but at the sites in El Born and El Masnou, there are also people who will watch your children while you eat! These services are only available on Saturdays, Sundays, and during holiday time, from 13:30 to 17:00.
Seven spicy tuna rolls, please!
Carrer de Jaume Giralt, 53. Metro: Urquinaona (L1/L4)
Farmhouse: Restaurant Can Castellví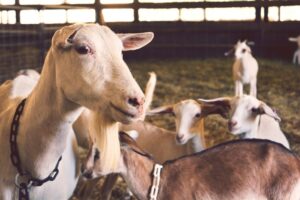 If you don't mind heading out of the city centre, we recommend going to Restaurant Can Castellví, just twenty minutes from Barcelona. This tasty and local grub spot can be found next to an animal farm where kids can ride ponies, see ducks, pigs, and wandering peacocks, and play in a small playground garden! We don't think you can get much better than that…
Av. Can Castellví, Molins de Rei.