We don't blame you if the last thing you want to do on your holiday is cook, but we also understand if going out to eat all the time can get a little, well, tiresome. Why don't you meet in the middle and get a takeaway?
Barcelona is full of excellent takeaway and delivery services that offer tasty dishes for even the fussiest of eaters, from every cuisine under the sun! As well as using our favourite delivery mobile apps Deliveroo and Glovo, we've rounded up some of our other favourite takeaways in the city…
View these spectacular spots on our interactive map here.
Kraving Viet: Vietnamese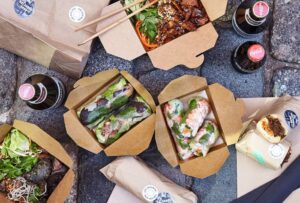 Kraving Viet offers sofa diners healthy Vietnamese street food that has been cooked with love and affection at low temperatures maintaining all the essential nutrients and flavours…
The company prides themselves on having little to zero food waste and they even use their own eco packaging which is recyclable and 100% compostable. Kraving Viet is totally plastic free!
Bacoa: Burgers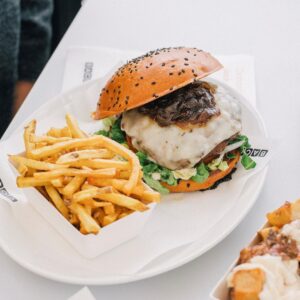 Bacoa have some of the tastiest burgers in Barcelona, letting diners fully customise their meal with their own personal checklist of burger styles and ingredients. And this detail isn't lost in Bacoa's takeaway service either!
Bringing their handmade beef (and chicken) creations right to your door, Bacoa's number one priority remains the quality of their food; you only have to look at their slogan- we make everything by hand because we know, and hope you agree, real food tastes better– to see.
Wok to Walk: Noodles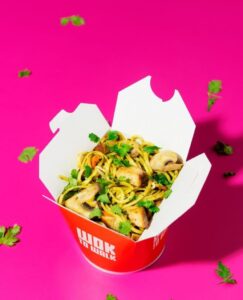 Originally starting in Amsterdam, Wok to Walk has set up over 100 wok stations around the world. They offer fresh, quick, and delicious dishes that can be customised by toppings, sauce, and even noodle type!
With three Wok to Walk's in Barcelona, including one on Las Ramblas, remember that you are always within walking distance of your next life changing wok experience…
Monster Sushi: Sushi
Hailed as 'the best sushi in Barcelona,' Monster Sushi is a sushi and Japanese joint in the beautiful Gràcia barrio, but they also have another site solely for takeaways on Calle Muntaner. Here, they deliver the best of their sushi creations across Barcelona, Espluges and Sant Just!
Gyozas, Edamame, Miso Soup, Tuna Tataki, California Rolls, Nigiri, Sashimi, and even desserts? Please sir, can we have some more?
Bembi: Indian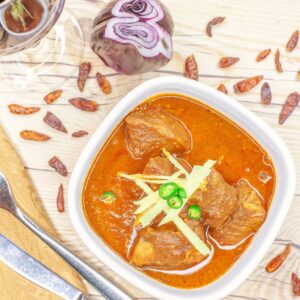 The dishes at Bembi have been inspired by the different regions of India, the eatery dedicating itself to serving the country's traditional dishes in a new and modern way.
Although Bembi's brick and mortar takes the form of a restaurant in the city's Eixample neighbourhood, you can also order their food through Deliveroo, Glovo, and other takeaway services.
Anormal: Latin American
New on the Barcelona food scene, Anormal specialises in Latin American and Mexican streetfood. Their food is bright, bold, and larger than life, representing the best of Latin America culture.
Order through phone, or by heading directly to the restaurant and requesting takeaway.
PugliaMia: Italian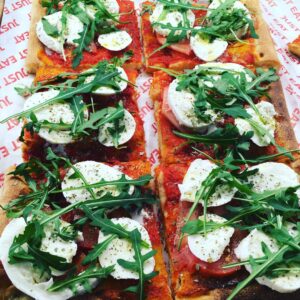 Fancy a takeaway but not sure what? Italian food is always a good idea!
With one of the most varied Italian menus in the whole of Barcelona, PugliaMia is your one stop shop for when you're craving anything heaped with parmesan cheese!
They also offer traditional dishes like Focaccia, Arancini, Tiramisu, and even Italian soft drinks!
3 Amigos: Mexican
Andale! Andale! 3 Amigos serves 'slow food, cooked fast', creating fresh and local dishes inspired by Mexican street food.
Their menu is short but concise, offering mouth-watering Mexican bites like the immortal Burrito, contemporary Burrito Bowl, traditional Taco, and forever favourite Chips and Salsa.
Komo Poke Bowl: Polynesian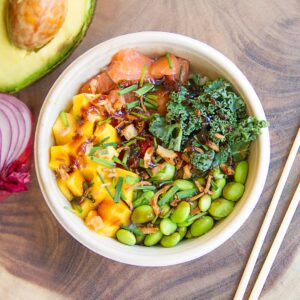 Who said that takeaways can't be healthy? Introducing Komo Poke Bowl, experts in the newest Hawaiian health fad, The Poke Bowl. Made from five parts, a light carbohydrate base, a source of protein, a veggie side, a sauce, and a topping, Poke Bowls are an easy way to get your five a day.
At Komo Poke Bowl, you can choose from one of their pre-approved creative combinations, or make your own custom bowl. Did we mention that they also serve breakfast bowls…