One of the best (and most immersive) ways to see the city of Barcelona is by doing a tour. But where do you start?
With thousands of city tours available covering every topic under the sun, we understand if it feels a bit daunting choosing your first tour in Barcelona. We've listed one of our favourite tour sites to make your decision that little bit easier… Going on tour is like getting a tattoo, once you start, you can't stop!
WeBarcelona
WeBarcelona tours is short for world experience Barcelona, and they offer just that. WeBarcelona offers guests a new way to see the city with not just travel tours, but travel experiences.
Experience the best of Catalan wine by SUV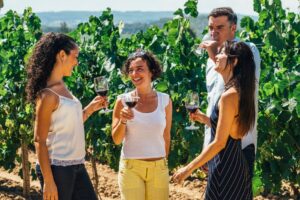 The Penedès region is known as one of the best places for winemaking. Why not see what all the fuss is about with WeBarcelona's Wine & Cava with Tapas Experience and visit not one, but two handpicked local wineries to sample the very best of the region's wine and cava selection. Drinks are also paired with appetizers to complete the experience. Now, that's an offer we can't refuse… Salut!
Experience Barcelona by eBike
See the city on two wheels with WeBarcelona's 360º eBike Tour, a seven-hour immersive bike tour also covering medieval Montjuic by cable car, and Barcelona's coastline by Eco-boat. Riders will see some of Gaudi's most iconic sites in Barcelona: La Sagrada Familia, Park Guell, La Pedrera, and Casa Batlló, as well as the city's Olympic Harbour.
Experience Barcelona by helicopter
Think you've seen the city from all angles? Think again! Explore Barcelona on land, sea, and air with WeBarcelona's 360º SkyWalk tour covering the very best of the ciudad condal on foot, by boat, and then by private helicopter! Glide into the sky and enjoy indescribable views of Port Vell, Barceloneta, the Olympic Port, Olympic Village, the mouth of the Besòs River, and more…
Experience Montserrat by hiking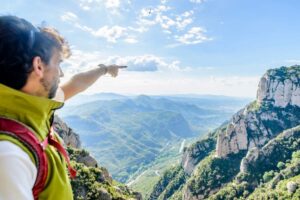 Just a short trip from Barcelona hides Montserrat, a sensational mountain range home to Montserrat Abbey. With WeBarcelona's Montserrat Monastery & Hiking Experience, nature lovers and keen hikers can enjoy a visit to this glorious Benedictine Monastery– accompanied by an experienced guide- as well as a one-hour trek in Montserrat's Natural Park. From Monday to Friday, there is also the opportunity for guests to attend a choir performance by internationally famous, Escolania of Montserrat.
Experience Montserrat by horseback riding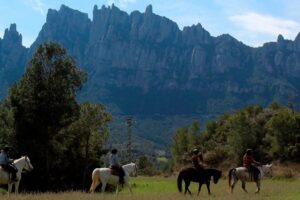 There are plenty of other ways to see Montserrat, for example, on horseback. After marvelling at Montserrat's Monastery, enjoy a thrilling horseback ride along the Natural Park with WeBarcelona's Montserrat Monastery & Horse Riding Experience. With experienced guides for all riding levels, see the spectacular sites with the wind in your hair, and reigns in your hand. Yee-haw!