Barcelona is a city rich with art and culture, something that also translates into its theatre and performance. Did you know that there are more than 60 theatres in Barcelona? So if you want to make your trip to the city one to remember, we recommend going to a show here, and loosing yourself in a theatrical extravaganza for an hour or two…
Remember! Always check the language of the show before you go, you don't want to catch yourself at an all-Spanish performance if you don't speak Spanish at all.
El Gran Teatre Del Liceu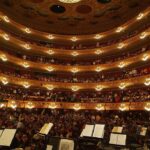 Barcelona's world famous opera house, and the second largest in Europe, El Gran Teatre Del Liceu was originally opened in 1847 after evolving from the city's Sociedad Dramática de Aficionados (Society of theatre-lovers). Then, it was a private building used only by the most popular in society, and the building tragically burned down in 1994. After it was renovated and reopened to the public, the theatre has remained a firm favourite in the city of Barcelona.
The theatre shows all different types of performance, from opera and ballet, to concerts and well renowned international symphonies.
Coliseum Theatre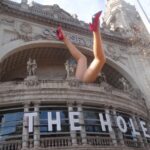 The Coliseum Theatre originally opened in 1923 and is one of the best examples of monumental architecture of 1920's Barcelona. The theatre is extremely popular with both tourists and locals, offering a wide range of entertaining shows, especially cabaret and musicals. Although the Coliseum Theatre opened more than 90 years ago, it didn't actually become a theatre until 2007, and today it is known for its impressive décor inspired by the French Beaux-Arts style.
Teatre Nacional de Catalunya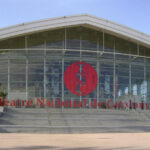 Created by the government of Cataluña, the Teatre Nacional is a public theatre home to high quality theatre productions. It mostly shows performances in Catalan, favouring classical theatre productions like the works of Shakespeare, Moliere, and Federico García Lorca. The theatre was designed by Ricardo Bofill, the same architect who later created the landmark Hotel W on the Barceloneta coast line.
El Molino
Barcelona's answer to the Moulin Rouge, El Molino was founded in 1898 and was the visual emblem of the Poble Sec neighbourhood for many eras due to its huge mill flies on its exterior. From 1910 to 1939, El Molino was even called El Petit Moulin Rouge ('Little Moulin Rouge') until the theatre was forced to change its name during the Franco dictatorship because of its Catalan connotations. Since then, it has kept the name El Molino.
The theatre is best known for its cabaret and flamenco shows, and has successfully kept its Parisian showgirl roots up until the present day.
Teatre Grec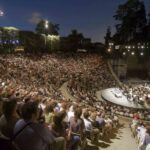 Teatre Grec is a traditional greek open-air theatre which has shows from June to August, the majority of the performances occurring during the annual theatre festival, Grec. We particularly love this theatre due to its greek-style amphitheatre which gives the performances a charm like no other. Teatre Grec is considered one of the most prestigious theatre venues in Catalonia and usually promotes new stage productions by local and international directors.
As always, let us know if you visit any of theatres above by tagging us in your photos on Instagram.
Break a leg!