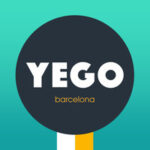 Minty green and super lean, chances are you have already seen these scooters (also called mopeds in the UK) on the streets of Barcelona. Even some of the team at AB Apartment Barcelona have had a go on a Yego scooter! Describing themselves as an electric motoshare company, Yego works on a similar premise to Barcelona's Bicing system, where you leave your scooter in an allotted space after your ride, ready for someone else to pick it up and go…
And we can't recommend Yego enough, especially since all of AB Apartment Barcelona's customers also get a free 30 minutes on a Yego scooter, a gift from us so that you can see the city cruising on the back of a moped, with the Mediterranean wind blowing in your hair!
How does Yego work
Yego works through a mobile app, and verification can be done in less than five steps.
Download the app
Insert your payment details
Add a photo of your identity card/passport and your driving licence (make sure you are legally allowed to ride a scooter with your licence)
Take a selfie
Wait for the Yego team to verify your profile
Verification doesn't take long and usually you'll be able to start riding with Yego on the same day.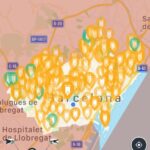 Yego's scooters (and electric scooters in general) are great for the environment and are also very easy to drive. In Barcelona, you can pick up the scooters in the Yego zone and you can reserve a scooter for up to 15 minutes prior to getting the scooter. If it takes you more than 15 minutes to get to your scooter, you can extend the time so you don't miss out.
One of the best things about Yego is that you only pay for when you are actually driving. This way, if you want to take a break, you can click pause on the app, and stop the cost of your ride. You can also use your phone to unlock the top case of your scooter (which contains your helmet) as your account is virtually linked to the moped, meaning that you can essentially control the whole of your journey, only by using your mobile!
Yego's scooters are battery operated and you can check the battery percentage in the app before you set off. If the battery is really low, one of the Yego crew will come out and charge the scooter.
Remember, if you plan to drive the scooter for a long period of time, make sure you have enough charge!
Yego make it easy to rent a scooter as you don't have to make a reservation days before, and as soon as you are verified on the app, you can rent a moped in seconds. For more information about how our customers can get 30 minutes for free on a Yego scooter, visit our additional services page.
Drive safe!