There's no doubt that Spanish cuisine is one of the most delicious cuisines in the world, and it's true that so many people visit Barcelona and the rest of the Spain to sample some of Europe's most tantalisingly tasty gastronomy! Coming to Barcelona on holiday, you might think that home cooking would be the last thing on your mind, but sometimes eating out every day can get a bit boring! (Let alone being super expensive…)
We've chosen three traditional and tasty Spanish recipes that you can cook in your own AB apartment during your stay in Barcelona. They're simple, quick, and will have you wondering why you ever left your apartment in the first place!
As always, if you try to make these recipes leave us a comment at the bottom on here, or on our facebook page! Buen Provecho!
Super Simple Spanish Tortilla
Spanish Tortilla, or Tortilla de Patatas, is one of the world's easiest recipes and for something so tasty, it has surprisingly few ingredients!
This recipe serves four people.
Ingredients
• Olive Oil
• 1 Onion
• 10 Eggs
• 4 Large Potatoes
• 1 Clove of Garlic
• Salt and Pepper
Instructions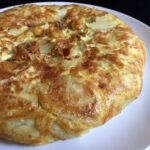 1. Preheat the grill to a low temperature
2. Peel the potatoes and cut them into small cubes of equal size
3. Remove the outside of the onion and cut it into strips
4. Heat a non-stick pan with plenty of olive oil
5. Fry the potato for 8 minutes
6. While the potatoes are cooking, prepare the garlic by peeling it and crushing the clove with the back of a knife. Cut it into small pieces.
7. Add the onion and garlic into the pan and fry until golden
8. In a separate jug, beat the eggs and season them with salt and pepper
9. Add the egg mixture to the pan and make sure that it reaches all corners by tilting it until all the potatoes are fully covered
10. Fry the tortilla for 15- 20 minutes on a low heat, using a spatula to make sure it hasn't stuck to the bottom of the pan
11. Midway through cooking, flip the tortilla so both sides are cooked
12. Finish the tortilla under the grill until all the egg mixture has disappeared
Please, Can I have some more! Paella
There are a few different types of paella, traditional paella being made with seafood. But you can also make paella with chorizo, other types of fish, or with vegetables only. You can even find black paella which is made with squid ink, giving the rice a spectacular dark colouring!
We've chosen a simple paella recipe, leaving you with lots of time to explore the rest of Barcelona and maybe even compare your paella to the paella from a traditional Spanish restaurant!
This recipe serves four people.
Ingredients
• 1 Onion
• 2 Cloves of Garlic
• 300g Paella Rice
• 1 Can of Peeled Tomatoes
• 800ml of Hot Chicken Broth
• 400g of Fish or Seafood (Shrimps, Octopus, Calamari, Mussels, Clams, etc)
• Olive Oil
• 1tsp Smoked Paprika
• 1tsp Dried Rosemary or Thyme
• 1tsp Saffron
• Lemon Juice (to serve)
• Chopped Flat Parsley (to serve)
Instructions
1. Finely chop the onion and garlic, crushing the clove with the back of a knife to release flavour
2. Heat a large pan with olive oil and fry the onion and garlic
3. Add paprika, rosemary/thyme, and the paella rice
4. Cook for 1 minute
5. Add the peeled tomatoes and hot chicken broth to the pan
6. Stir in the saffron and reduce the heat
7. Cook for 18-20 minutes on a low heat, stirring occasionally
8. In the last 5 minutes, add your fish
9. When the rice is almost cooked and there is still some liquid in the pan, your paella is ready
10. Drizzle with lemon juice and add chopped parsley to serve
AB Tip! Why not add chorizo and/or chicken to your dish! Fry these with the garlic and onion in step 2 of the recipe.
Glorious Gazpacho
Chances are you've heard of Gazpacho before, but don't be fooled by its bad reputation! Gazpacho is healthy, delicious, and refreshing, and can be eaten at all times of the year! We find that using old bread that is a couple of days old works best for the tastiest Gazpacho…
You will need a blender for this recipe.
Ingredients
• 1kg of Ripe Tomatoes
• 1 Cucumber
• ½ Green Pepper
• 1 Bread Baguette
• 1 Clove of Garlic
• Balsamic Vinegar
• Olive Oil
• Salt
Instructions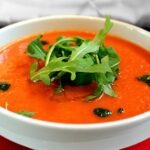 1. Remove the doughy inside of the baguette and put it into a bowl
2. Add a few drops of water to wet the bread and then set it aside
3. Cut the tomatoes into quarters, removing the stalk
4. Blend them in the blender – if you cannot fully blend the tomatoes, cut them into smaller cubes
5. Peel the cucumber and cut it into small pieces along with the pepper
6. Add the chopped cucumber and pepper to the blended tomatoes and blend
7. Crush the garlic with the back of a knife and cut into it small pieces. Add the garlic to the blended mixture along with the soaked bread, salt, olive oil, and vinegar.
8. Blend all the ingredients together
9. In a separate bowl, sieve the mixture and stir with a spoon
10. If you want to change the consistency of the mix, add oil or water
11. Put the Gazpacho into the fridge and leave for two hours
12. Serve with fresh paprika and sliced cucumber
We hope you enjoy making these tasty recipes in your AB Apartment, and don't forget to send us a picture of your finished gastronomic creations!