Sometimes Barcelona's hectic nature can seem a little, well, unnatural. And with a population of over 1.5 million, it's pretty easy to feel overwhelmed in the city. So whether you've lived here for seven years or are only here for a week, we've compiled a list of Barcelona's best secret gardens to lose yourself in, all without leaving the city.
Parc del Laberint d'Horta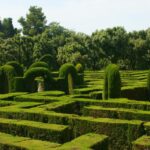 Parc del Laberint d'Horta is Barcelona's oldest conserved garden and is home to a meticulously meddling maze. It wasn't opened as a public park until 1971 and is often hailed as a museum garden as it forms a route that immerses the visitor in many of its green secrets.
Many dispute over whether the garden is of Romantic or Neoclassical style, and there are arguments for both. Where on one hand the symmetry and order of the garden's landscaping, and its mythological sculptures and pavillion dedicated to muses might suggest it was made with a Neoclassical style in mind, its free falling waterfall and wild garden of a more whimsical nature might fall into more Romantic traditions.
There is only one way to decide, and that is by visiting the park yourself.
Metro: Mundet (L3)
The Mossèn Costa i Llobera Gardens
Located in Montjuic, The Mossèn Costa i Llobera Gardens is one of the biggest gardens in the whole of Europe. Its location offers visitors a mesmerising view of the city's coastline and includes a variety of cacti and other plants that are adapted to live in hot climates.
The gardens were first opened in 1970 and are a result of a collaboration between architect Joaquim Maria Casamo and gardening-school teacher Joan Pañella. However, even before Casamo and Pañella created this green paradise, several people had already begun working to try and adapt these plants into the city.
Further to a staggering 3.16 hectares of exotic plants from a variety of regions, the gardens have also been voted one of the 10 best gardens in the whole world.
Metro: Drassanes (L3)
Jardins del Palau Robert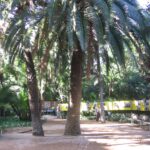 These gardens are part of the Palau Robert building: the former private residence of politician, businessman, and aristocrat Roberto Robert y Surís.
As well as including an impressive variety of plants in its three large parterres, the gardens also offer visitors a glimpse into the lives of the city's bourgeoisie.
A journey back in time to a Barcelona that was expanding at the end of the 19th century, The Palau Robert Gardens oozes wealth and high class with its sculptures and biodiversity.
Be sure to look out for La Lluna, a stainless steel and iron moon created by Kiku Mistu in 2001, and painted by students at the Joan Amades School for the Blind.
Metro: Diagonal (L3 and L5)
Palo Alto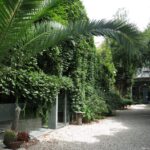 A former leather factory turned creative hub and artistic studio, the Palo Alto in the city's Poblenou neighbourhood is home to one of Barcelona's most imaginative and greenest gardens.
The Palo Alto space was discovered by Spanish artist and animator Javier Mariscal more than twenty five years ago. Mariscal became so enamored with the abandoned ruins that he decided to move his studio here on the spot! With the help of his brother Santi Mariscal and garden designer José Farriol, these derelict confines now house a collection of art studios and are also used as offices for Barcelona's creatives.
Visitors are welcome during office hours when Palo Alto's metal gate is open, and the onsite staff cantina is open to the public for lunch.
Metro: Selva de Mar (L4)
El Bosc de les Fades
El Bosc de les Fades, or The Forest of Fairies, is an enchanting bar and restaurant in Barcelona's Gothic Quarter that is loved even by the city's locals.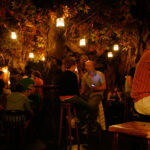 With decor inspired by all of your favourite fairytales, each room takes on a different magical theme. A ceiling full of stars? Jungle plants and tropical trees? Hidden fairies and other folk creatures? This space has it all.
El Bosc de les Fades also has its very own soundtrack which plays different woodland sounds, making it seem like you really are sitting in an enchanted forest of fairies…
Metro: Drassanes (L3)
If you've still got green fingers after exploring Barcelona's gardens, why not take a trip to Parc de la Ciutadella, a popular greenspace in the city which also features The Umbracle's collection of exotic plants.