Barcelona is one of Europe's top shopping destinations, many flying half way across the world just to experience all that the Catalan capital has to offer. But where exactly should you part with your euros?
Aside from its impressive range of local retailers and small boutiques, the city also boasts a variety of larger shopping centres dotted all around.
Las Arenas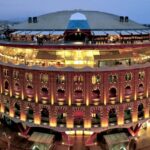 Located right by Plaça de España and at the foot of Montjuïc, Las Arenas offers more than 100 shops on six different floors, and even has a cinema.
Its design is based on the traditional Spanish bullring, allowing natural light to shine through the vast quantities of glass used in its construction.
What's more is that after a full day of shopping you can unwind on the rooftop restaurant with an al fresco dinner and watch the magical lightshow of the Montjuïc fountain and all its enchanting colours.
Address: Gran Via de les Corts Catalanes 373-385, 08015 Barcelona
Opening hours: Monday to Saturday from 9:00 to 21:00 (from 10:00 to 22:00 June to September)
L'illa Diagonal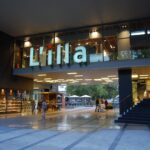 Due to its tremendous size, L'illa Diagonal is often nicknamed the "Superblock," and when the centre first opened in 1993 it became the first commercial complex built that decade in the city.
Today the centre covers over 35.000m² and is home to around 170 shops, and a hotel with more than 300 rooms.
There is also a range of larger grocery stores on the ground floor which offer a variety of foods from around the world.
Address: Av. Diagonal 557, 08029 Barcelona
Opening hours: Monday to Saturday from 9:30 to 21:00 (and until 22:00 June to September)
Maremagnum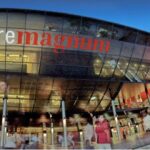 Unlike Barcelona's other shopping centres which usually close on Sundays, Maremagnum offers shopaholics a full seven days of shopping fun!
Its right next to the city's Aquarium and its unique location lets you gaze at the surrounding waters as you try on your new outfit in the changing rooms!
Do make sure to check out their website before you go as they often post special offers and one of a kind deals to use all around the shopping complex.
Address: Moll d'Espanya 5, 08039 Barcelona
Opening hours: Monday to Sunday from 10:00 to 21:00 
Diagonal Mar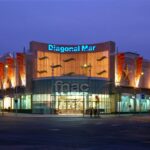 The Diagonal Mar shopping centre is located in the district of Sant Martí, a neighborhood characterised by postmodernism.
It's popular with tourists due to its collection of more than 200 shops, impressive selection of restaurants, and cinema and bowling complex.
As it's also right by the sea, you can spend the morning sunbathing at the beach and then nip into the centre to enjoy some shade and some much needed retail therapy.
Blame the sun for your impulse buys…
Address: Avinguda Diagonal 3, 08019 Barcelona
Opening hours: Monday to Saturday from 9:00 to 21:00 
Glòries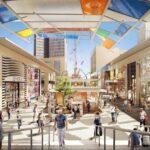 As well as popular high street stores, Glòries has a range of unique local retailers and small boutiques.
Need a food break? There are plenty of cafes and restaurants throughout the shopping centre and the Mercat de Glóries also offers an impressive gastronomic menu that'll leave you satisfied with both your shopping and your dinner.
But we've saved the best bit to last! Glòries not only has wifi, but also many electric charging points situated all around so you can charge your phone ready to upload photos of all your recent purchases…
Address: Avenida Diagonal, 208, Barcelona 08018
Opening hours: Monday to Saturday from 9:30 to 22:00
So what are you waiting for? Grab your credit card and let the fun begin!
Still got euros left? Check out our guides to vintage shopping in the city, or discovering Barcelona's best boutiques.