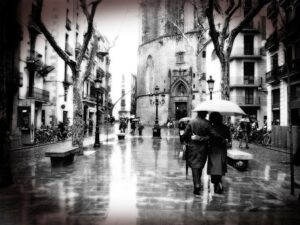 Rainy days in Barcelona are few and far between, but when they do arrive, they come with a vengeance! None of this drizzle nonsense, we're talking total downpours… not ideal if you've come to visit the 'sunny' Catalan capital. However, Barcelona does have plenty of things on offer for those unexpected stormy days, so all is certainly not lost, as without fail this epic city is able to entertain like no other. So swap your parasol for a brolly and head over to these top rainy day spots!
Cosy-Up with a Cuppa!
Barcelona has an incredible café culture and whilst sitting out on the terrace is of course a perfect way to spend a sunny afternoon, it's far from ideal during a cloudburst. Luckily, the interiors of many of these cafés are in themselves worth stopping for. From innovative and out-there to quirky and traditional, Barcelona's cafés certainly know how to draw a crowd and are great places to while away a few rainy hours. Check out some of these particularly enticing spots for when it's raining in Barcelona: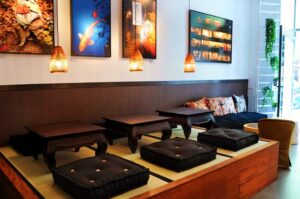 Akashi: This Japanese tea house is a great place to chill out for a few hours. There is a real feeling of Zen here, and the attention to detail is really authentic. The range of teas on offer is impressive and the traditional presentation lovely.  (C/Rossello 197)
El Bosc de les Fades: This place really is a world of its own! An enchanted forest awaits you and will take you deep into the heart of a fairy tale world. This magical café is the perfect place to forget the rain and lose yourself for a few hours. (Passatge de la Banca 5)
Cosmo: Holding the true soul of Barcelona's hipster scene, this art gallery/coffee shop is the perfect place to stop for a cake and café con leche. The lively local is spacious and cool and great place to hide away from the rain. (C/ Enric Granados 3)
Pudding: This incredible tea room is just like a Mad Hatter's Party! The colors are wonderful, the décor magically bizarre and the range of tea and cakes to die for. The secret te de la abuela, or 'grandmother's tea' and carrot cake are especially worth the visit! (C/Pau Claris 90)
Let Out the Chef in You!
For many visitors to the Catalan capital, sampling its illustrious cuisine is one of the highlights. But how about not just tasting the culinary delights of the city, but learning how to cook them too? Signing up for a Catalan cookery class is a fantastic way to spend a few hours on a rainy day in Barcelona.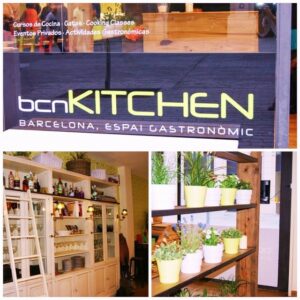 Barcelona Cooking: Inspired by all the tapas you've been eating? This company offers a cool tapas class where you'll learn how to prepare some of those exquisite Spanish nibbles! (La Rambla 58)
bcnKITCHEN: This group offers a fun package consisting of a visit to a local market to pick up produce followed by an exciting hands-on tutorial! Apartment Barcelona offers a special 10% discount on this cookery class when booking an apartment with us. (C/ Fusina 15)
For the Culture Vultures Out There
You'll be pleased to know that the city boasts a great selection of museums, easily able to entertain – so good in fact, it's actually worth having a rainy day in Barcelona! With so many to choose from you could easily base your time in the city entirely around visiting museums. Since you may not be here for long though, here are some that really should feature on your list:
Casa Batlló: One of Barcelona's 9 UNESCO World Heritage sites, this unique house designed by Antoni Gaudí is the perfect spot to take shelter on a rainy day. Although the curved, colourful exterior of this building is an incredible sight, the inside is also a real treat for the eyes. Take an audio-guided tour around Casa Batlló and discover the intricate interior design of the house, including the loft ceiling that resembles a ribcage, the ocean-inspired blue tiled walls and the cosy mushroom fireplace. Gaudí's passion for replicating the beauty of life in his designs can most certainly be seen when wandering around this quirky house – don't miss out! For more information and tickets, check out Casa Batlló's official website.
The Nou Camp: This is, somewhat unsurprisingly, the most popular museum in the city. In this temple dedicated to all things Barça you'll be able to discover the history and triumphs of this inspiring team with the great, interactive 'Camp Nou Experience'. (C/Aristides Maillol 12)
L'Aquarium: This is a really fun place for both children and adults alike! The sea life on display here is beautiful and intriguing and able to keep visitors amused for hours. See the weird and wonderful species of the ocean and learn all about what lies beneath the deep blue waters! (Moll d'Espanya del Port Vell)
Top Art Galleries: Barcelona is home to some incredible works of art, and between the MACBA, MNAC, CCCB and Picasso Museum you're in for a real treat when it's raining in Barcelona. From famous and classic works to avant-garde designs, this is a city to be reckoned with when it comes to the art scene.
Shop 'Til you Drop… In the Dry!
Barcelona is known for its incredible shopping and has some great malls which are the perfect escape from the storm! The range of stores is great, or perhaps better said worrying, and able to entertain for hours.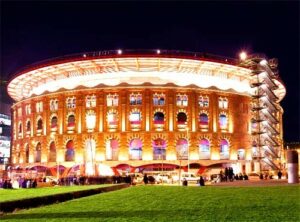 Maremagnum: With its amazing location at the port, this fantastic shopping center is surrounded by the Mediterranean Sea and has some spectacular views – even on rainy days in Barcelona! There is a great selection of restaurants here too, offering some real slap-up cuisine, so you can watch the rain fall from the comfort of a snazzy Barcelona restaurant. Next door you'll also find the IMAX cinema, another good place to hide from the rain. (Moll d'Espanya 5)
L'Illa: One of the most popular malls in Barcelona, L'Illa has and endless array of shops and a great section of restaurants and cafés. From clothes and accessories to trinkets and toys you're sure to find something that suites your taste. (Av. Diagonal 557)
Las Arenas: Once an old bullring, this intriguing building is now a state of the art shopping center with a great selections of shops. There are also some fantastic rooftop restaurants which offer spectacular views of Barcelona. (Gran Via de les Corts Catalanes 373-385)
Time to Unwind!
After all these rainy day activities in Barcelona you're sure to need some relaxation time. And where better than in a luxurious spa? Chill out with some sumptuous treatments and warm up in a calming aquatic circuit.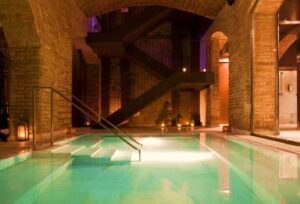 Aires de Barcelona: This is one of Barcelona's most popular spas. This Arabic-inspired center offers some seriously tempting massages as well as soothing aromatherapy, Hammam, steam room and even special yoga sessions – ideal for unwinding and recharging those batteries! Psg. Picasso 22.
Silom Spa: For a real sense of the orient with a luxurious and exotic touch, this is the place for you. Specializing in Thai and other East Asian treatments, Silom Spa really has that special something and is a wonderful place to indulge in some serious relaxation. C/València 304.
So if you do find yourself caught in the rain in Barcelona, fear not, for with these great activities you'll see that the Catalan capital is still the king of city breaks!