Plaça de Catalunya is a large square in Barcelona (although its focal point is actually a huge circle!), and it is generally considered as being the most central point of the city centre. The grand plaça features beautiful fountains, detailed sculptures and lots of trees and green spots. It makes for the perfect starting point to explore the city but there's plenty to discover both in and around this buzzing square…find out what to expect below!
A little bit of history
The square was opened in 1927 by King Alfonso XIII, and covers an area of roughly 50,000 square metres, or 5 hectares of land. The site was originally an open piece of land located in front of the gates to the walled city.
Situated between the Old Town and the Eixample district, Plaça de Catalunya makes a great point of passage between these two key areas.
The urban architects Pere Falqués, Francesc de Paula Nebot and Puig i Cadafalch  were all involved in its planning, the latter of which also designed the famous Casa Amatller, Casa Macaya and Casa de les Punxes, amongst many other works across Barcelona.
When the city was preparing for the 1929 International Exhibition, some of Barcelona's most luxurious hotels, bars and theatres were built around the square. Whilst almost none of them exist today, their names, such as Maison Dorée, the Colón and the Suís, are still well remembered.
A shopping lovers' heaven!
Plaça de Catalunya is the perfect hub for those who have a tendency to shop 'til they drop, with 2 huge department stores, El Corte Inglés and FNAC, as well as plenty of surrounding shopping areas.
El Corte Inglés is the biggest department store group in Europe and ranks fourth worldwide, which is unsurprising as it has everything you could ever be looking for! The branch in Plaça de Catalunya has a whopping 11 floors so can be a little difficult to navigate, but is perfect for those who like to get all their shopping done under one roof. With luxury brands such as Balenciaga, Valentino and Burberry as well as plenty of other well-known brands like Nike and New Balance, electronics, jewellery, luxury food items, eateries and everyday groceries, there really is something for everyone at El Corte Inglés.
FNAC is a large French retail chain that specialises in electronics. Their shops stock a range of products from books, CDs, computer ware, DVDs, televisions and video games. It gets particularly busy as Christmas time as it's full of excellent gift items!
La Rambla
It comes as no surprise that Plaça de Catalunya is recognised as the city's most central point, as some of the most important streets and avenues meet at the square, including the famous La Rambla. Often named 'Las Ramblas', it is in fact a collection of five streets. Characterised by its many trees and flower stalls, and the famous Boquería market, many popular shops such as the Nike store, H&M and Mango can be found here.  Additionally, walking down La Rambla from Plaça de Catalunya takes you directly to Columbus Monument and Port Vell, where you can go to kick back and enjoy the incredible views of the Mediterranean Sea.
Passeig de Gràcia
This elegant boulevard links Plaça de Catalunya to the trendy district of Gràcia, and is home to some of Barcelona's most luxurious shops. Huge designer brand stores such as Louis Vuitton, Chanel and Gucci can be found on this grand avenue, as well as other well known brands like Zara, Bershka and Adidas. What's more, Passeig de Gràcia is embellished with incredible architecture such as Gaudí's famous Casa Batlló and La Pedrera, as well as Josep Puig i Cadafalch's Casa Amatller. Gaudí's unique architectural charm can also be found when you take a look at the lampposts that line Passeig de Gràcia!
Rambla de Catalunya
Not to be confused with La Rambla, this buzzing street is parallel with the iconic Passeig de Gràcia, and crosses with Gran Via to reach Plaça de Catalunya. It is one of the city's trendiest streets, with many international fashion shops, stretching all the way to Avinguda Diagonal.  Along this street you can find some great, lesser-known architecture such as Can Serra, a Modernist building by Josep Puig i Cadafalch and Casa Juncosa by Salvador Vinyals. At the end of the boulevard, closer to Plaça de Catalunya, there are plenty of restaurants and terraces that invite you to stop off along the way for refreshments or simply to rest your legs and enjoy the weather. It's a great street to enjoy some tapas in the evening!
Portal de l'Àngel
Portal de l'Àngel is a pedestrian street that also leads from Plaça de Catalunya, and is a direct link into Old Town or 'Ciutat Vella' district of Barcelona. It's one of the city's most visited streets and is home to even more shops, such as Pull&Bear, Mango and Massimo Dutti. Additionally, on some weekends, you'll find small market stalls lining the upper part of the street, selling locals crafts and delicacies, and if you follow the street to the bottom, you'll eventually reach Barcelona's Cathedral – perfect for a spot of sightseeing!
Tours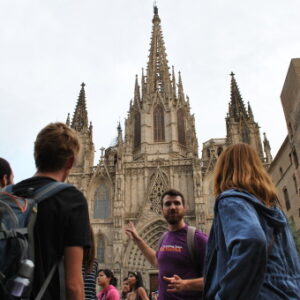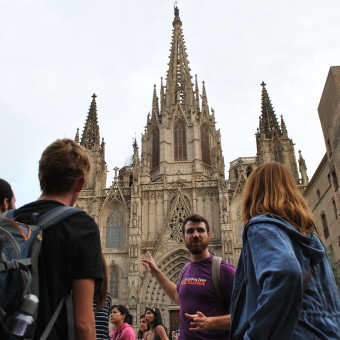 If you want the full tourist experience of Barcelona, then taking a guided tour is a must. Free Walking Tours Barcelona offer a tour of the city every day at absolutely no cost, starting at the central hub that is, of course, Plaça de Catalunya. Take note, it's highly recommended to book online in advance, as a place on the tour cannot be guaranteed without a reservation!
As well as this, Barcelona Bus Turístic's bus stops can be found here. You can take the blue or red route from Plaça de Catalunya. One single ticket allows you to hop on and hop off as many times as you like, making it the most convenient way to discover Barcelona's most iconic monuments and attractions, such as the Sagrada Família, Park Güell and Camp Nou, just to name a few.
Transport links
Barcelona is known for its incredible transport system, which makes getting around the city a total breeze. Unsurprisingly, Plaça de Catalunya itself is home to plenty of different transport links including underground metros, trains, buses and even airport shuttles! Consider it the central transport hub, if you will.
Catalunya metro stop offers transport along lines L1 and L3, two very central lines with plenty of options to change onto others. Line L2 is also just a short walk away at Plaça de la Universitat, also linked to L3. The square's underground station also offers both RENFE and FCG train lines, reaching all parts of the city, as well as other places around Catalunya in no time at all.
What's more, you can catch the Aerobus from Plaça de Catalunya, at the stops located just outside El Corte Inglés department store, departing every 5-10 minutes, taking you directly to Barcelona El Prat airport in around 40 minutes.
Regular buses are also aplenty in the main square and offer a great way to get around the city whilst seeing the sights at the same time. For further information regarding buses from Plaça de Catalunya, see Barcelona TMB's official website for the most updated bus schedules and routes.
Apartments
So now you're clued up on Barcelona's main square and its surrounding areas, make yourself at home in one of our apartments near Plaça de Catalunya and explore the Catalan capital right from its heart!