Few things compare to a truly good cup of coffee in an even better environment. Though not always as easy to find as chain cafés and the giant Starbucks, some of the best coffee shops are tucked away in secret plaças and quiet alleys where the classic drink to be found inside will not disappoint. Here are some of the best places to find coffee in Barcelona, and yes, most have free wifi…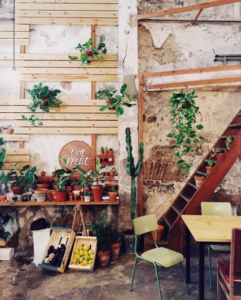 Espai Joliu
Entrepreneurial, tranquil, and a friendly environment – this gem in the Poblenou neighbourhood offers coffee, teas, brunch and pastries at an affordable price. It opened at the end of 2015, and transformed itself from an old warehouse into a haven where one can indulge their senses in coffee, a slice of cake, or a smoothie. Regardless of what you're consuming, you'll be plunged into a state of pure relaxation as you enjoy the ambiance, dedicated to plants. Take one step inside this trendy café-meets-gallery, and you'll forget you even came in for coffee. The exposed brick interior of this rustic ambiance is lined with plants, flowers, and cacti from ceiling to floor. If you need a break from the bustling city and a chance for some fresh air, Espai Joliu awaits with plants, good vibes, peace and of course, coffee.
Carrer de Badajoz, 95, 08005 Barcelona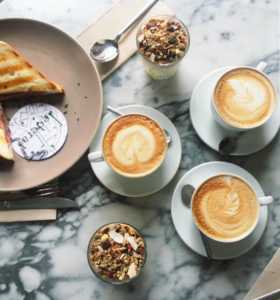 Federal Café
This tucked-away café with window seats and communl tables, complete with a terrace at its locations in Sant Antoni and the Gothic Quarter, provides a more than a satisfying place to enjoy your morning cup of coffee. No cup of coffee is complete without something edible to accompany it, and here is just the place to conquer both. Expect oven-baked eggs, refreshing smoothies, and the ever so popular avocado toast, reminding us all why breakfast is the most important meal of the day. Be sure to stop by early or be prepared to wait for a table.
Carrer del Parlament, 39, 08015 Barcelona
Passatge de la Pau, 11, 08002 Barcelona
Nomad Coffee Lab and Shop
At a place where the word 'Lab' is in the name, we are reminded that a good cup of coffee is an art, or rather a science. At Nomad Coffee, you can taste the hard work and dedication in every sip. Using Hario Buono pouring kettles, thermometers, and more, these coffees go far beyond grinds and some hot water. They even share their expertise with coffee lovers through courses as well as offering training to professionals interested in starting a coffee business of their own. If you're lucky, you may see their coffee truck around town at various conventions, fairs and markets. If hot coffee in the summer doesn't tickle your fancy, stay on the lookout for their Cold Brew, served during the hot summer months.
Passatge Sert, 12, 08003 Barcelona
SKYE Coffee Co.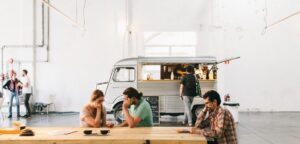 Espacio 88, a unique event space in Barcelon is a place where architecture and design meets industrial excellence. The white walls, bright lighting
, and high ceilings host art galleries, exhibitions, and festivals galore. In this calming and meditative space, you can find Skye Coffee Co., a shop serving genuine and delicious coffee from a refurbished 1972 Citroën HY. Its commitment to a clean, cool, minimalist feel provides a perfect epicenter for the creative Barcelona community through hosting pop-up brunches, exhibitions, and the Independent Barcelona Coffee Festival. Skye Coffee Co. serves a classic and timeless drink in a modern and trendy space, offering a unique and memorable experience for all visitors.
Carrer de Pamplona, 88, 08018 Barcelona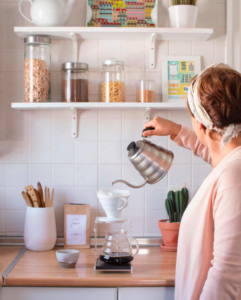 Onna Coffee
A good barista is always to thank for a good cup of coffee, and the efforts of the owner of Onna Coffee do not go unnoticed. The beans are bought green in Costa Rica and roasted locally, for one of the most authentic cups of coffee in the city. Its simple décor is attractive, but doesn't distract you from the very reason you stepped through the doors. A coffee so incomparable, you can taste the dedication in every cup. In a world of Starbucks and coffee chains, Onna Coffee stands out as serving coffee that remains true to its roots. It will most certainly leave you wanting more.
Carrer de Santa Teresa, 1, 08012 Barcelona
Satan's Coffee Corner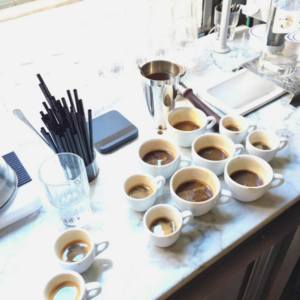 Don't let the name fool you. Known to be one of the pioneers for authentic coffee in Barcelona, this coffee shop owner comes from a family of coffee-makers who wanted to continue what he knew from his childhood, with his own personal twist. Marcos Bartolomé creates his own blends, which change every season. Each is named after a rock star with the idea that customers will easily remember their favorite blend and be able to ask for it by name. With more than one location in Barcelona, this coffee shop will leave you ready to tackle your day no matter where you are in the city.
Gran Via 700, 08010 Barcelona
L'Arc de Sant Ramon del Call, 11, 08002 Barcelona