Calling all yoga enthusiasts! Barcelona offers a wide range of yoga studios all over the city, ranging from beginner to expert. Each one slightly different, there is sure to be a class to suit your needs. Relax, unwind, and de-stress from city life at some of these studios in the Catalan capital.
The Garage 
Spanish model and actress Veronica Blume has taken on a project in Barcelona's up and coming Poble Sec neighbourhood to transform the bright and open space into one of the most prestigious yoga studios in the city. In addition to classes throughout the week for anyone from beginner to expert, the studio also offers events based around creativity and wellbeing, so be on the look out for those.
Carrer de Magalhães, 2, 08004 Barcelona
Yoga Lab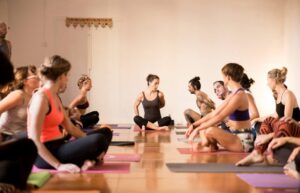 This recent project brings together some of the best yoga teachers to its studio inside the  Ateneu del Raval. The regular classes offered throughout the week include styles of vinyasa synergy yoga, rocket yoga, ashtanga yoga, and hatha vinyasa. While maintaining
and embodying the basic truths and practices of yoga, each of the eight instructors takes their own unique and personal approach to their class, so you'll be sure to find a session that fits your needs.
Carrer de la Reina Amàlia, 3, 08001 Barcelona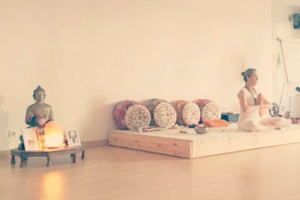 Shunia Yoga
For a more holistic approach to the art, Shunia Yoga focuses on meditation and spiritual connectedness, combined with subtle movements from the hatha yoga tradition. Located near the stunning Sagrada Família, This studio specialises in kundalini yoga, a style of yoga inspired by the Tantra and Shaktism schools of Hinduism. Shunia also offers shakti dance yoga, which combines traditional philosophies with movements of dance.
Carrer Sicília, 236-BIS, 08013 Barcelona
SUP Yoga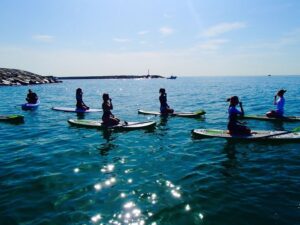 Offered through Stand Up Surf School, stand up paddle boarding yoga is one of the most unique ways to take a class in Barcelona. Escape the constant buzz of city life and breathe in the Mediterranean air from the sea. Yes, that's right – it's taught on surf boards in the sea! Offered in both individual and group classes, SUP Yoga is
taught by a professional instructor, and for a very reasonable price with everything included, you can unwind, relax, and take in the natural beauty of the Mediterranean. Of course, don't forget your swimmers!
Playa del Somorrostro, Barcelona
A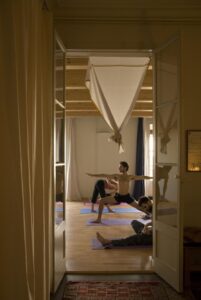 shtanga Yogo Shala
This style of yoga emphasises stretching of the whole body while using balance and improving mental concentration. Through the combination of three elements- breathing, control of energy centres, and focussing your gaze, this class guarantees you will leave feeling better both physically and mentally than before you stepped through the doors. With classes offered twice a day during the mornings and evenings Monday to Friday, and once on Saturdays, start and end your day with pure relaxation.
Paseo Isabel II, nº 14 1º 1ª – 08003