Here for only one day? Let us help you make the most of your limited time in this magnificent and action-packed city. This comprehensive one-day walking tour will leave you fully satisfied with your visit—and while it can't cover everything the city has to offer, it's a great overview of some of the best sights, meaning you'll leave with memories to last a lifetime…as well as a camera full of amazing pictures!
1) 8:30 am… breakfast at Tonka Bar Restaurant
Start the morning off on the right foot with a hearty and delicious breakfast. Complete with an eclectic brunch menu, friendly staff, and a welcoming atmosphere, Tonka leaves nothing to be desired. The perfect fuel for an active day, brunch here will leave you feeling energized, exhilarated and ready for your walking tour of Barcelona.
Address: Carrer del Marquès de Campo Sagrado, 27, 08015 Barcelona
2) 10:00 am… a trip to Güell Palace
You're time here is limited, s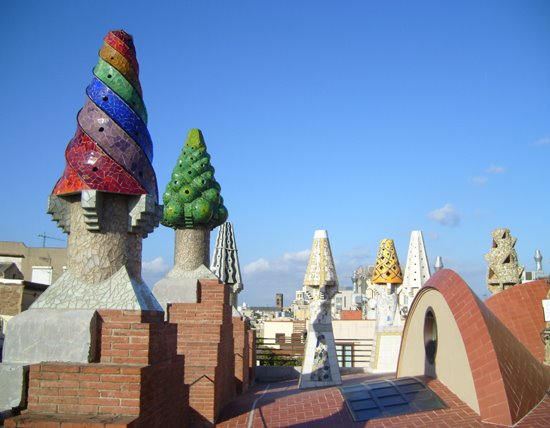 o let's just dive right into the action. The next stop on your walking tour of Barcelona is Güell Palace, one of the city's many Gaudí masterpieces. As one of his first works, the eponymous Palace was built to house the Güell family before they moved to Park Güell, another of Gaudí's creations. A work of stunning modernist architecture with a strong emphasis on space and light, you'll spot this masterpiece without any trouble. It doesn't take an architect to appreciate the minute and painstakingly thought-out details and features covering every inch of this magnificent palace.
Address: Carrer Nou de la Rambla, 3-5, 08001 Barcelona
3) 10:45 am… explore Port Vell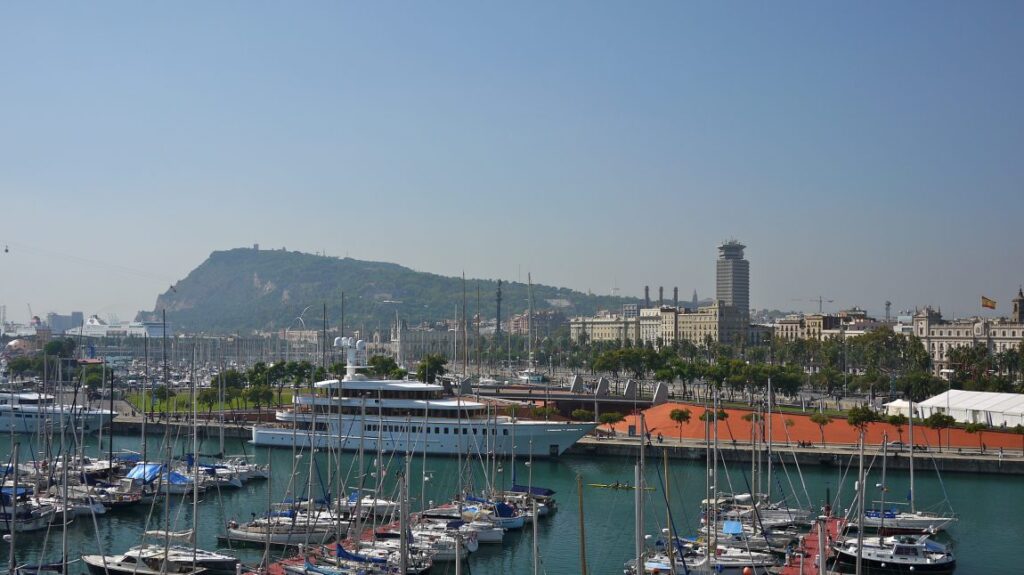 Next, you'll head to the beautiful Port Vell. Once you check out this scene, you'll understand why people rave about Barcelona. It has it all—the beach, the city, and a beautiful view of the mountains… what more could you want? Walk along the dock and check out the massive yachts lining the port. Take your shoes off and take a stroll down Barceloneta beach—the most famous beach in Barcelona. You'll see people playing beach games, enjoying a picnic, and frolicking around in the waves. As an added bonus this is a great place to pick up souvenirs for your loved ones at one of the many shops lining the beach.
Address: Port Vell, 08039 Barcelona
4) 12:00 pm… wander through Ciutadella Park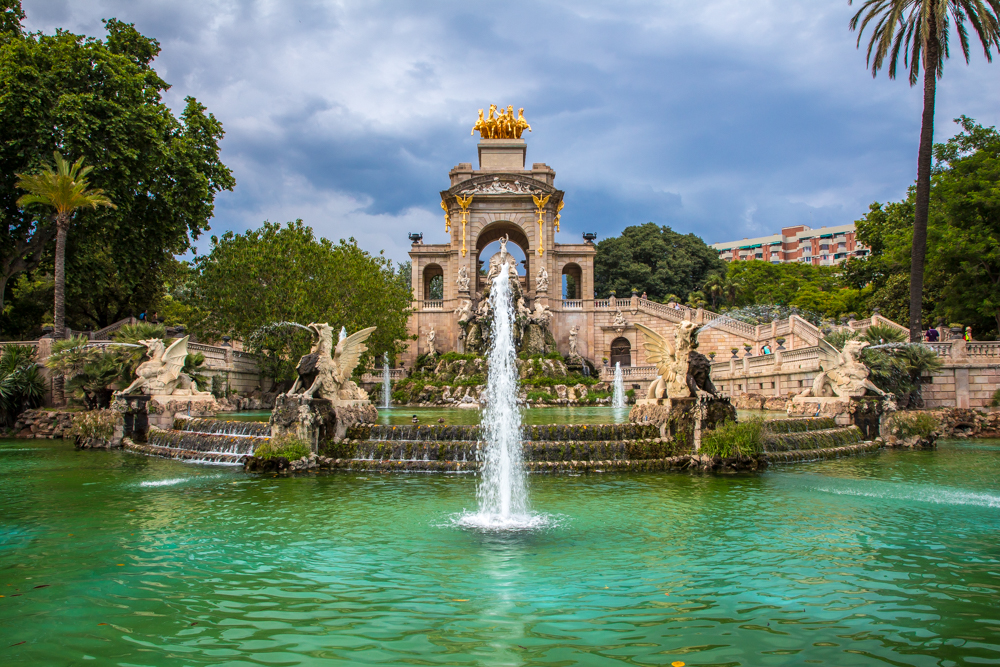 Keeping with the nature theme, next you're headed to Ciutadella Park, Barcelona's first green space created in the mid 19th century. Though it's a bit of a walk from Port Vell, you'll soon see that it was worth it. This magnificent park, located right by the Arc de Triomf, includes the Barcelona city zoo, which—fun fact—was once the home to Snowflake, the late great albino gorilla. Another highlight of the park is Josep Fontserè's spectacular fountain, which he designed with the help of Gaudí, and based loosely on the Trevi Fountain of Rome. From the beach, through the cosmopolitan city, and now to an expansive, bright green, tree-lined park, Barcelona leaves nothing to desire and you're sure to get a good taste of it all on this walking tour. Next stop, food.
Address: Passeig de Picasso, 21, 08003 Barcelona
5) 1:00 pm… let's eat! head to El Xampanyet
After a long walk through this amazing city, you deserve to treat yourself to some delicious food. Re-energise with a meal from El Xampanyet, a funky little tapas bar named after their homemade sparking wine. This little gem, located in the chic El Born district, is a popular spot for locals and tourists alike. Just like the city itself, El Xampanyet brings together old and new. Its trendy design mixed with the trusted traditional Spanish food it serves gives it a unique feel. To top off your authentic Spanish experience, the staff tend not to speak much English, so you'll have to try out your Spanish too! Not to worry though, they're all incredibly friendly and always willing to point out their favorite dishes.
Address: Carrer de Montcada, 22, 08003 Barcelona
6) 2:30 pm… check out Plaça Sant Jaume
After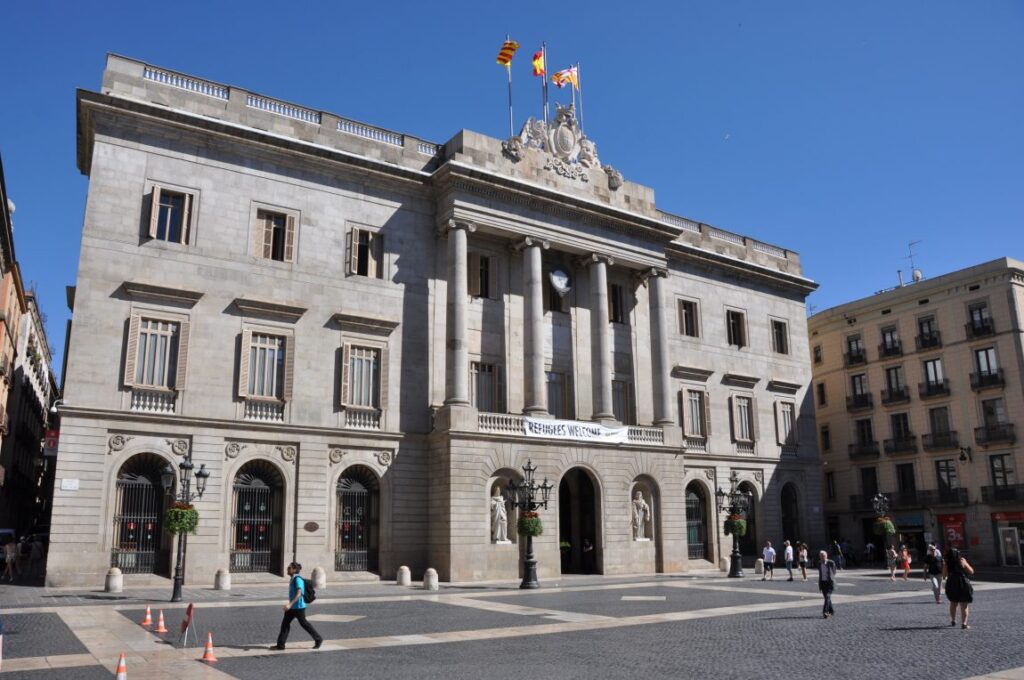 you're full to the brim of delicious fried artichokes, patatas bravas, toast with tomato or whatever other tapas you just devoured, its time to walk it off. Next stop on the walking tour is the Plaça Sant Jaume, the center of Barcelona's politics from its creation to modern day. The square is located at the center of the Old City of Barcelona, once the Roman city named Barcino. Home to the two most important buildings in Barcelona and Catalonia, the City Hall and the Palau de la Generalitat, the square remains the administrative heart of Catalonia today. This important historic and political site is a great place to learn the interesting roots and story of Barcelona.
Address: Plaça de Sant Jaume, 1, 08002 Barcelona
7) 3:30 pm… visit the historical Cathedral of Barcelona
Built over 150 years starting in 1298, the magnificent Cathedral of Barcelona is just a short walk from Plaça Sant Jaume in the Gothic Quarter. People often mistake this Cathedral for a work of Gaudí's, but in reality, its history goes way beyond that. The Cathedral wasn't always as detailed and glorious as it is today. In the 19th century the neo-gothic façade was built to cover the simple exterior that was common amongst Catalan churches before the 16th century, giving it the signature look it has today. You'll want to go inside to see the stunning arches, chapels, tombs, and the 13 white geese located in a secluded Gothic cloister. Yes, you read that right but you'll have to wait until your visit to find out more…
Address: Pla de la Seu, s/n, 08002 Barcelona
8) 4:30 pm… souvenirs at Art Montfalcon
Next stop on the walking tour of Barcelona is Montfalcon, a funky store not far from the Cathedral that offers everything from souvenirs to jewelry to innovative gadgets. The perfect place to find a traditional Barcelona gift or one that nobody will expect (for example an interactive T-shrit featuring a map of the city). Exploring this quirky shop is an experience in itself.

Address: Carrer dels Boters, 4, 08002 Barcelona
9) 5:30 pm… get a snack at Pastisseria Escribà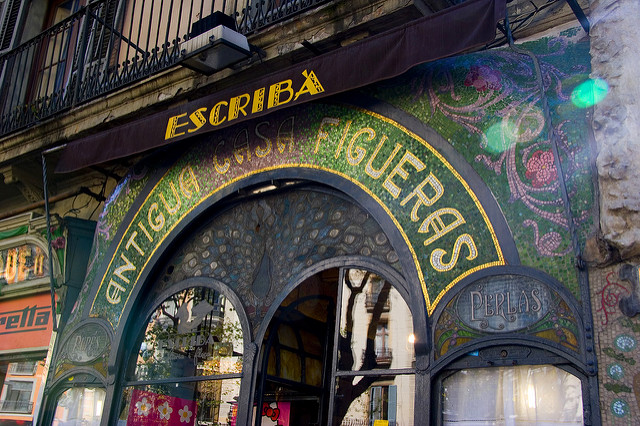 Now that you've worked off your lunch doing all this walking on your tour of Barcelona, it's time to revitalise with a delicious snack. Pastisseria Escribà, located in El Raval, is as adorable as it is scrumptious. Choose one of its many coffee or tea options, grab a hot waffle, a crema catalonia or one of their precious pastry treats. Sit back and enjoy the charming atmosphere.
Address: Gran Via de les Corts Catalanes, 546, 08011 Barcelona
10) 6:30 pm… Gaudí's amazing Casa Batlló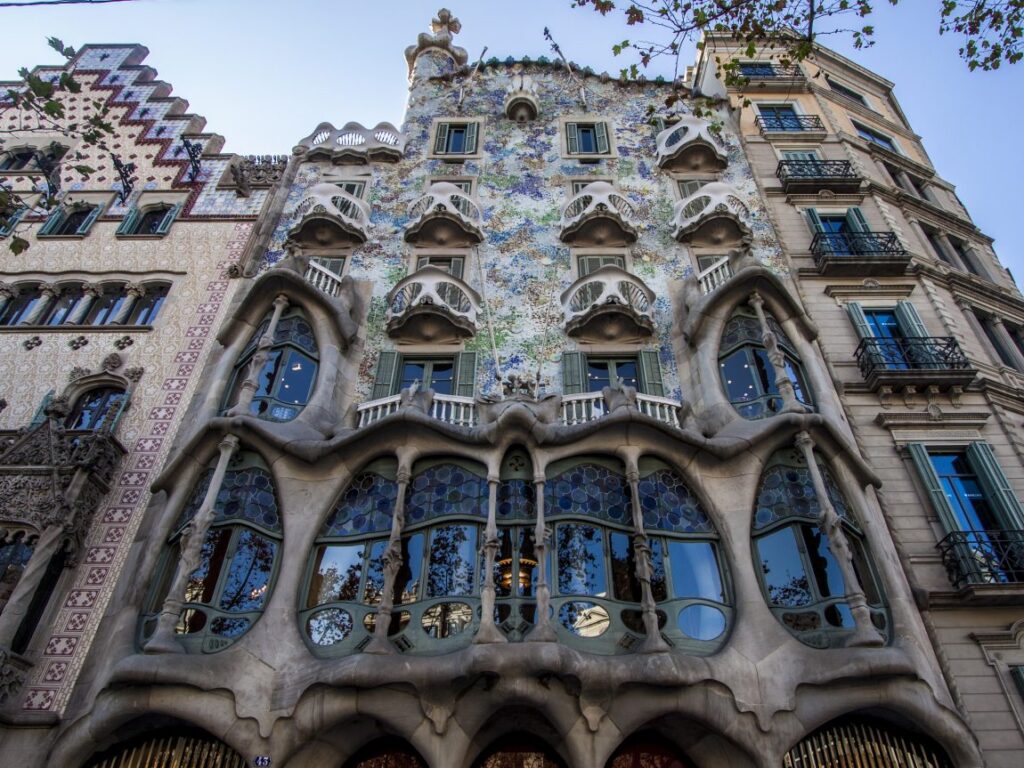 Next, walk past Plaça de Catalunya to one of Gaudí's most renowned works, the Casa Batlló. The local name for this modernist masterpiece is Casa dels ossos, meaning House of Bones in Catalan, a name it received for its skeletal-like features. As with most of Gaudí's works, Casa Batlló has few straight lines, opting instead for irregular rounded edges giving it its quirky, almost life-like, appearance. A common theory is that the building was designed to represent the legend of Saint George, a Roman soldier who killed George the dragon and then was killed himself for refusing to relinquish his Christian faith, making him a martyr for Christianity and later one of the most respected Saints in Catalonia. Some say they see his lance in the top left of the building. This unique design is not something you'll want to miss on your walking tour of Barcelona!
Address: Passeig de Gràcia, 43, 08007 Barcelona
11) 7:30 pm… another Gaudí creation… Casa Milà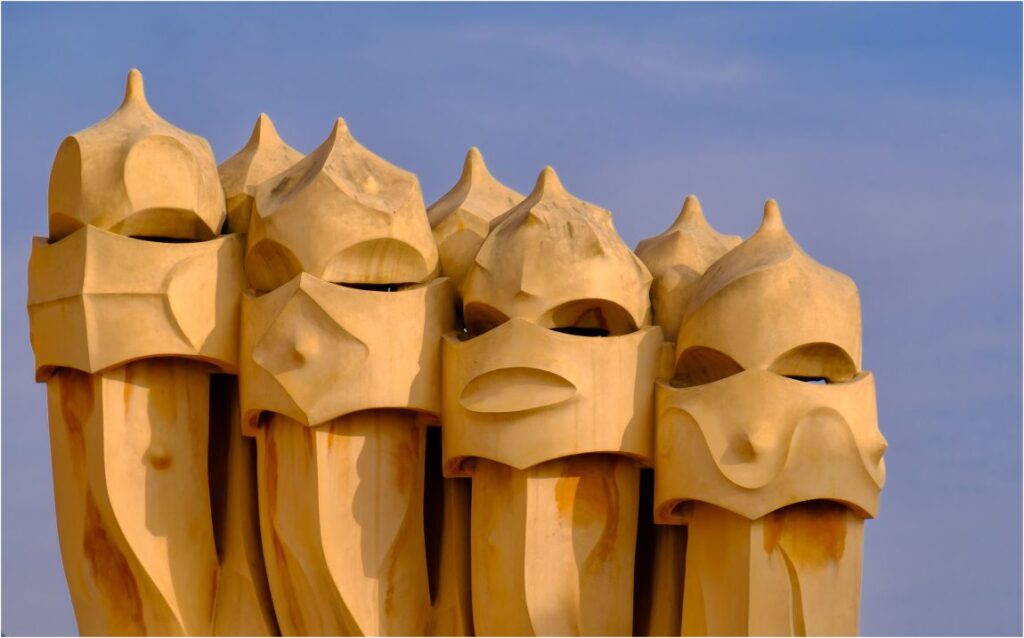 Not far past Casa Batlló is another of Gaudí's popular creations, and the next stop on our walking tour. Casa Milà, known as La Pedrera by most, was built as a new home for the Milàs, a wealthy couple in the early 1900's. Why is it commonly referred to as La Pedrera you may wonder. There was significant criticism and controversy over the building's unconventional style when it was built, and "La Pedrera," which means "stone quarry," was a name thought up by locals who were unhappy with its appearance during its construction.
Address: Provença, 261-265, 08008 Barcelona
12) 8:30 pm… you made it! Dinner at Petit Comitè
The final stop on your walking tour of Barcelona is dinner at a scrumptious, high quality restaurant specializing in traditional Catalonian cuisine. Indulge yourself at this spectacular spot— you've earned it! Petit Comitè transforms the most traditional Catalonian dishes with the best seasonal products from the forest, sea and garden, creating a unique and delicious meals. Your mouth will water reading their extensive menu…
Address: Passatge de la Concepció, 13, 08008 Barcelona
After completing this walking tour, you should feel proud and fulfilled…and most probably exhausted! You've covered a lot of ground and have hopefully gained some interesting new facts about the many famous sights this wondrous city has to offer… and all on two feet! Bravo to you. If you've got even an ounce of energy left, then why not head to a bar (or two). We've got a few recommendations up our sleeve.