Looking for somewhere to get your work done here in Barcelona? While this city is famously known for its nightlife, it's also known for its industrious, hardworking population. Amidst the hottest bars, restaurants and clubs throughout the city are various beautiful and motivational places to study in Barcelona. Below is a list of the best coworking spaces, libraries, cafés and parks to get your work done in Barcelona.

1. Coworking Spaces
Aticco
Coworking spaces in Barcelona are the new hot spots for networking, collaborating and producing. This particular spot goes even further. Have a deadline approaching and need to lock yourself in for 24 hours to cram for a project, exam or proposal? Aticco has you covered. Want to meet other professionals in your field? This is the place to go.
Membership includes 24 hour, 7 day a week access, a terrace, printers, showers, coffee, and even a gym. While Aticco obviously provides the typical coworking tables and meeting rooms, and is a pool of creative activity, it has proven itself as more than just any old coworking space. If you're interested in having a permanent work location you can rely on 24/7, Aticco is the place for you.
Address: Ronda Sant Pere 52, Ático
Zamness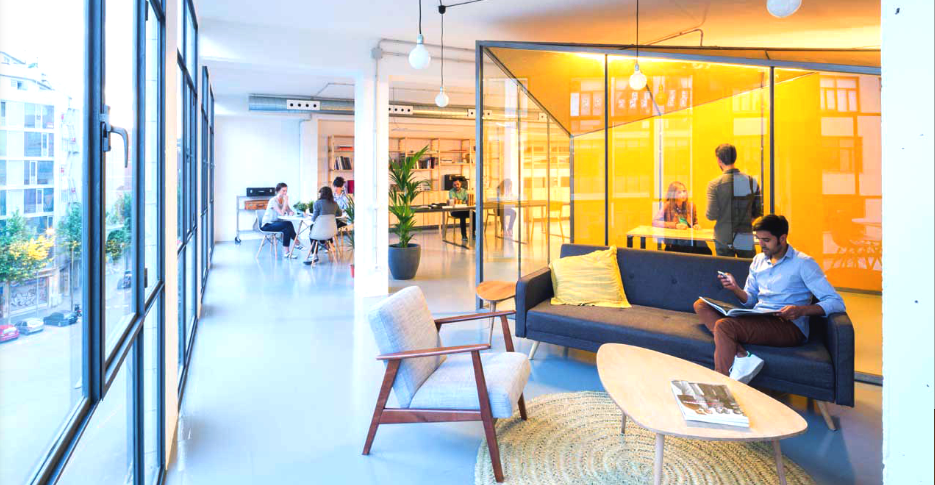 This funky Barcelona coworking space is a great place to get your creative juices flowing. Perfect for group brainstorms or solo study sessions, Zamness will inspire you to do your best work as you listen to the knowledgeable professionals bouncing ideas off of each other all around you.
Joining this coworking space offers many additional benefits as well— you'll have access to meeting rooms, a bar, chillout space, showers and a place to park your bike. If you're interested in checking out places to study in Barcelona, Zamness should be on your list.
Address: Carrer de Zamora, 46
Espai Born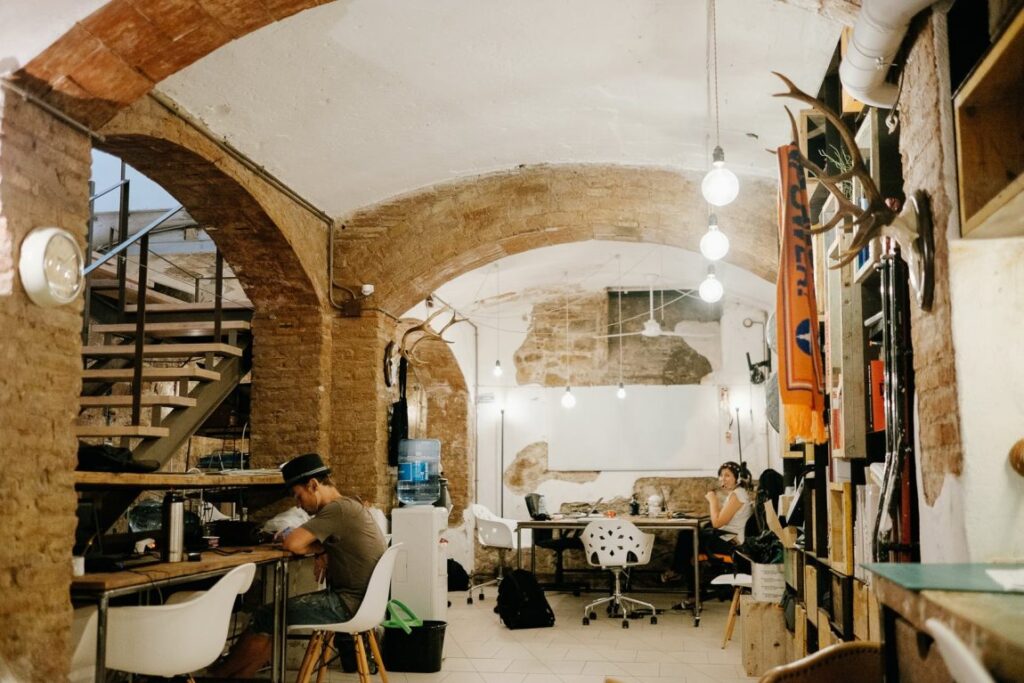 This creative hub, located in what was formerly an abandoned bakery, is a historical and charming coworking space in Barcelona to get your work done. It was designed specially to foster imagination and the development of new projects and opportunities, and it has truly succeeded in this mission.
Offering meeting rooms, networking opportunities, a library, an arcade, a kitchen and more, this peaceful but motivational space is not to be overlooked.
Located in the historic and central Born area, joining this Barcelona coworking space will give you the inspirational kick you need to not only succeed but excel at your work and study responsibilities.
Address: Carrer dels Vigatans, 11
2. Libraries
Dipòsit de les Aigües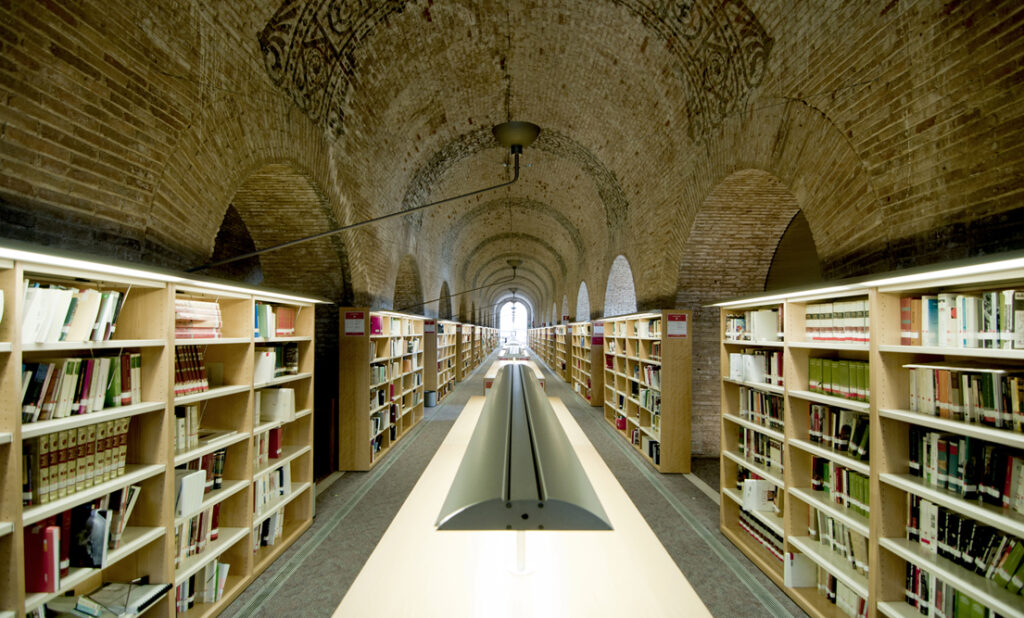 This is the main library at the University Pompeu Fabra. Josep Fonterè designed the building in 1874, with the help of a young architect who ended up becoming one of the most renowned modernist architects of all time… Antoni Gaudí.
Known as the Water Tower building, prior to becoming UPF property in the 1990's, the building was used for many different purposes; it acted as a municipal asylum, a fire service store, a justice archive, to name a few.
What will motivate you more to do your work or read a book than a stunning building artfully crafted by some of the greatest minds in the world? This architectural masterpiece is quiet, beautiful, historic and open to the public—the perfect place to study in Barcelona.
Address: Pompeu Fabra University, Carrer de Ramon Trias Fargas, 25-27
Biblioteca Sant Pau I Santa Creu
The Biblioteca Sant Pau I Santa C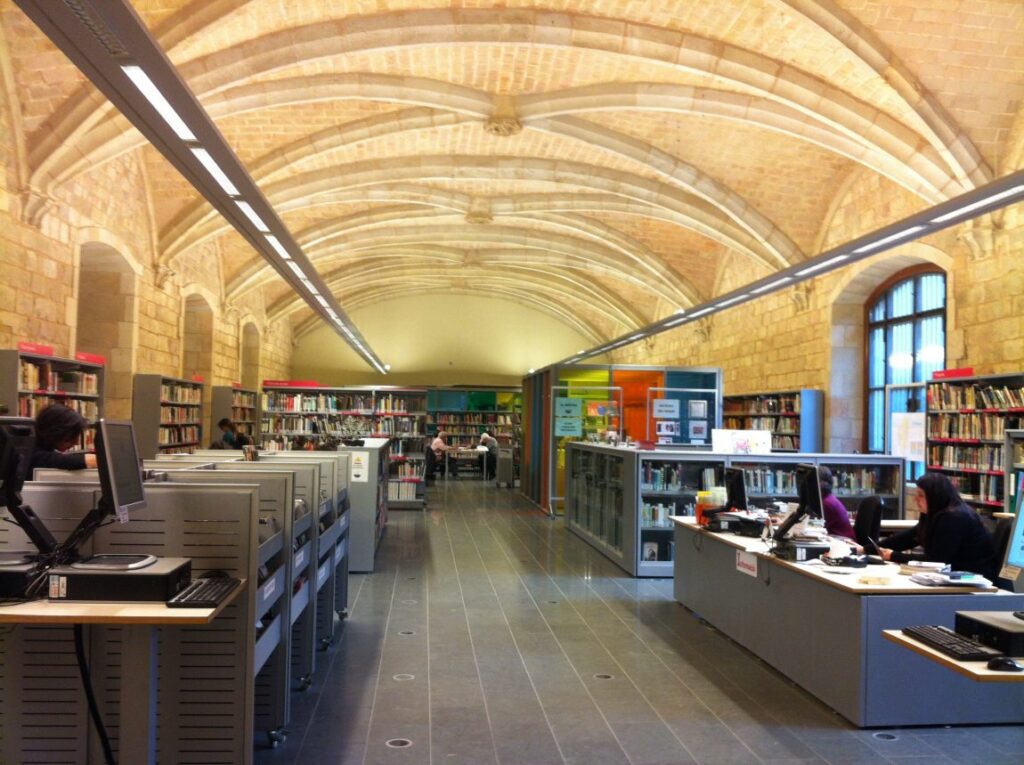 reu, located in the Raval district, is a center of culture and knowledge. Discussion, debate and reflection are encouraged here, making it one of the top places to study in Barcelona.
The library organizes and hosts activities for residents for the neighborhood, making it a very unique and interesting cultural experience for working adults, visitors, and students alike. Its various rooms all serve different purposes, from silent study rooms, to group discussion rooms, to computer labs. It also has a large selection of books to use as resources—this library in Barcelona truly has it all.
Address: Carrer de l'Hospital, 56
3. Cafés
Bitte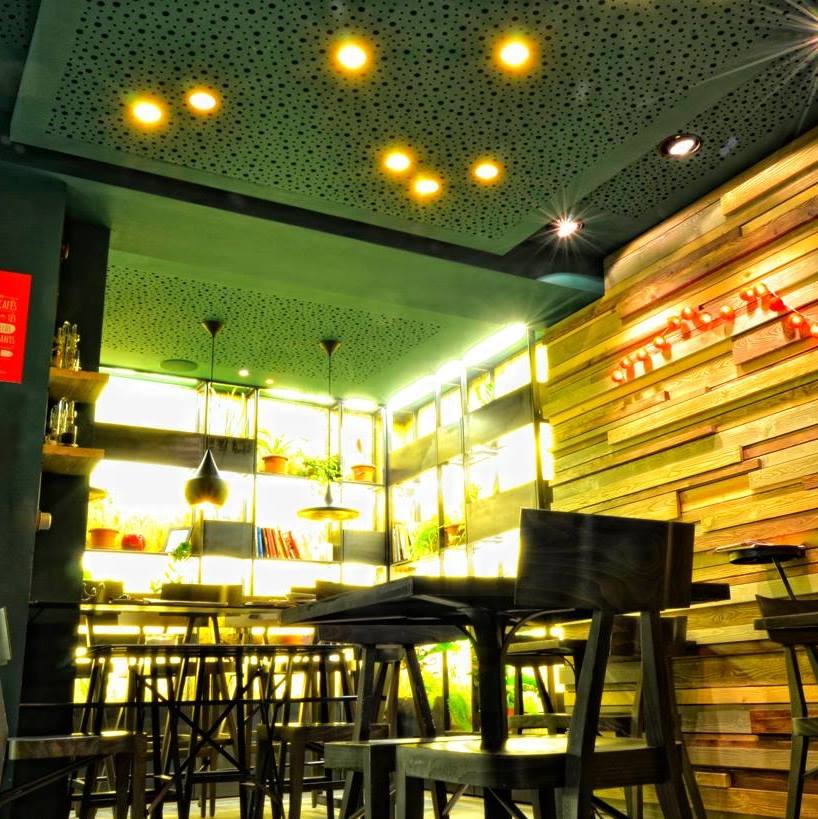 This cool gem located in Eixample is the perfect place to study in Barcelona in style, and in the company of delicious food. With tropical plants lining the walls, you'll feel as if you're outside sitting in the fresh air with a lemonade in your hand, rather than inside studying… sounds pretty ideal, doesn't it?
You'll find others sitting at the long tables working quietly, coffee, or large English breakfast tea, in hand. The dim lighting, garden-esque atmosphere, and exceptional WiFi makes this a perfect place to study in Barcelona. Be sure to try some of their delicious food and sweet options, especially the homemade cakes and fudgey brownies.
Address: Carrer de Londres, 87
Laie Librería-cafetería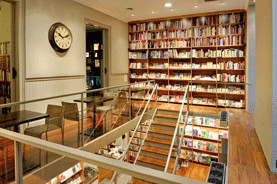 Want somewhere with resources like a library but with food and a more casual atmosphere like a café? If so, Laie is the perfect place for you to study in Barcelona, as it has its own collection of books and its own cafeteria. Grab a book, sit with a treat and a coffee and relax, find a quiet seat to study on your own, or claim a table and study with a group.
Address: Carrer de Pau Claris, 85
The Federal Café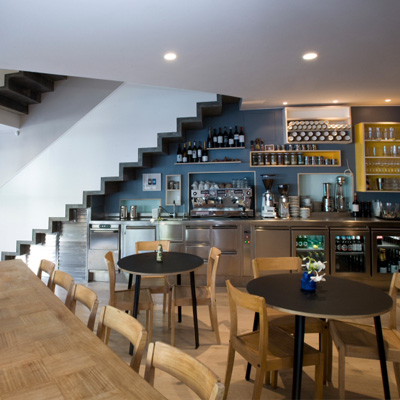 Not only does the Federal have some of the best brunch in a city filled with delicious brunch spots, it also happens to be one of the best places to study in Barcelona. You'll feel totally comfortable pulling out your laptop and quietly camping out here, whether it's for 20 minutes or 4 hours. If you need the emotional support, feel free to bring your dog. If you don't have a dog but like the idea of getting to take a study break and pet one, the Federal Café is the place for you as they are a dog friendly establishment. What more could you want?
Address: Carrer del Parlament, 39
4. Parks
Parc de la Ciutadella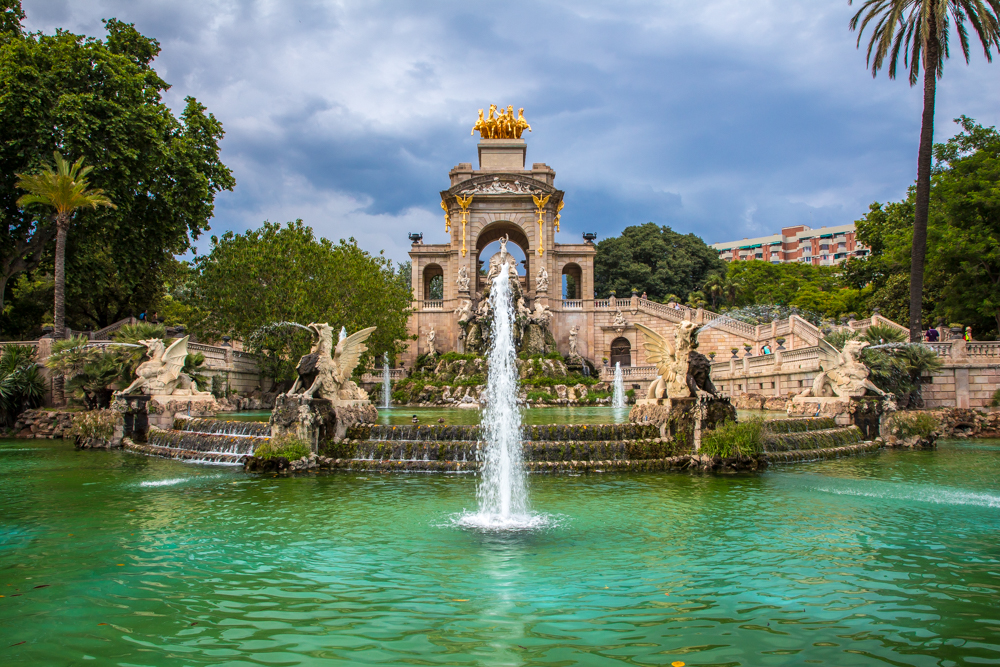 The biggest green space in the city, Parc de la Ciutadella is undoubtedly one of Barcelona's most popular parks. For a casual and pleasant study experience, this is the place to go. Grab a blanket, find a spot on the grass, pull out your books and enjoy the happy vibes.
If you need a study break, take a walk to the magnificent fountain and grab an ice cream from the little café car. Soak up some sun and charming atmosphere while studying at the Parc de la Cuitadella while you're in Barcelona!
Address: Passeig de Picasso, 21
Jardins de Laribal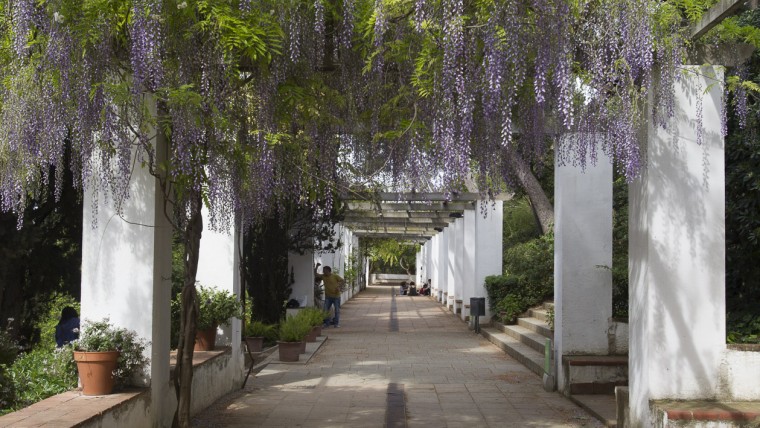 Looking for a quieter version on the Parc de la Cuitadella? Checkout the Jardins de Laribal, a lesser known outdoor space that is perfect for a relaxed study session. Located on the lower slopes of Montjuïc, between the MNAC and the Miró foundation, this tranquil garden will not disappoint.
Complete with shady trees and beautiful fountains, and most importantly still unknown to most of the tourists, there's no quieter outdoor place to study in Barcelona or simply sit down with a book for a peaceful read.
Address: Passeig de Santa Madrona, 2